GET Stock

Quotes


New Holocaust Memorial in London to Be Designed by Architect David Ajaye
David Adjaye and Ron Arad have been chosen to design an immersive new London memorial
Image courtesy: AFP Relaxnews
Architect David Adjaye will lead the winning team chosen to create a new Holocaust memorial near London's Parliament. The new memorial will honor Holocaust victims, while a co-located learning center will contextualize the memorial, using the stories and facts of the Holocaust to explore prejudice in society today. The winning design concept by Adjaye Associates, Ron Arad Architects and the landscape architects Gustafson Porter + Bowman aims to preserve the green space of the site, Victoria Tower Gardens, and to honor that site's role as a "park of Britain's conscience," according to Adjaye.
(Image courtesy: AFP Relaxnews)
The memorial is imagined to be embedded in the land on the gardens' southern end, such that an approaching visitor would see a grass landform and the tips of the memorial's "fins." From there, a visitor would be confronted with 23 tall bronze fins, the space between serving as pathways into the memorial. Each pathway will offer a different experience as it leads to a large hall and a below-ground learning center, which will include a "hall of testimonies" and a silent, reflective space made up of eight bronze panels.
(Image courtesy: AFP Relaxnews)
Visitors leaving the memorial will have an uninterrupted view of Parliament -- and the "reality of democracy," according to competition organizers. The jury praised the winning team's proposal for its goal of creating "a living place, not just a monument to something of the past" and for its immersive approach.
The concept is in an early design stage and will now be further developed with involvement from Holocaust experts and survivors, local residents and more. Both the memorial and the learning center are expected to be completed by 2021.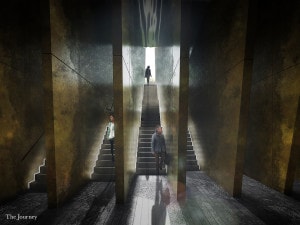 (Image courtesy: AFP Relaxnews)
Also Watch
Read full article