GET Stock

Quotes


Paris Police Offer Safety Tips to Tourists as Visitor Numbers Rebound This Summer
After a disastrous tourism year in 2016, tourists have been returning in droves to the French capital this year.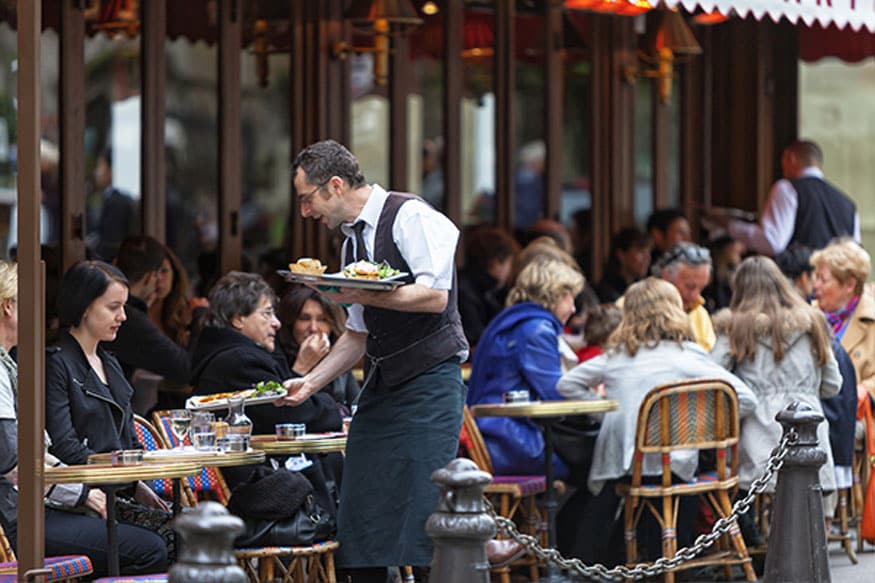 When dining on an outdoor terrace in Paris, don't leave your mobile phone on the table, or hang your coat or bag on the back of your chair, warns the Paris police. (Photo courtesy: AFP Relaxnews/ MACIEJ NOSKOWSKI/ Istock.com)
With tourism season in full swing in Paris and visitor numbers on the rebound, local police have released a reminder safety video offering tips on how to thwart pickpockets and identify common tourist scams.
After a disastrous tourism year in 2016, tourists have been returning in droves to the French capital this year.
According to the Paris Convention and Visitors Bureau, the city experienced the best first trimester of the last decade, with overnight hotel stays up 13 percent in the first four months of 2017, compared to the previous year.
But along with the return of tourists, comes the return of con artists, eager to pounce on naïve, vulnerable and inexperienced travelers.
In a short video released on Twitter Tuesday, Paris police outlined a slew of common scams employed by pickpockets and con artists, along with simple tips on how to have a safe, and event-free Paris holiday.
Here are a few highlights:
Fake petitioners
They'll come at you with a clipboard and pen, gesturing wildly about needing your signature for a petition about human rights or some such thing. Ignore it and move on. While one person lays it on thick, the other is actually rifling through your things and trying to steal your goods. Move quickly along.
ATMs
While withdrawing cash at the ATM, don't let yourself be distracted. If someone tries squeezing in asking for directions, be suspicious. Because while you have your back turned, their partner in crime has gone and plucked your cash from the mouth of the machine.
Card game scams
You'll never win one of those card games set up along Pont Alexandre or Pont Neuf because they're rigged. Save your money.
You can also apply these safety tips to your travels elsewhere, as they apply broadly to travel in general.
-This one applies especially to men: Don't leave your wallet in your back pocket. That's an open invitation to pickpockets and makes you a particularly easy target.
-Don't hang your jacket and bag on the back of your seat, particularly if someone is sitting next to you. Your belongings could depart without you. Same goes for your mobile phone. Don't leave it on the table in full view as a quick distraction is all it takes to swipe it from the table.
-If traveling on a bus tour, make sure to retrieve your luggage as soon as the luggage compartment is opened, or risk getting it stolen from right under you. You'll have plenty of time to gawk at the monuments.
-Don't let people follow you into the turnstile. It's the perfect excuse to sidle up right behind you and swipe something from your person.
-Opt to use cross-body shoulder bags. Carry backpacks on your front to keep sticky fingers at bay.
-Be particularly vigilant if traveling solo.
-Try to pay by card as much as possible. Carry as little cash as possible and pay in small denominations; Don't flash large notes.
Also Watch
Read full article