Watch Makeup Artist Behind James Cameron's Avatar Turn Akshay Kumar into Beast for 2.0
Rajnikant and Akshay Kumar starrer 2.0 directed by Shankar will release on November 29.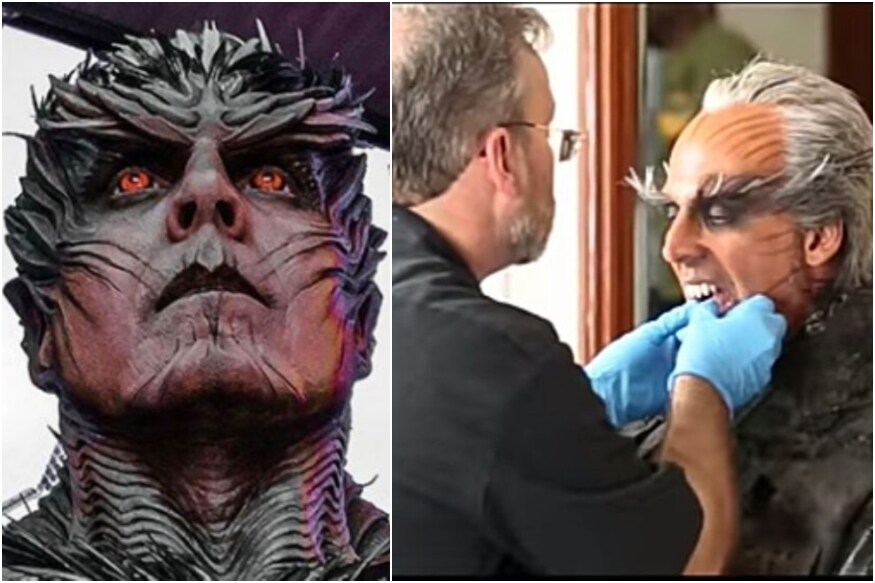 Akshay Kumar in 2.0 as Crow Man Image: @AkshayKumar/Instagram
When Akshay Kumar took to Instagram to post his Crow Man look and wrote that to get this look right, he must've taken longer than the female lead of the film and he definitely isn't joking.
The makeup artist, Sean Foot the man behind James Cameron's Avatar look, created this look for the Khiladi and gave him the distinct Crow Man look in 2.0.
Akshay Kumar posted a video which gives us a sneak peek into how prosthetic makeup turned Akshay into a beast. It's clearly shown in the video that there was no usage of special effects to create the alien-esque look. For the look, Akshay had to patiently sit still for four hours to get the Crow Man look together.
My look in #2Point0 is nothing short of a technological wonder! Watch to know how it was brought to life.@2Point0Movie @shankarshanmugh @DharmaMovies @LycaProductions #2Point0FromNov29 pic.twitter.com/NfUfUPb2L1

— Akshay Kumar (@akshaykumar) November 16, 2018
In the video, the professional makeup artists give Akshay Kumar two looks for the role of the antagonist Crow Man and the transformation will make you lift your jaw from the floor.
Hats Off @akshaykumar sir.. HardWork Never Fails.. #2point0 Movie Gonna Be Super Duper Industry Hit.. Waiting..#2Point0FromNov29 pic.twitter.com/mZbGlB28yq

— Shokesh Dey (@ishowcase01) November 16, 2018
Earlier during the trailer launch of 2.0, Akshay said, "It was a very challenging role and it took a toll on my body. But the pain and sacrifices were worth it. My character required around 4 hours of prosthetic make-up and another hour and a half to remove it. In my whole career, I've never put so much of makeup."
Starring opposite Rajnikant in the magnum opus 2.0, a sequel to Rajikant's Ethiran (2010) where Akshay plays the antagonist, Crow Man obsessed with cell phones.
This Rs.550 cr budget film also includes Amy Jackson and Adil Hussain which will released on November 29 in multiple languages like Tamil, Hindi and Telugu.
Get the best of News18 delivered to your inbox - subscribe to News18 Daybreak. Follow News18.com on Twitter, Instagram, Facebook, Telegram, TikTok and on YouTube, and stay in the know with what's happening in the world around you – in real time.
| Edited by: Naqshib Nisar
Read full article