With Kim Kardashian in Sabyasachi & Priyanka Chopra in Ralph Lauren, 2018 was the Year of Major Fashion Crossovers
With Hollywood celebrities flaunting outfits by Indian home-grown designers and Bollywood celebs in customised attires crafted by American and European designers, fashion definitely has overlooked boundaries in 2018.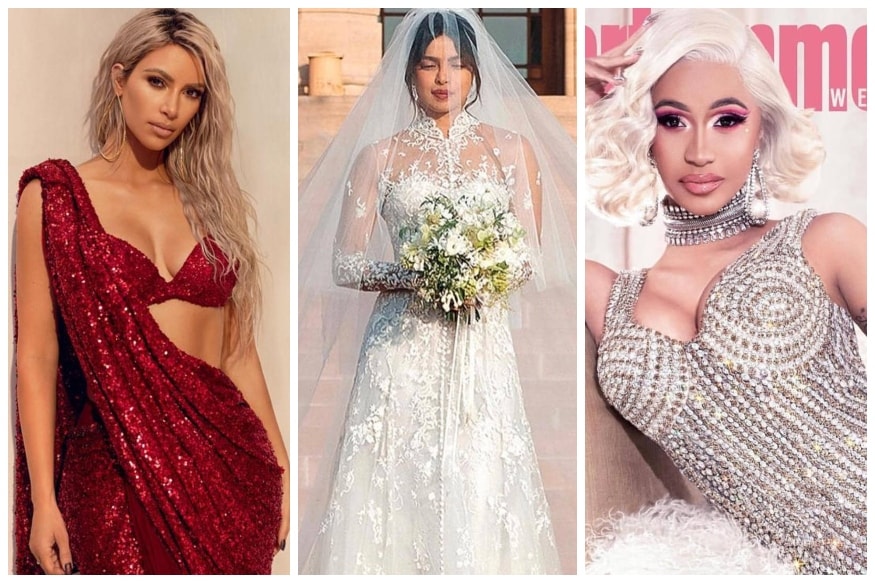 With Hollywood celebrities flaunting outfits by Indian home-grown designers and Bollywood celebs in customised attires crafted by American and European designers, fashion definitely has overlooked boundaries in 2018.
Be it Nicki Minaj and Katy Perry exuding oomph at the American Music Awards red carpet wearing Manish Arora or be it Sonam Kapoor and Aishwarya Rai Bachchan gracing film festivals in Ralph & Russo and Micheal Cinco, fashion crossovers have been catching up over the years.
But the year 2018 witnessed some of the biggest and finest crossovers like never before.
With Hollywood celebrities flaunting outfits by Indian home-grown designers and Bollywood celebs in customised attires crafted by American and European designers, fashion definitely has overtaken boundaries in 2018.
Talking about crossovers, earlier the Bodak Yellow rapper Cardi B dazzled on the magazine cover of Entertainment Weekly in an outfit dripping sparkling gold and crystals from head to toe. Abu Jani and Sandeep Khosla were the designers behind the silver studded dress.
This year, we also saw Kim Kardashian oozing glamour flaunting a traditional Indian saree for her Vogue photo shoot. In a scarlet sequin saree 'Akash Tara' by the ace designer Sabyasachi Mukherjee, Kim looked sultry slaying an outfit from the designers spring-summer 2018 couture collection, Le Club De Calcutta.
On the other hand, Priyanka Chopra stood at the altar and said 'I do' as she left a trail of 75-feet-long veil dressed in a hand crafted wedding gown which took 1,826 hours to be crafted by the globally acclaimed designer Ralph Lauren.
Indian designers overseas who took the international headlines by storm are Falguni Shane Peacock as they dressed Beyoncé for the extravagant 2018 Wearable Art Gala.
When Queen Bey walked leaving behind an 11-foot-long 3-D train of a bronze gown, the world was left awestruck.
In an interview with Elle, Falguni and Shane spoke about how the theme WACO to Wakanda made them work towards creating such a masterpiece. According to the reports, Queen Bey's dress was inspired by Amanishakheto, the warrior queen of Wakanda showcased in the movie Black Panther which took about 35 workers to craft this off-centre red carpet look.
Gone are the days of fashion when International celebrities who swore by designers like Christine Louboutin, Micheal Kors, Alexander McQueen, are making space in their wardrobes for Indian couture houses which has added a spin to their western sartorial sense.
While we talk about fashion erasing boundaries as an art, designers from our neighboring countries have also found their muse in India. Mohsin Naveed Ranjha, a Lahore based designer styled actor Ranveer Singh for a magazine cover shoot. In an interview he said, "Art served the purpose of eradicating all kinds of conflicts and I really wish to see more such collaborations in the future as well."
Not only have the designers made their way into the wardrobes of crème de la crème of other countries, this year was all about flourishing bonds between the designers and their muses and some did turn cupid, too.
One such endearing situation occurred during Priyanka Chopra and Nick Jonas' wedding. Ralph went up to Priyanka personally with his sketches to be a part of her D-day and weave magic with his design for her wedding outfit. Lauren broke this personal rule of not designing wedding outfits for Priyanka Chopra and Nick Jonas' wedding.
The ace designer who designed wedding trousseau only for his daughter, daughter-in-law and niece till date, ditched his policy for the couple and the reason behind this gesture was an emotional one.
The Met Gala 2017 event played a big role in Nick and Priyanka's love life, and Lauren the cupid. The couple made an appearance together at the Met Gala 2017 event only because Ralph asked them to in his customized clothes for them.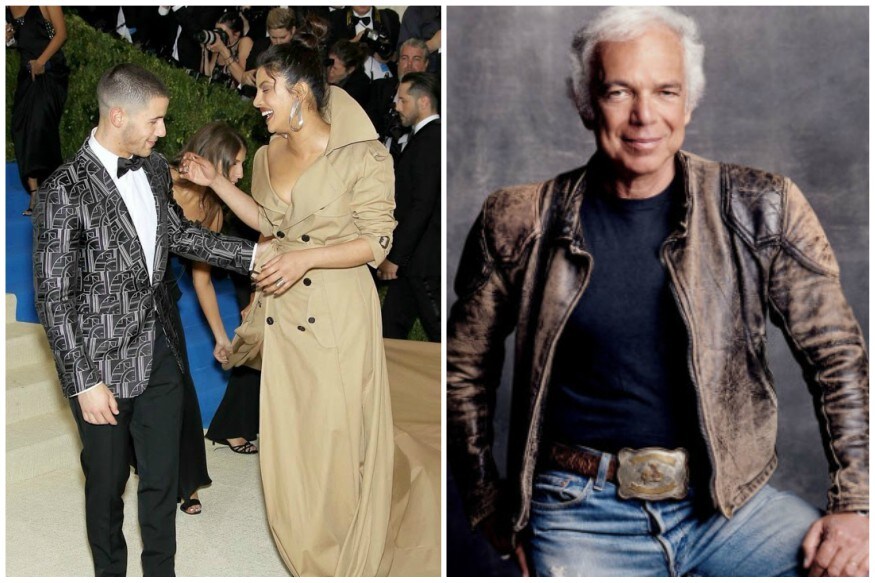 Sabyasachi Mukherjee expressed his emotions on how it was a dream come true for him as he got an opportunity to design for the media mogul Oprah Winfrey. Sharing his fan boy moment, he said, "Nothing prepares you for meeting Oprah in real life."
Now that we are aware how 2018 was all about International celebs wearing an Indian designer outfit or an Indian celeb wearing an International designer outfit. It goes without saying that an Indian designer will pretty much craft a traditional ethnic outfit and an International designer will throw together a magnificent western gown.
But this year, International and Indian designers broke their signature styles and decided to switch caps for a change.
During the wedding of Mukesh Ambani's and Nita Ambani's daughter Isha Ambani, the world waited with bated breath to see what the bride would wear and more importantly who would weave magic in crafting Isha Ambani's wedding outfit?
She donned an Indian traditional lehenga- choli by Italian designers Valentino Garavani and Giambattista Valli.
Exciting year for the fashion industry, wasn't it?
This year Indian fashion designers, did not only design clothes for singers and actors, they also became the favorites of world leaders, the royals and also the millionaires.
While we had the former American First lady Michelle Obama in Bibhu Mohapatra's printed formal one piece, we also had the Duchess of Cambridge, Kate Middleton, touring around the world in a cobalt blue outfit by Saloni Lodha.
It is often during their trips to India, international or world leaders prefer wearing Indian designer outfits. It gives them a connection and edge over the usual travelers.
For Instance, recently American politician Hillary Clinton was seen in a embroidered and heavily embellished designer wear by Manish Malhotra. The details and intricacies of the cloth was something worth your eyes.
With such massive crossovers and switchovers in the fashion Industry, 2018 has undeniably been the year for fashion designers who ruled the world irrespective of the country they belonged to.
Get the best of News18 delivered to your inbox - subscribe to News18 Daybreak. Follow News18.com on Twitter, Instagram, Facebook, Telegram, TikTok and on YouTube, and stay in the know with what's happening in the world around you – in real time.
| Edited by: Naqshib Nisar
Read full article