'Thoongaavanam' review: The movie is uninspiring and a tame thriller
It's the third time of the year at the cinemas for a Kamal Haasan film, which is good in a way as this decade has seen less number of his films.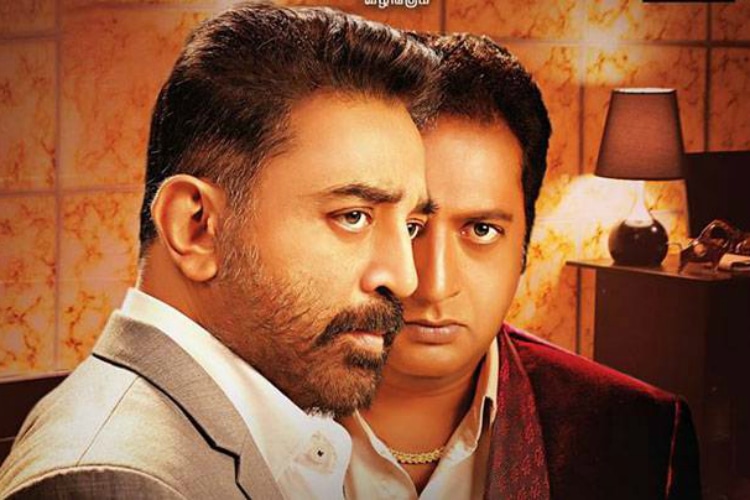 A poster of 'Thoongavanam'.
Cast: Kamal Haasan, Prakash Raj, Trisha, Kishore, Yuhi Sethu, Sampath Raj, Asha Sarath, Madhu Shalini, Jagan.
Director: Rajesh M. SelvaThoongaa Vanam
It's the third time of the year at the cinemas for a Kamal Haasan film, which is good in a way as this decade has seen less number of his films. This is also the decade where Kamal has stayed away largely from formulaic entertainers. He has tried his hand at various genres and 'Thoongaavanam' is just one of those deviations.
I missed the original this film is based on – 'Nuit Blanche' by Frederic Jardin. But 'Thoongaavanam' on borrowed legs is still left with a blotch. Rajesh M. Selva's thriller starts with a mundane shot and slowly takes things forward with a half-baked noirish approach.
Kamal and Yuhi Sethu (his 'Panchathantiram' partner) who belong to the right side of the law get hold of a bag. From this point on, the trigger is pulled for a slow breathing screenplay. Now, Yuhi and Kamal are crossing the border of the law and jumping into territories dug for outlaws.
Where does that put them? In the midst of the chaos that gets unraveled in a nightclub rightfully named Insomnia.
Prakash Raj in his 'Ghilli' grin shares more than a moment's worth of idiocy with his assistant. Some comic bits like that appear in the nightclub's kitchen, as well. Also, the kitchen plays a sort of supporting role in the proceedings. It is the setting for a terrific fight between Kamal and Trisha. Yes, Trisha literally fights in this movie. The same kitchen is used for another fight between Kamal and Kishore; both the fights surprisingly standout in an otherwise somber narration.
'Thoongaa Vanam', barring a few scenes takes place in Insomnia. The film follows the character of Diwakar played by Kamal through a day. Every supporting cast member including the school-going kid of Kamal and Asha Sarath are absolute stars. There's a particular scene in this thriller that smells of the bond the father and son shared in 'Uttama Villain'. In that film, it was almost a heavyweight emotion, here it is mere paperweight. So, it's hard to feel for Diwakar (who's also vulnerable if not equally) like we did for Manoranjan in 'Uttama Villain'.
Jagan's inclusion is for the sole purpose of bringing in laughter and that purpose is definitely well served. Every known face gets to rub shoulders with Kamal. For instance: Uma Riyaz Khan. She might serve drinks in the nightclub. Then again, she isn't employed for that alone.
Actors move in and out of rooms, run this way and that, plot and fail, hide and seek. Yet all the effort of the cast and crew is shaken and not stirred enough as the screenplay gets a few nods wrong.
Rating: 2.5 out of 5
Get the best of News18 delivered to your inbox - subscribe to News18 Daybreak. Follow News18.com on Twitter, Instagram, Facebook, Telegram, TikTok and on YouTube, and stay in the know with what's happening in the world around you – in real time.
Read full article