Saravanan Sivakumar popularly known as Suriya in Tamil film industry, completes 18 years in the South industry today. Suriya was born to actor Sivakumar and his wife Lakshmi in Chennai, but brought up in Coimbatore. He is the eldest of three children, his younger brother is actor Karthik Sivakumar and he has a younger sister named Brindha Sivakumar. A film actor, producer, philanthropist and television presenter, Suriya dons various hats on his head perfectly. The 'Singam' star has seen his shares of ups and downs but has emerged as a winner always.
IBNLive takes you to through the ever flourishing journey of the southern star:
Before his career in films, Suriya worked at a garment exports factory for 6 months without revealing his identity as the son of a well-known actor. He was initially offered the lead role by Vasanth in his film 'Aasai' (1995), but he rejected the offer citing a lack of interest in an acting career.
Surya debuted in the 1997 film 'Nerukku Ner' directed by Vasanth and produced by Mani Ratnam. Later he starred in 2001 remake 'Friends' directed by Siddique and 'Nandha' by Bala for which he received a Tamil Nadu State Film Award for Best Actor.
In 2003 he did 'Kaaka Kaaka', a movie about the life of a police officer, it grossed almost Rs. 150 million at the box office. Then he did 'Pithamagan', for which he won Filmfare Best Supporting Actor Award.
In 2005, he appeared in 'Ghajini'. In this movie he played a patient suffering from short term memory loss. The movie was remade in Bollywood with Aamir Khan playing the lead role.
In 2008, he appeared in 'Vaaranam Aayiram', for which he won a Filmfare Award for Best Actor, a Tamil Nadu State Film Award for Best Actor, a Vijay Award for Best Actor which was presented to him by Kamal Hassan who acknowledged Surya's versatility as an actor, and a Filmfans Award for Best Actor and the film received the National Film Award for Best Feature Film in Tamil for 2008.
He made his Bollywood debut in 'Rakta Charitra', directed by Ram Gopal Verma.
In January 2012, Suriya was named as the official host of the new game show to be presented on STAR Vijay, 'Neengalum Vellalam Oru Kodi', the Tamil version of 'Who Wants to Be a Millionaire?'.
Suriya was the lead hero in 'Singam' directed by Hari, in which he played the role of a police officer from a small village going to work in the city. The film was again remade in Bollywood by Rohit Shetty with Ajay Devgn in lead.
With the Ministry of Education in Tamil Nadu, he created a short commercial video outlining child poverty, labour and lack of education, titled 'Herova? Zerova'. The film was written and produced by Sivakumar and also starred Joseph Vijay, R. Madhavan and Jyothika. Agaram has sponsored 159 underprivileged students in 2010 for their higher education in various disciplines.
Suriya, along with his father and brother, has also extended help towards the education of Sri Lankan Tamil children on behalf of the Sivakumar Charitable Trust. He is also an active participant in other humanitarian works such as 'Save The Tigers' campaign, which aids in the protection and preservation of Tigers in India.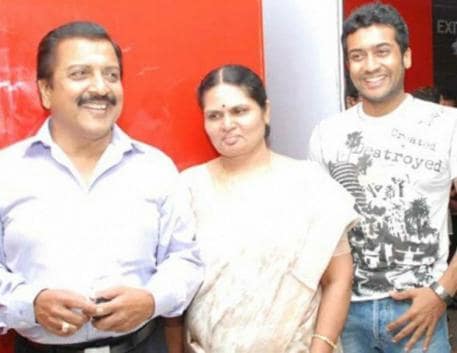 (Image courtesy: Google)