News18
»
News
»
Movies
»
Aamir Khan: I am Hoping that You Forget Jack Sparrow after Watching Thugs of Hindostan
6-MIN READ
Aamir Khan: I am Hoping that You Forget Jack Sparrow after Watching Thugs of Hindostan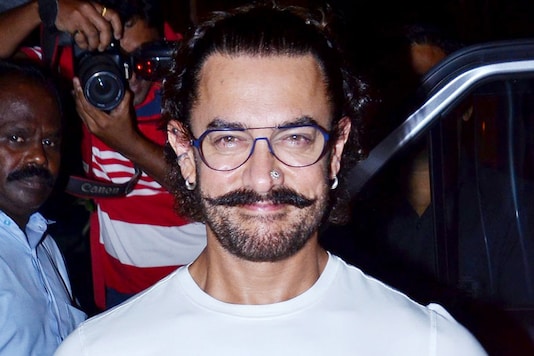 Thugs of Hindostan is slated to release on November 8. (Image: Yogen Shah)
Amid promotional frenzy, Aamir Khan discusses all things 'Thugs' and more.
Last Updated: November 05, 2018, 15:31 IST
FOLLOW US ON:
Ahead of Thugs of Hindostan's release, Aamir Khan talks about Amitabh Bachchan, Fatima Sana Shaikh, China release, comparisons with Jack Sparrow, hiked ticket prices, Shah Rukh Khan's wardrobe and more.
You're having a release on Diwali after 22 years!
Yes, but since it's after Raja Hindustani, I am feeling quite good. I am excited. Two years have gone into making this film. Let's see how people like it. It's an ideal release for Diwali. It doesn't have any social message. It's a film you're meant to enjoy and have a great time. It has great action, a very big scale and canvas, and Amit ji and I are coming together for the first time.
How was it to finally work with Amitabh Bachchan?
It was really amazing. We had planned on working together twice before but it didn't work out. I was very excited and nervous about working with him. I didn't know how it'd be, how I'd perform, but Amit ji is a very warm and generous person. He makes you comfortable and is very easy to work with. However, he has got a very dry sense of humour. So you don't know whether he is joking or not. It takes time to understand.
Did he say anything about your performance in Thugs of Hindostan?
Yes! He called me after he watched the film and spoke to me for half an hour. He said, 'According to me, this is the best performance of your life. You've really caught the accent so well. I am from that area, so I can tell you. I feel like seeing the film two-three times just to watch your important scenes.' I was really thrilled.
How would you describe your equation with him?
I am like a person who is a little overawed by him. But since he is very warm with me, I take a lot of liberties with him.
Is the film based on real events?
Our film is not a historical film about the 'thugi' period. A lot of people have written that it's based on some book. It's not. It's entirely fiction. It's a fictitious story set in that period. It's an action adventure film, not a serious historical film. It isn't very patriotic either. It's more like a Manmohan Desai film, much like the ones we used to watch in the 70s. It's also pretty universal and child-friendly. There's no blood. Action hai but mazedaar action hai.
Why did you choose to play Firangi Mallah?
His character is so attractive that I just had to play it. It's a very well written part. He is a very unusual hero. I have never seen a character in Hindi cinema which is so unlike a hero. Friangi is an 'aiyaar'. He is enjoyable, but not a good guy, not someone you would want around you as a friend. You want to watch him from afar.
There will be times in the film when I am hoping that you'd feel 'How did he do this? How can anyone do this?' But Firangi actually does all of that. It will be challenging for the audience also because there will be times when they will not like me.
Playing him must have been challenging then?
Absolutely. In fact, this is one of the toughest roles of my career. I had to walk a very thin line. Firangi is a very, very unreliable character. He wins your trust only to stab you in the back later. So when winning that trust, I need to look very sincere. I have to make you believe. At the same time, he is also playing to the galleries. Therefore, if I tilt a little too much to playing to the galleries, then the characters in the scene will see through me. And if I am too real, I won't be enjoyable. It was a task to be real for the characters but at the same time ensure that the audience enjoy what you're doing.
Comparisons are being made between Firangi and Jack Sparrow. Was he ever a reference in developing your character?
I don't think that Viktor (Vijay Krishna Acharya; director) wrote Firnagi based on Jack Sparrow. But intrinsically, they are both similar characters because dono badmash hai. However, I am hoping that you forget Jack Sparrow after watching Firangi.
Your look in the film is really interesting. What went into creating it?
Little details. Like when we decided we'd give Firangi curly hair. So I was asked to grow my hair. At the time, I was doing Dangal. So I had very short hair. But interestingly, the hair grew curly on their own. I still don't know how it happened. Meri life me mere baal aise curly kabhi nahi hue. All of us were shocked. What you see in the film is my natural hair.
Even Firangi's nose stud was designed after what one of my classmates used to wear when I was in Class 2. He was from Sind. He had newly joined our school. We were zapped when we first saw him. It stuck in my head. So when I was thinking about Firangi, I thought a nose stud for him would be very apt. It brings 'namak' to the character. I was shown a lot of designs but I had this one stuck in my mind. So I got a similar one designed.
When is Thugs releasing in China?
Most likely in January. Now that it's complete, it will go for censorship. That usually takes about two months.
The tickets of Thugs will cost the audience at least 10% more than what they paid for watching Sanju. Don't you think such a hike is unfair?
Personally, I am always for having tickets cheaper. I believe that we should have more economy theatres so that everyone has the opportunity to access a film. But I understand why YRF wants to price it differently. Thugs was a very expensive film. Also, Indian audiences have not watched a spectacle like this before. So the experience will be worth their money. But I am the happiest when more people get to watch my film and appreciate it.
How do you think Fatima Sana Shaikh has performed in the film?
She has done really well. She has some really tough action scenes in this film. She is very hardworking. I am so happy for her and for Sanya, who recently had two releases. I am hoping that Fatty (Fatima) does really well in life. Even Zaira is doing another film (The Sky Is Pink). When I see these girls doing so well, I feel really happy.
Did you recommend Shah Rukh's name for Rakesh Sharma's biopic after you left the film?
It's a great script and Mr. Sharma's story is fascinating. Yes, I called Shah Rukh and told him that he should hear the script and it could be right for him if he likes it. I am glad he liked it and is now doing it.
What do you have to say about comparisons with Shah Rukh?
I am not a competitive person. I don't see myself as a star but I do see Shah Rukh very much as a star. Everything about him. He is so handsome, so charming, so well dressed, so organised. He took me to his house when it was new. "Uska jitna bada wardrobe hai, utna bada mera poora ghar hai." This is how a star's wardrobe and their house should look like.
The writer tweets @sneha_bengani
Next Story