GET Stock

Quotes


Ae Dil Hai Mushkil Movie Review: Ranbir Kapoor-Anushka Sharma's Sparkling Chemistry Lights Up This Love Story
Will the film, which is grand in scale, also be powerful in terms of persuasive stories, enthralling characters and the impact of dialogues?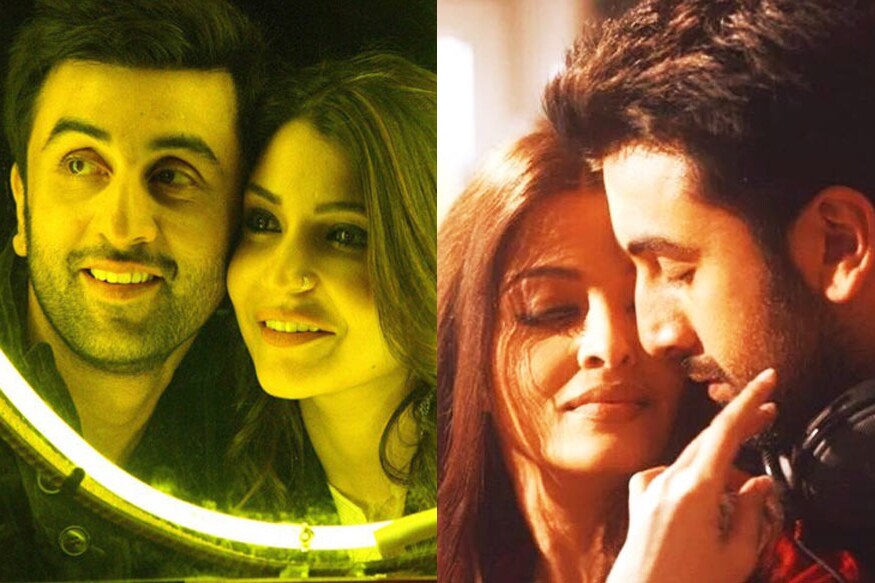 Image: Youtube/ A still from the trailer of Ae Dil Hai Mushkil.
Ae Dil Hai Mushkil has undoubtedly been the most talked about film of the year. But its journey - ever since its promos were released and a ban was levied on the Pakistani artistes following URI attacks – has been laden with difficulties.
Even though Ae Dil Hai Mushkil - which has Pakistani actor Fawad Khan playing a key role - was slammed after Raj Thackeray-led Maharashtra Navnirman Sena clearly stated that it won't permit the film's release as the makers had roped in a Pakistani artiste, it finally hits the theatres today.
Much like his past projects, Karan Johar deals with the complexities in relationships, struggling relationships and just the chaos of being in such relationships in his much-awaited Diwali release too. Whether it is about the feeling of being in love or the attempts to struggle with unrequited love or the experience of being in agony-filled situations, the ace filmmaker has managed to get all of it in his film, at least that's what the promos suggest.
As also evident from the film's trailer, Ranbir Kapoor and Anushka Sharma play close friends. But things go wrong when Fawad Khan returns in Anushka's life, leaving Ranbir with no other option but to back out. In the midst of such complex relationships, Ranbir comes across the gorgeous and charming Aishwarya Rai and falls for her. But what happens next? It's precisely this suspense why the viewers will be interested in watching the film. If everything looks so simple why is it a story of unrequited love? It is the element of suspense which is an instrumental way to keep the narrative's engine fueled.
Whether it has been about the film's promotions, social media buzz, stars' passion or its soul-stirring music, Ae Dil Hai Mushkil has been a clear winner so far. But will it be the highest-grossing film too? Will the film, which is grand in scale, also be powerful in terms of persuasive stories, enthralling characters and the impact of dialogues?
Divya Pal of News18 is inside the theater to get you all the answers.
9:17 AM Ready to feel the pangs of unrequited love? Stay tuned for the live tweet review of #AeDilHaiMushkil
9:20 AM .@karanjohar returns to direction after 4 years with the Diwali release #AeDilHaiMushkil. Will it be a box office winner? We'll find out
9:26 AM #AeDilHaiMushkil features Ranbir-Aishwarya as a couple for first time. Expecting gorgeous actors to give interesting interpretation of love
9:37 AM The opening shot features #RanbirKapoor in a rather serious look. Well we are already floored. So want #AeDilHaiMushkil to work for him
9:37 AM The first meeting of Ranbir and Anushka will remind you of all the past films of @karanjohar. Very filmi. #AeDilHaiMushkil
9:37 AM Boyfriends filmon ki tarah hotey hain - kuch timepass, kuch blockbusters. Agree? #AeDilHaiMushkil
9:38 AM @HaydonLisa you are too good in #AeDilHaiMushkil. Yes people like your character do exist in reality.
9:55 AM Ranbir Kapoor can easily beat @SunnyLeone, @iHrithik and @BeingSalmanKhan. Watch #AeDilHaiMushkil to know why :p
10:01 AM And here comes #AeDilHaiMushkil first song #Breakup. High on fun, celebration and quirk.
10:05 AM Audiences erupt in cheer as the emotional Ranbir Kapoor breaks down after his unexpected B-R-E-A-K-U-P. #AeDilHaiMushkil
10:10 AM Bewafai ki brand ambassador @HaydonLisa's expressions are priceless when she meets Ranbir Kapoor for the last time. #AeDilHaiMushkil
10:17 AM Anushka tries hard to be @SrideviBKapoor, but fails miserably. Ranbir copying dad Rishi is so funny. #AeDilHaiMushkil
10:18 AM Tumhara naam Alizaeh nahi Talli-zeh hona chahiye. #AeDilHaiMushkil
10:24 AM #FawadKhan is finally here. And the hall is silent. Even though the music is loud, excitement is clearly non-existent. #AeDilHaiMushkil
10:35 AM Too hot to handle! That's song #Cutiepie featuring Anushka, Ranbir and Fawad. #AeDilHaiMushkil
10:37 AM Song #Channa might be soulful, but it is so abrupt. #AeDilHaiMushkil
10:50 AM First Half verdict: bond that @AnushkaSharma, Ranbir Kapoor share in #AeDilHaiMushkil is real. Their awkward hookup, friendship is funny.
10:53 AM 1st half is about how Ranbir-Anushka's bond can conquer anything. Expecting 2nd half to focus on emotional depth of bonds #AeDilHaiMushkil
11:05 AM With every sequence of #AeDilHaiMushkil you realise how much it drips in 'cool' with @AnushkaSharma, #RanbirKapoor giving finest moments
11:14 AM #AishwaryaRai's first sequence in #AeDilHaiMushkil is about sophistication, elegance, glamour.
11:15 AM Agar alfaaz kaam na aayein toh number istamaal kar lena - what a way to make people for you. Thanks #AishwaryaRai #AeDilHaiMushkil
11:19 AM The peppy version of 'Aaj jaaney ki zidd na Karo' should have been avoided. Some ghazals are best if left untouched. #AeDilHaiMushkil
11:21 AM Tunhari shayri tumse bhi zyaada khoobsurat hai - not a bad way to impress a 'shayra' #AeDilHaiMushkil
11:25 AM In the few sequences of #AishwaryaRai we have seen so far, she reminds of actress Rekha. Same emotions, same style #AeDilHaiMushkil
11:31 AM Humari kahaani badal gai, khauff nahi badla :@iamsrk in #AeDilHaiMushkil
11:42 AM @karanjohar appreciate how you treated first meeting of Anushka with Aishwarya. So many things to learn and unlearn. #AeDilHaiMushkil
11:59 AM Finally we get an opportunity to know more about singer Ayaan. Something we have been missing so far. #Aedilhaimushkil
12:05 PM Finding happiness in every moment is the crux of #AeDilHaiMushkil
12:16 PM Don't be surprised if you find #AeDilHaiMushkil a bit clichéd. It gets a little predictable
12:18 PM Oh, wait! That's just an interesting twist @karanjohar introduced in #AeDilHaiMushkil
12:20 PM Karan Johar has used several quirks and twists to give this love story the appearance of freshness. #AeDilHaiMushkil
12:24 PM A soulfully acted and smarter than other rom-coms, it will strike a chord with audiences. #AeDilHaiMushkil
12:26 PM .@AnushkaSharma as a strong, brutally honest Alizeh commands respect. #AeDilHaiMushkil
12:29 PM #RanbirKapoor knows how to approach his character and infuse life and emotions in each of his dialogues. #AeDilHaiMushkil
12:31 PM Aishwarya is instrumental in bringing forth hidden aspects of Ranbir's character. She does justice to her short, crisp role #AeDilHaiMushkil
12:32 PM Fawad khan doesn't have much screen presence. It is obvious that his scenes have be chopped #AeDilHaiMushkil
12:36 PM It is the sparkling chemistry of @AnushkaSharma and Ranbir that'll help #AeDilHaiMushkil find several takers.
12:37 PM @karanjohar has again used his film #AeDilHaiMushkil to help us interpret love in a different way. But it looks inspired from his past films
12:42 PM Watch #AeDilHaiMushkil if you are interested in a relatable, emotional yet practical love story.
12:42 PM Thank you for staying with us throughout the tweet review of #AeDilHaiMushkil.
Also Watch
| Edited by: Sameeksha
Read full article