Body shaming doesn't differentiate ever. Whether you are a commoner in old clothes or a star posing in a bikini, haters ridicule you for your choices. But there are a few celebrities who not only shut down the haters, but also set an example for everyone to embrace their beautiful bodies irrespective of their size. And Beyhadh actress Aneri Vajani is the latest celebrity to fight back against body shaming.
The actress took to her official Instagram account to share a photo of herself to celebrate International Yoga Day. She captioned the photo: "When You Own Your Breath NoBody Steals Your Peace! Happy Yoya Day! :) #yoga day!"
Credit: @Aneri Vajani
But little did she know that the photo would be the reason for worthless trolls.

In the photo which Aneri shared, she is being slut shamed for being scantily dressed. In fact, there were those too who said 'dieting ki be hadh hothi hae yaar', 'omg she looks like she has malnutrition' and 'she being an Indian is disgracing herself."
Aneri was quick to take to her Twitter account to post a message which explained just why it is important for people to change their thought process.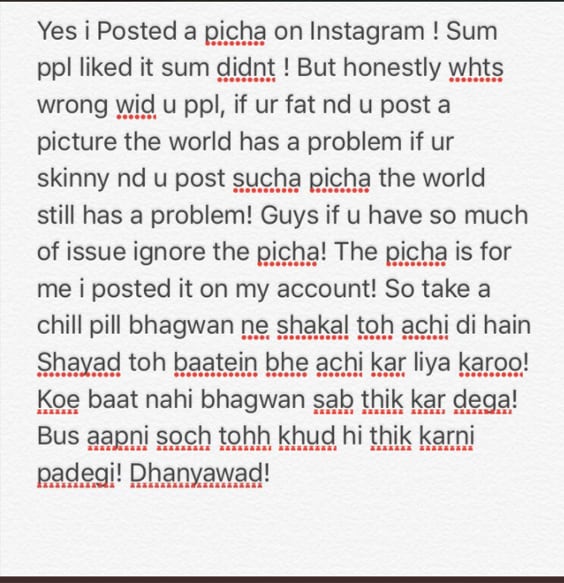 A few month back, Nia Sharma shared a black and white Instagram video in which she grooved in a bustier and a pair of jeans. While the actress clearly enjoyed every bit of her performance, critics were quick to slam her.
Credit: @Nia Sharma
To mock her critics, she wrote, "I appreciate everyone who took out time from their absolutely worthless lives to write filthy long comments on my previous video! I got u job again."