GET Stock

Quotes


Akira Review: Anurag's Cop Act, Sonakshi's Action Sequences Are Bang On
Will Sonakshi Sinha set a bench mark for other leading ladies to take up action-packed thriller?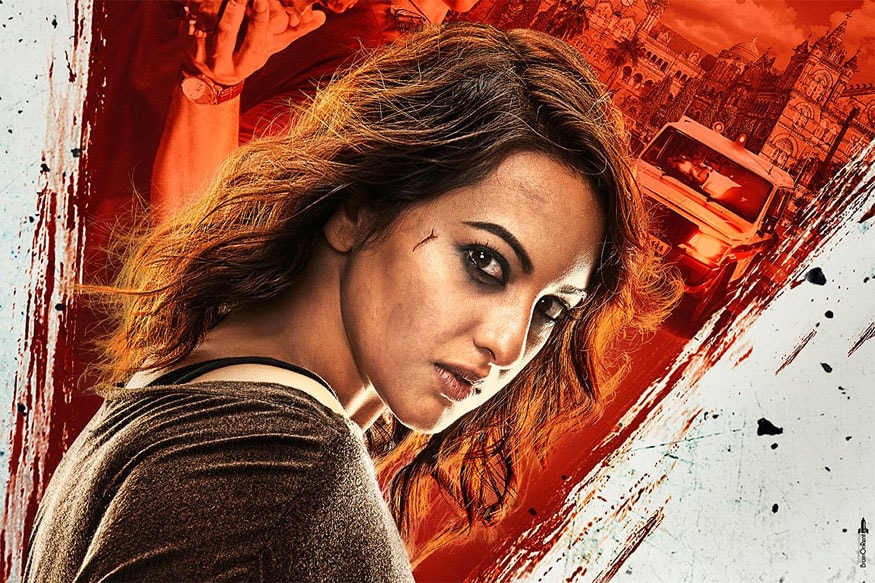 Image source: Movie poster/Akira
Bollywood is ready to experience a full-fledged action film relying only solely on one woman's shoulder this week. Directed by AR Murugadoss, Akira stars Sonakshi Sinha, Konkona Sen Sharma and Anurag Kashyap in pivotal roles.
The promos have been showcasing Akira as an out-and-out action film. The film sees Sonakshi as Akira Sharma, a girl who comes to Mumbai from Jodhpur, where she gets into a tiff with the goons of a college, in which she enrolls. Considering the fact that the Sonakshi and Murugadoss have previously worked together in Holiday: A Soldier Is Never Off Duty and that it's a remake of Santha Kumar-directed Tamil film Mouna Guru, the expectations are really high.
Will this film be able to deliver what it has been promising? Will Sonakshi Sinha set a bench mark for other leading ladies to take up action-packed thriller? Will the story line be impressive enough? Kriti Tulsiani from News18.com is inside the theater to find out.
10:05 AM: Tweet review of @sonakshisinha-starrer #Akira to start in a bit. Stay tuned.
10:15 AM: Directed by @ARMurugadoss, #Akira features @sonakshisinha, @anuragkashyap72, @konkonas in pivotal roles.
10:36 AM: #Akira begins with an old Sufi saying: "Life always tests with your special virtue that exists in you!"
10:37 AM: Young #Akira learns Karate and raises her voice against the heinous crime of acid attack. She's fierce!
10:48 AM: .@anuragkashyap72's cut-throat opening scene will get you to the edge of your seat! #Akira
10:54 AM: Laathi charge, water cannons discharged on college students: #Akira's depiction of a protest is so real.
11:09 AM: Seedha chalo toh thoda ghoomna padta hai: @konkonas's dialogue finely depicts the loopholes in our system. #Akira
11:11 AM: Woah! @sonakshisinha is undeterred in packing these punches. Watch out for the cafeteria scene #Akira
11:35 AM: .@sonakshisinha is doing full justice to her titular role #Akira which means graceful strength in Sanskrit.
11:38 AM: It's half time. Story line and gritty dialogues keep you invested throughout. #Akira
11:41 AM: While some scenes are stretched too far, first half still manages to keep you involved. #Akira
12:07 PM: There are so many twists and turns in the story line! #Akira
12:11 PM: #Akira is a girl of few words, more punches. Not many flavours to her character here.
12:19 PM: Loud cheers and applauds in the hall for a particular scene. Looks like people are wrecking their brains over the plot! #Akira
12:24 PM: Background score is loud, at times too loud but it's only adding to the weight of the story. #Akira
12:41 PM: Surprising to see that #AnuragKashyap has more screen time than #SonakshiSinha. And well, definitely for the better! #Akira
12:45 PM: You'll like #Akira if action is your cup of tea, provided you're ready to buy anything and everything which is depicted.
12:48 PM: .@anuragkashyap72 is the highlight of #Akira! He's so bad that he's unbelievably good. Take a bow!
12:51 PM: #Akira is full of sequences where @sonakshisinha single handedly takes care of everything. Good treatment of women-driven action films!
12:56 PM: Thank you for staying with us throughout the tweet review of #Akira. Stay tuned for more movie updates.
Tweets about #Akira from:News18movies

Also Watch
| Edited by: Kriti Tulsiani
Read full article