Akshay Kumar-Mallika Dua Controversy: Twinkle Khanna Apologises For Her Comments In This FB Post
Actor-author Twinkle Khanna, in a long Facebook post, regretted her opinion on stand-up comic Mallika Dua and apologised for her reaction.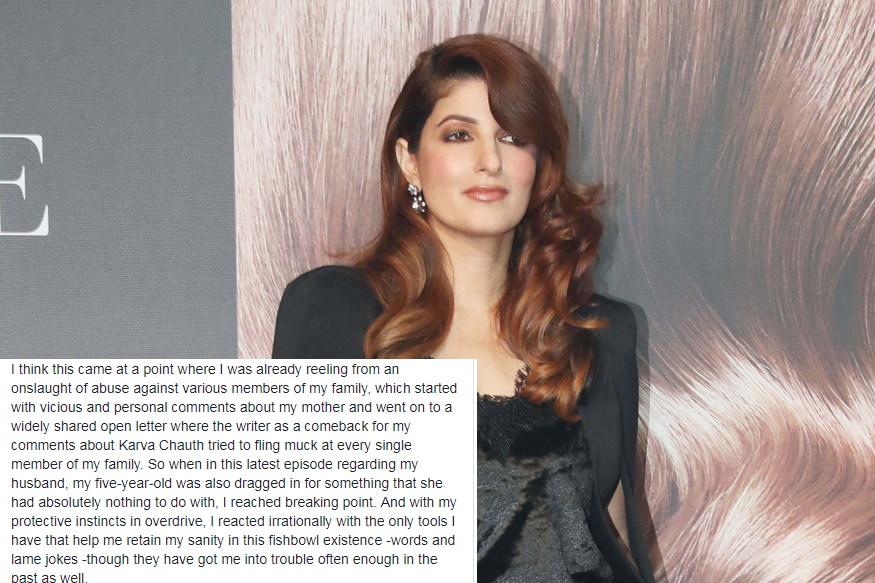 Image Courtesy: Yogen Shah
Actor-author Twinkle Khanna has never shown inhibitions in being vocal on social media and making her perspectives and voice heard on a variety of topics. On Sunday, she grabbed everyone's attention when she addressed the controversy surrounding her husband Akshay Kumar's "insensitive" remark on Mallika Dua during The Great Indian Laughter Challenge shoot.
Mallika's father Vinod Dua slammed the actor in a Facebook post "for telling his co-worker Mallika Dua that 'Aap bell bajao, main aap ko bajata hun' (You ring the bell, I will bang you)...This is his sense of humour and language... Star Plus... Wake up." He even wrote, "I am going to screw this cretin Akshay." 
Taking her husband's side, Twinkle said that the particular remark made by Akshay was a "colloquial phrase that both men and women use."
In a long post on Twitter, she had said, "I would like to address the controversy on the sets of The Laughter Challenge. The show has a bell which the judges ring after a contestant's exceptional performance and when Ms Dua went forward to ring the bell, Mr Kumar said, "Mallika Ji aap bell bajao main aapko bajata hun" A pun on the words and actions related to the ringing of the bell. It's a colloquial phrase that both men and women use- for instance, "I am going to bajao him/ her" or "I got bajaoed", Red FM even has a tagline 'Bajatey Raho' all without sexist connotations. Mr Vinod Dua, Ms Dua's father, had written a post- it's been taken down now, stating, "I am going to screw this cretin Akshay Kumar". Should Mr Dua's statement also be taken literally or interpreted in context? Words, especially humour has to be seen in its right context. I have always stood up for freedom within comedy including defending AIB's (All India Bakchod's) infamous roast on numerous occasion in the past and that is my stance even today, so kindly stop tagging me in this debate."
October 29, 2017
In fact, she did not stop there and also took a dig at Mallika by cracking "lame jokes".
On being slammed on Twitter wherein she defended Akshay's 'bajata hun' comment by referring to it as "a pun on the words and actions related to ringing of the bell", Twinkle has now apologised.
In a long Facebook post, the actress regretted her opinion on stand-up comic Mallika and called her reaction to the controversy "purely emotional".
"As I reflect on my actions this past week, I realize that I got pulled into this debate not as a social commentator but as a wife and unlike my normal, slightly rational self, my reaction was purely emotional and without perspective, and I have been rather miserable about it ever since," she wrote.
Calling herself a 'feminist' from the time she was a young woman, she also apologised for her reaction. "I would like to apologize to everyone who felt that I was trivializing the cause of feminism especially because I strongly believe in equality and have been a feminist from the time I was a young woman, much before I even knew the term," her post further read. I think this came at a point where I was already reeling from an onslaught of abuse against various members of my family, which started with vicious and personal comments about my mother and went on to a widely shared open letter where the writer as a comeback for my comments about Karva Chauth tried to fling muck at every single member of my family. So when in this latest episode regarding my husband, my five-year-old was also dragged in for something that she had absolutely nothing to do with, I reached breaking point. And with my protective instincts in overdrive, I reacted irrationally with the only tools I have that help me retain my sanity in this fishbowl existence -words and lame jokes -though they have got me into trouble often enough in the past as well.
Once while embroiled in an earlier controversy (the story of my life it seems), I had written that a wise woman keeps her hands firmly in her pockets and does not accidentally unzip anything including her mouth. I am not this woman clearly, but I am going to try to be a little wiser from now on," she wrote next.
Read full article
Countdown To
Elections Results
To Assembly Elections 2018 Results