GET Stock

Quotes


Aladdin Review: Disney's Broadway Musical Creates Desi Magic, Charms Audience
Disney's Aladdin is definitely worth an experience that your kids and you should have.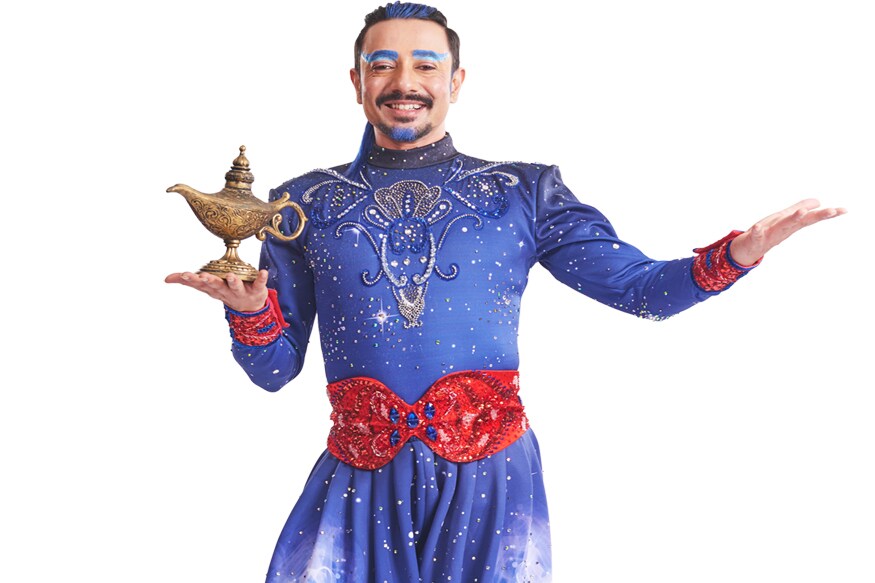 Disney's Aladdin is definitely worth an experience that your kids and you should have.
In the minds of Indian audience, Disney's musical
Aladdin
is the Broadway version of a Sooraj Barjatya film -- a wholesome family entertainer. Therefore, it is not surprising at all that tiny tots have been waddling down the red carpet at NCPA, Mumbai with their parents and grandparents to watch the show for the past few days. Nearly all
Aladdin
shows are sold out already. In fact, a few new ones were also recently added.
Aladdin
, the 2011 Broadway musical which was adapted from the 1992 Disney film for the stage has undergone several transformations to suit the Indian audience's taste and sensibility before it premiered in Mumbai.
A really good decision on the part of the makers was to make the production bilingual. In Aladdin, we are introduced to a Hindi speaking genie, who elicits maximum kiddie-crowd-laughs. Another good call was to include several desi references that are instant crowd-pleasers. There is a scene where Aladdin and his friends have been taken captive and he calls genie for help. Instead of genie showing up, Al's call goes to a genie service helpline that goes, "For English press one. Hindi ke liye do dabayen." (You see what I'm saying).
The story of
Aladdin
is the same. For those who still need a refresher, the fable goes that poor but big-hearted pickpocket Aladdin or Al (Taaruk Raina) falls for the beautiful princess of Agrabah, Jasmine (Kira). However, the wazir of Agrabah's sultanate, Jafar (Vikrant Chaturvedi) wouldn't allow them to unite. A kind fun loving genie comes to the rescue of the lovebirds and like in all fairytales, Aladdin and Jasmine live happily-ever-after. (Please don't say this is a spoiler)
This hallowed fable from Arabian Nights, which Disney has presented in many new flashy garbs over the past few decades should be old by now but in its Indian Broadway avatar, it appears to be a charming, spirited tale of love. There are many saccharine induced moments to give kids in the audience a magical fairy tale experience. However, some witty, wise-cracking comments every now and then also keep the chaperones of those kids engaged and interested.
Kira as Jasmine is unaffected and graceful. Her acting chops, in fact, are far superior to Courtney Reed's who had played the same character in
Aladdin
's US Broadway version. Jasmine is perhaps one of those few Disney princesses who has championed women empowerment before
Frozen
,
Tangled
and
Brave
were born.
In the Broadway version too, Kira's Jasmine is rebellious and smart. She is beautiful and loves to speak her mind and refuses to be married to any Tom, Dick, or Hassim. In her comparison, Raina's Aladdin seems bland. Despite being a good dancer he labors to carry the story forward and it isn't until the genie, played brilliantly by Mantra arrives, that the show gets interesting.
It's a hard act to follow on the footsteps of James Monroe Iglehart who played the role of the genie in Aladdin's US production and often left the audience giddy with laughter and even received standing ovations. However, Mantra successfully wears his genie shoes. Mantra's genie has a commanding yet affable stage presence and he has the lion's share of crowd-pleasing jokes in the show. Dhruv Lohumi's Iago is also funny with his vinegar laced sarcasm. Deven Khote's Sultan deserves a special mention for just being adorable.
One disappointment from the show is that none of the members of the Indian cast are particularly good singers. Broadways are often characterized by live singing and a big part of the fun is to watch the characters in front of you sing and dance. Unfortunately, most singers in the Indian version of
Aladdin
do not have the kind of voice which could do a lot of variations with different songs.
Anyhow, what they lack in talent they make up for with enthusiasm. Wonderfully choreographed by Bertwin Ravi D'Souza and Shampa Gopikrishna, from the main characters to the ensemble cast, everyone effortlessly glides on the stage.
Most praises, however, should be reserved for director Shruti Sharma and the Hindi adapter of the script, Ravindran Achariya, who hits the sweet spot between adding local flavors and staying honest to the original script. The Indian version of Aladdin is almost a scene-by-scene reenactment of the US production with songs like
A Whole New World
,
Diamond in the Rough
and
Friend Like Me
being featured, as well. However, they manage to Indianize it without losing any of Disney's trademark magic.
The stage of Jamshedpur Bhabha Theatre (at NCPA, Mumbai) isn't particularly big, but the set created on it is in no way inferior to that of a world-class Broadway stage. The technical team also recreated Agrabah, the palace, the treasure cave as well as a FLYING magic carpet (yes, it actually flies) beautifully. The show, in fact, is so grand and opulent that it can give Sanjay Leela Bhansali an inferiority complex.
India isn't completely new to Broadway. Before
Aladdin
, Disney's first production,
Beauty and the Beast
was a phenomenal success. In fact, we also had our very own Broadway-styled musical with
Mughal-e-Azam
. However, with
Aladdin
, it seems like India has wholeheartedly embraced Broadway and more importantly international productions have found a way to the hearts of Indian audience.
Disney's
Aladdin
is definitely worth an experience that your kids and you should have.
(Shows of Disney's Aladdin, a Broadway-styled musical are currently being held at Mumbai's National Centre for the Performing Arts.)
Also Watch
Read full article