Mumbai
: A Mumbai-based NGO on Saturday demanded strict action against veteran Bollywood actor Anil Kapoor over his train 'stunts' while on a short commute for promoting a teleserial on Thursday.
Sahas Foundation president Sayed Furqan Ahmed lodged a complaint with Railway Police Commissioner Niket Kaushik pointing out that the actor's actions set a bad precedent, were highly condemnable and punishable under the Indian Railways Act.
Ahmed said it was disheartening to see Kapoor, an inspiration to youngsters with his on-screen image, behaving in an irresponsible manner, especially in view of the ever-increasing casualties among youth travelling on footboard, surfing or performing dare-devil stunts.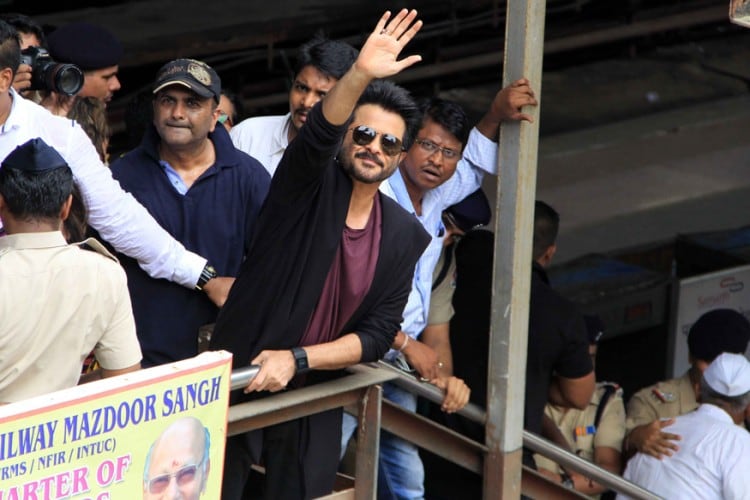 "He should apologise publicly not only to railway commuters but also the family members of the youth who have lost their lives... for, he inspired others to imitate him of leaning out of a running train and footboard travel, both causing deaths every year," Ahmed said in his plea to Kaushik.
Besides, he added that enormous amount of tax-payers money is spent on promotions/advertising to spread awareness and deter youngsters from performing such evil acts resulting in unintentional suicides.
He urged police take action against Kapoor and the organising agency to give a clear message on commuters' safety and save lives.
On Friday, the Western Railway (WR) sought an explanation from the production house, Market Men Consumer & Events Pvt Ltd on Kapoor's stunts.
"Inspite of the terms and conditions to adhere strictly to safety and security during shoot, Anil Kapoor allegedly seems to be leaning from the footboard of a local train during a promo shoot on July 14," a WR official said, adding it was clearly observed from videos and photo uploaded on various social media networks.
Last Thursday, Anil Kapoor undertook a short local train journey from Churchgate station accompanied by hordes of fans and mediapersons in tow, to promote his upcoming television action-drama series,
24: Season 2
.
An adaptation of the popular American TV series "24", it will mark his return to the small screen in the role of Jai Singh Rathod, to be aired on Colours channel from July 23.
The official explained that by leaning out of the running train from the footboard, the actor could inspire youngsters to perform similar stunts.
Beset with many such instances in the past when youngsters performing dare-devil stunts have been killed or permanently maimed, the railway authorities has regularly campaign for safety and security during train commutes.
Besides his live action, Anil Kapoor also interacted with local train commuters and shared photos of his commute on social media sites.