Aquaman: Twitter Can't Get Over Jasaon Momoa's Underwater Superhero Avatar
Jason Momoa as Aquaman is winning the internet and how!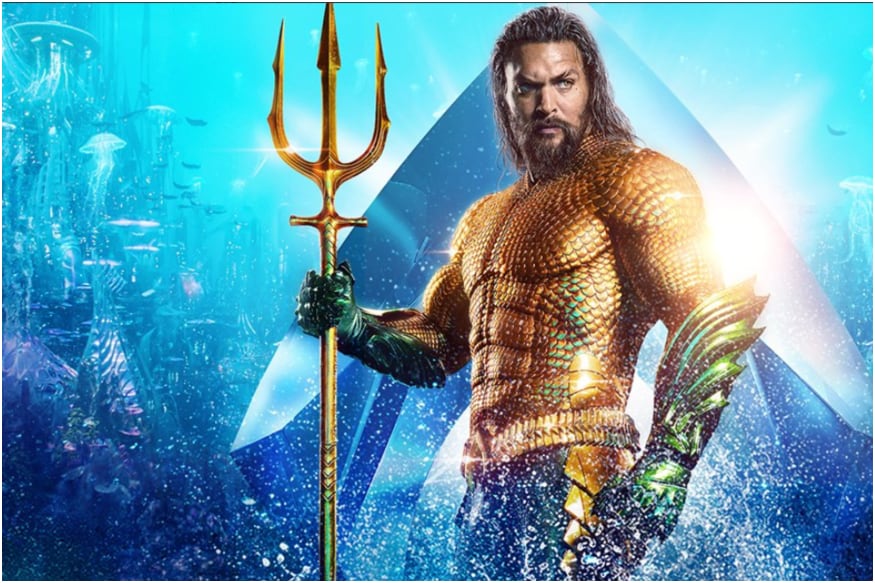 Jason Momoa in a still from Aquaman.
Just when the audience thought that DC survival is staggering, Jason Momoa dived into the deepest ocean and triumphed the screens as Aquaman. The underwater superhero has become fans new favourite and Twitter can't get over it.
Touted as one of DC's best films in recent times, Aquaman is gaining appreciation from all corners. Jason Momoa shines as Aquaman in DC's newest standalone superhero film after making brief appearances in Batman v Superman: Dawn of Justice and Justice League. The film serves as the origin story for the king of the underwater civilization.
Momoa as Aquaman is winning the internet and how! With his wicked humour and blazing light green eyes, fans are saying that 'he is literally oozing charm on screen'. It is also mentioned that not even once, his infamous stint as Khal Drogo from Game of Thrones overpowers his character of in the film.
Here's what Twitter has to say about him:
Just finished watching #AQUAMAN 4.5 out of 5.This is #DCUNIVERSE best movie till date... And one of the best graphics of all superhero movies... #JasonMomoa killed it and so did the other actors. Well done Director. #AquamanInIndia #aquamanreview

— Ronnie chowdhury (@ronnie_d_one) December 13, 2018
I almost had a emotional break down when aquaman was comforting OrmIt was Like wow it can happen in real life actually these things happen in real life too Orm hated Arthur Because he thinks arthur was the reason why her mom diedreally loved the chemistry #aquamanreview

— ArjunLoveable (@loveable_arjun) December 14, 2018
#Aquaman 3.5/5. Larger than life. Dir #JamesWan made it Spectacular with visually Stunning #CGI work. Eye-popping, breathtaking underwater scenes & awesome action. #JasonMomoa as Aquaman is terrific & has Screen presence. Story wise formulaic & too long. Dive in & enjoy in 3D.

— Sreedhar Pillai (@sri50) December 14, 2018
So my birthday is coming up an my one wish is to meet Jason Momoa @PrideOfGypsiesJ in person one day#LA

— Mama Corralejo (@shanice_splash) December 14, 2018
OMG Jason Momoa's performing the haka "Ka Mate" with cast members and his kids, including his daughter, is EVERYTHING. #Aquaman pic.twitter.com/jTlklM3O8w

— Nancy Wang Yuen (@nancywyuen) December 13, 2018
I'm happy to say @creepypuppet absolutely crushed #Aquaman. A true comic book film in every sense of the word, with some fantastic action set pieces, and a beating pulp adventure at its core. Jason Momoa truly is King of Atlantis. What a cool flick! DC Universe is in great hands. pic.twitter.com/FWNe0AHCJO

— PJ Campbell (@pj_campbell) December 8, 2018
Dear god he should do some voice acting too. I could listen to this man read a safety brochure on repeat for hours. #JasonMomoa pic.twitter.com/Jm38ov4vSC

— Amanda (@StitchedWicked) December 5, 2018
Why my grandma out here trynna kiss Jason Momoa?! 😂 pic.twitter.com/1OXF24gRaP

— Jamon🇦🇸 (@iAmJamon) December 5, 2018
Talking about Aquaman, DC goes big with its action sequences and breathtaking visuals. It is said that the film is a visual delight for the fans.
The film reveals the origin story of half-human, half-Atlantean Arthur Curry and takes him on the journey of his life which will not only force him to face who he really is but to discover if he is worthy of who he was born to be, a king.
Directed by James Wan, the film also stars Amber Heard, Patrick Wilson and Nicole Kidman in pivotal roles.
Read full article
Countdown To
Elections Results
To Assembly Elections 2018 Results