Arjun Kapoor's Shirtless Photo on Instagram Gets This Reaction from Malaika
Not just Malaika Arora but many other Bollywood celebrities also rushed to the comment section.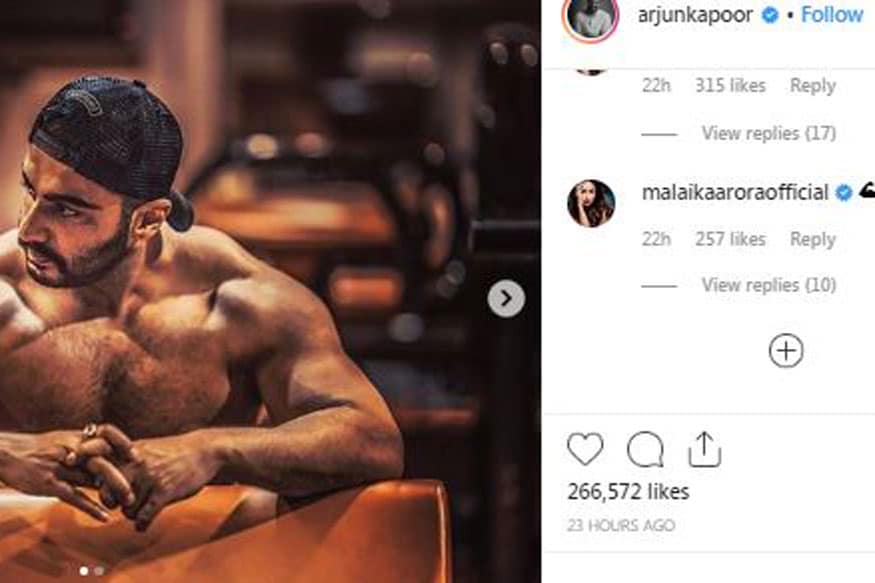 Image: Arjun Kapoor/Instagram
A shirtless photograph of Arjun Kapoor not just caught his fans' attention, but also impressed actress Malaika Arora enough to react. Arjun posted a photograph in which he flaunted his chiselled body, and captioned it: "Warrior mode on".
Malaika reacted to the image by posting some bicep emojis in the comments section. A string of other Bollywood personalities commented on Arjun's brawny frame.
While ctress Vaani Kapoor wrote "Fab," Student of the Year 2 actor Ananya Panday called him "Forever 21."
Filmmaker Rohit Shetty commented: "Too good Arjun."
Arjun's uncle, actor Anil Kapoor called it "Phenomenal".
Arjun Kapoor will next be seen in India's Most Wanted. Talking about the film, he told IANS, "It's a challenge for me to play a bald Maratha warrior. He (the warrior) is not something I would imagine doing. But the fact Ashutosh Gowariker could imagine it, makes me excited to fulfil his vision."
"I didn't choose it (Panipat), it chose me. I didn't go seeking. I always had a wish, and sometimes you just need to want something and it happens. It has happened at a time when I think I was ready for it... If I had to choose to do a period drama or a period war film, there is no choice other than Ashutosh Gowariker. He would do justice to the opulence, emotions and the storytelling," he added.
Get the best of News18 delivered to your inbox - subscribe to News18 Daybreak. Follow News18.com on Twitter, Instagram, Facebook, Telegram, TikTok and on YouTube, and stay in the know with what's happening in the world around you – in real time.
Read full article