At Venice Film Festival, Victoria and Abdul haunts us with a Raj tale
Gautam Bhaskaran discusses the cinematic retelling of Victoria and Abdul, which premiered at the Venice Film Festival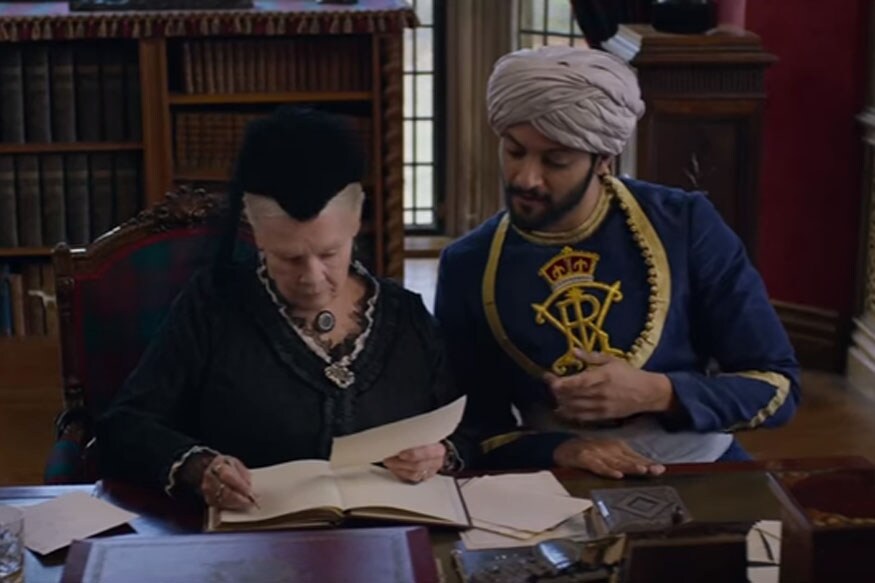 A still from the film (Image courtesy: YouTube)
This year's Venice Film Festival was conspicuous by its absence of Indian cinema. If the 2000 edition was marked by Mira Nair's top Golden Lion clincher, Monsoon Wedding, and a couple of years ago, Vetrimaaran's brutal look at the goings on in an Andhra Pradesh jail in Visaaranai,this autumn the Festival managed to throw up just two movies which had some kind of India connect. One of them was Ritesh Batra's Our Souls at Night (which I wrote about in these columns the other day) – whose claim to being Indian was the nationality of the director. The other film linked to India was Stephen Frears' Victoria and Abdul – which played on the Lido (the island off mainland Venice where the Festival takes place) on Sunday.
Frears returned to Venice after his hauntingly sweet 2013 work, Philomena. Frears plotted a tragic tale here – of an Irish girl, Philomena, barely 14, in the early 1950s who is abandoned in a nunnery by her family after she gets pregnant. Forced to do the dirtiest of jobs there, she is separated from her baby son, allowed to see him only once a week. Finally, he, Anthony, is given away in adoption to a rich American family. For the next 50 years, the disgraced girl, Philomena, lives with the beautiful memory of her son, till one day, a chance encounter with a former BBC political journalist helps her realize that she must try and find her son. She must get her secret out. Finally when she zeroes in on him, he is already dead, having succumbed to AIDS. He was gay.
The movie, based on a book published in 2009, worked not only as a catalyst for thousands of such "shamed" Irish mothers who also lost their children in a similar manner, but also as the basis for Frears' daring look at a dastardly practice that even got The Vatican uneasy. What is more, Judi Dench essayed the older Philomena, and what a performance that was. And Dench– who has been familiar to all of us as M in the James Bond thrillers – essays Queen Victoria in Frears' latest outing, while Indian actor Ali Fazal – seen in movies like Fukrey, Bobby Jasoos and Happy Bhag Jayegi – is Abdul Karim, a munshi or clerk in the royal household.
As Karim, a clerk at the Agra Central Jail, his life lights up when he is sent to England, where he finds himself as the personal assistant to Queen Victoria.
Based on a book, titled Victoria and Abdul: The True Story of The Queen's Closest Confidant by Shrabani Basu, Frears' examines how a young 24-year-old Abdul soon became a close confidant of an ageing Victoria – who had recently been devastated by the death of her Scottish gillie, John Brown. Her husband had been long gone. Abdul neatly places himself into this vacuum by becoming the Queen's teacher. He gives her Urdu lessons and keeps her informed about Indian political and social affairs during the turbulent 1887. Abdul's increasingly intimate relationship with Victoria gets the royal household uncomfortable and insecure leading to a near revolt. Pitted against a raging movement in India for independence from years of British rule and a growing hostility inside the royal palace is a tender story between an ordinary munshi and a prim-and-proper elderly Empress.
Journalist Basu said in recent interview with Firstpost that she had looked for the descendants of Karim, but managed to find them only after she had published her book."I had tried for years to trace the descendants of Abdul Karim. I had found his grave in Agra and his house, but been told that the family had left for Pakistan after Partition, so the trail had gone cold. I published the hardback edition of the book in 2010 and in every media interview I said I was looking for the descendants. Within a month of publication, I was contacted by them and told there was journal in Karachi. I got my visa and flew to Karachi as soon as I could. When the family gave me the diary, it was the most amazing moment. It's the sort of moment that historians dream of. This was the journal that the royal household was determined should not be published, and it had survived over a hundred years, traveled from Windsor to Agra and then through the violence of Partition from Agra to Karachi, and finally fallen into my hands. It was an emotional moment as well, as I could feel that the story was finally complete. It corroborated everything I had researched but had some more details. I revised my book with the diary and the paperback was published in 2011"
Frears – who was presented with the Festival's Jaeger-LeCoultre Glory to the Filmmaker Award on September 3 just before Victoria and Abdul premiered – bases his movie mostly on Basu's accounts. As the tired monarch – the longest serving one at that point in time – Dench's Victoria seemed to have got her spirits restored after the munshi arrived in London. One has seen Dench as the English Queen earlier in John Madden's 1997 Mrs Brown, and 20 years later, Frears' work builds on that to show us how mortal and vulnerable she really was.
In the ensuing drama, we see how an elderly monarch, her youthful good looks all gone, is helped by the handsome Karim (played with admirable ease by Fazal) to regain get some kind of interest in life. The film presents a remarkable view of Victoria's relationship with Karim – who has been sent to England to present a gold coin as a mark of India's appreciation for British rule.
In his first ever meeting with the Queen, Karim is brazen enough to disobey royal orders. Never raise your eyes, Never look into her eyes. But he establishes glances with her, and Victoria makes a casual comment, "I thought the tall one was terribly handsome". There is really no stopping Karim after that. She gets fascinated with his stories on India, even smitten by his good looks. Added to this, his devotion and his mastery over Urdu poetry and his calm temperament all endear Karim to Victoria. A time comes when she wants to honor him with a knighthood.
But the royal household rises in revolt. The Queen has to step back, and Frears thrusts upon us the kind of horrid racism which existed in the royal household then. Victoria and Abdul ends on a very poignant note – as a largely well made effort that could have, though, done away with some characters like Karim's wife and mother-in-law (who also arrive in England). These women seem more like caricatures than anything real and fleshed out.
Honestly, Victoria and Abdul is very much the Queen's story, Karim's appear sometimes like a mere apology for servility. Yes, we get to peep into the heartlessness and the self -centredness of the British establishment, but then the film does end on a chirpy note.
Get the best of News18 delivered to your inbox - subscribe to News18 Daybreak. Follow News18.com on Twitter, Instagram, Facebook, Telegram, TikTok and on YouTube, and stay in the know with what's happening in the world around you – in real time.
Read full article