Avengers Endgame Footage Leaked Online, Rangoli Chandel Blasts Randeep Hooda
Priyanka Chopra opens up about #MeToo movement and sexual harassment, Varun Dhawan and Sara Ali Khan to star in Coolie No 1 remake and new 'Bharat' poster is unveiled.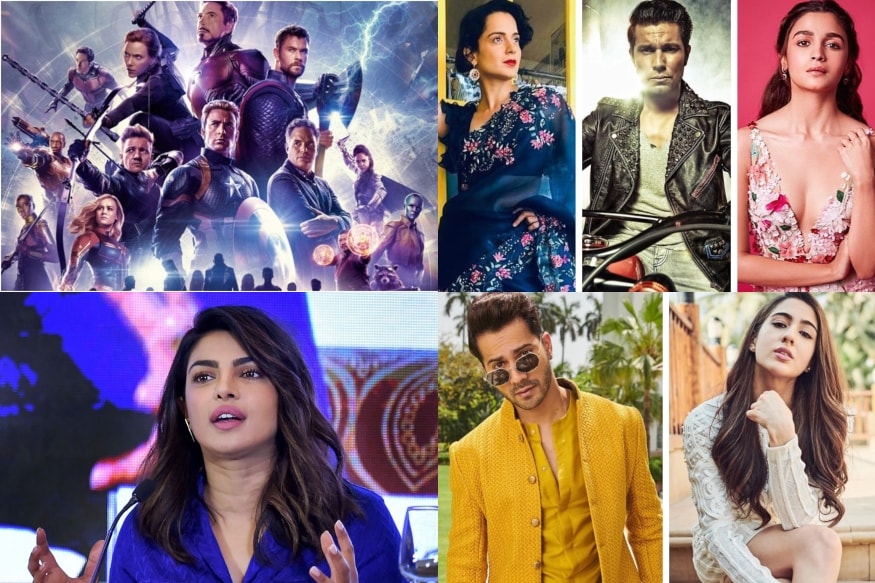 Priyanka Chopra opens up about #MeToo movement and sexual harassment, Varun Dhawan and Sara Ali Khan to star in Coolie No 1 remake and new 'Bharat' poster is unveiled.
Despite sustained efforts by Disney, some footage from Marvel's much-anticipated film Avengers: Endgame was leaked online. The footage that made way to social media quickly has several major moments from the film and spoilers.
In another news, Alia Bhatt's Highway co-star Randeep Hooda was blasted by Kangana Ranaut's sister and manager Rangoli Chandel. In a cryptic tweet, which could be about Kangana's constant criticism of Alia, Randeep said he is glad that the 26-year-old actress is "not letting the opinions of very occasional actors and chronic victims affect you and your work". Rangoli did not hold back her guns after the tweet surfaced online.
Also, bolstering the #MeToo movement and women empowerment, global icon Priyanka Chopra pointed out that courtesy of the support that women show each other now, victims do not feel ashamed of sharing their accounts of sexual harassment.
Scroll down for more news from the world of entertainment and lifestyle.
In a long Instagram video, which was apparently made during a screening of Avengers: Endgame, some footage from the film was made available on the internet. The makers were quick to pull down the video, but Reddit has detailed descriptions of every scene that featured in it. Please read the following story only if you want to know what the footage, which is being talked about in the matter, really shows. Else avoid it.
Read: Avengers Endgame Video Leaked: Iron Man Hugs Spider Man, Hulk Fails to Hold the Power of Infinity Gauntlet
A nasty war of words followed between Randeep Hooda and Kangana Ranaut's manager and sister Rangoli Chandel after the former shared a vague post, putting Kangana in a negative light.
Read: Kangana's Sister Rangoli Trains Guns At Randeep Hooda After His Cryptic Tweet Supporting Alia
Priyanka Chopra is known for being a flag-bearer of women empowerment and has often spoken out about gender issues. In a recent interview with Women in the World founder Tina Brown at the Women in World Summit 2019, the Quantico star talked about the #MeToo movement in Bollywood and facing sexual harassment herself.
Read: Priyanka Chopra On #MeToo Movement: People Can't Shut Us Down Anymore
Trailer of Bharat is less than two weeks from release. Meanwhile, new teasers and poster keep building excitement around the Salman Khan-starrer. On Tuesday, the maker dropped yet another character poster, featuring a young Salman.
Read: Salman Khan's Young Retro Avatar in New 'Bharat' Poster is Whistle-worthy, See Here
After winning the audience with his comedy flick Coolie No 1, director David Dhawan is all set to remake his '90s blockbuster. While his son, Varun Dhawan will be playing the male lead, Bollywood's newest diva Sara Ali Khan will be playing the female lead.
Read: Varun Dhawan, Sara Ali Khan to Recreate the Magic of Govinda and Karisma Kapoor's Coolie No 1
Check back tomorrow for more news from the world of films and fashion.
Follow @News18Movies for more
Get the best of News18 delivered to your inbox - subscribe to News18 Daybreak. Follow News18.com on Twitter, Instagram, Facebook, Telegram, TikTok and on YouTube, and stay in the know with what's happening in the world around you – in real time.
Read full article