Baba, Bas Ho Gaya: Dear Rajkumar Hirani, Sanju Isn't a Victim & Journos Aren't the Villains of His Story
'Sanju' takes media bashing to a whole new level, which is utterly surprising, given how instrumental Indian media has actually been in propelling Dutt's image of a long-suffering hero.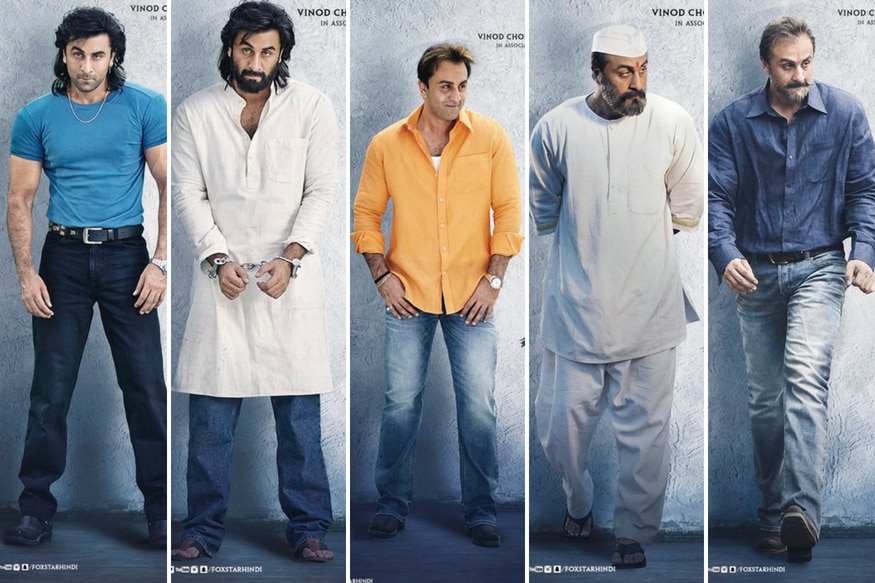 Image: Twitter/Rajkumar Hirani
As the end credit of Sanju began to roll, actual Sanju aka Sanjay Dutt, joined the onscreen Sanju (Ranbir Kapoor) in an item number titled Baba bolta hai abhi bas ho gaya. The audience, who had by then left their seats and were proceeding towards exit marked door stopped midway, and reverted all their attention towards the two giant-sized stars dancing onscreen.
The lyrics of the song went something like this:
"Chappi jiski khabar, bani uski khabar,
Kisi high court ka usko nahi darr.
Loop mein ghumake ek jhooth bar bar,
Sachchai ka diya usne phi*chw*da ph*d
Jhooth itna bada hai, ki saach ho gaya,
Baba bolta hai abhi, bas ho gaya."
For the audience leaving the theatre, this song happened to be the last reminder of vicious lies that media had supposedly told about Sanjay Dutt's life. Yes, in Rajkumar Hirani's latest outing, Sanju, media is the villain, the big bad wolf. And Sanjay Dutt is the poor lamb, the scapegoat of unfortunate circumstances, and the victim against whom malicious gossips were spun by journalists and told to the public.
Needless to say that the two hours and forty-one minutes of Sanju is an image makeover session-- from Khalnayak-to-Nayak -- for Sanjay Dutt. However, that isn't the surprising part. Despite Hirani's claim that he tried to make Sanju with objectivity, the film seems like a blatant attempt to sanitize Dutt's image post his jail trip.
Sanju portrays Dutt as the ultimate bechara, the poor misunderstood hero straight out of Greek tragedy, whose life had been full of suffering. On one hand, Sanju tells you, that you must sympathize with Dutt for his ordeals in jail, his drug-addled youth, and his difficult relationship with his dad, as well as the sudden loss of his mother. While on the other, the film claims that media had been cruel and insensitive to his throughout his life and is largely responsible for his Khalnayak image.
In what seems to be a particularly significant scene of Sanju, we see Sunil Dutt (Played by Paresh Rawal) angrily confront a newspaper editor for writing off his precious son and publishing a report which he believed was false. When the editor delves the source of his news and Dutt realizes that the news wasn't ill-founded after all, instead of attempting an apology for barging in and yelling at him, he huffs angrily and chides the editor for publishing the article with a headline that said, "FINISHED?" Dutt asks the editor why there is a question mark after the word 'finished'. He asks that why can't the editor say with conviction that Sanjay Dutt's career is over if that is what he is trying to imply (as if the editor had some personal vendetta against his son!). Finally, Sunil Dutt picks up a marker and rewrites the headline as 'NOT FINISHED.' and walks away with pride oozing out for his son who had not only made some really poor career choices but also had made very many terrible life choices.
The film points out that despite the fact that Dutt was eventually not booked under TADA act, and Supreme Court had said that Sanjay Dutt was not a terrorist, media forgot to mention it. Apparently, the report that RDX was found in Dutt's house was false news, and the AK-56 rifles? Well, he was only hoarding so many weapons to 'protect his family' silly, how dare the media connects his great instincts of self-preservation to blast and the underworld?
Sanju takes media bashing to a whole new level, which is utterly surprising, given how instrumental Indian media has actually been in propelling Dutt's image of a long-suffering hero. Much like Rajkumar Hirani, the concept of objectivity is lost on a large section of Indian entertainment reporters, who from the time of Sanjay Dutt's arrest till the time he was released, very fervently reported on all the cutesy things Dutt did in jail. I remember this, because at one point I was also asked by an editor to curate an article that said Sanjay Dutt wrote letters to his wife from jail. There were reports of him being the radio jokey of the Yerwada jail radio station (where too, apparently he trashed the media according to the film), there was news of him making paper bags and what not.
Strangely, after his conviction, which was for a very serious crime, the crime suddenly became irrelevant for the media. Apart from some customary mentions, no one really talked about the case. Most reports that started pouring out about Sanjay Dutt were puff pieces at best, about his jail life. The underlining sentiment behind most of these reports was something on the lines of, "bechara Sanjay Dutt."
Let's face it, the reason why media bothered to push out a report everytime Sanjay Dutt did something in jail was because he was Sanjay Dutt -- the golden boy of 90s overtly emotional dramas, the baba of the industry (despite being a fully grown man in his 50s) the son of Sunil and Nargis Dutt. So, yes media did treat him differently, but definitely not unfavorably as is shown in the film, Sanju. In fact, media was a strong enabler in letting his version of the story out (in pre-Sanju days). Go through any old news snippet or headline, and you will see plenty of Sanjay Dutt's quotes, even quotes that say that 'I'm not a terrorist.' (Yes, it was reported.)
What Sanjay Dutt doesn't realize is, it is a privilege, a special treatment (like all those extra paroles he got) to have a platform to tell his side of the story. Rajkumar Hirani will never make a film on Zaibunissa Kazi, a 73-year-old woman who was also convicted like Dutt for the possession of arms (unlike Dutt though, whose lawyers could find a way out of TADA act, Kazi was booked under TADA). No, he won't. And, media sure didn't bother to talk about any letters that Kazi might have written from jail, or about anything new craftsmanship that she may have learned. She had been very ill, and reportedly had cancer, however, she wasn't granted frequent paroles like Dutt.
Media went into a frenzy the day of Sanjay Dutt's release from jail. According to a report in DailyO, apparently media received the whole itinerary of Dutt's day out of jail in advance from his PR team. As Dutt stepped out of the jail and saluted the Indian flag, Rajkumar Hirani, along with the media started recording the moment, because how else will we ever see such an emotional ending of Sanju otherwise? Apparently, the traffic lights were all turned green for Sanjay Dutt, so that he could reach Siddhivinayak temple from airport faster. Needless to say, a pack of reporters and photographers followed Dutt, as the next stop from Mumbai airport, was listed as Siddhivinayak temple in the itinerary that was handed out to them.
At the press conference that Dutt's team had organized, reporters and photographers reportedly hugged baba and took selfies, before asking inane questions about his prison life miseries. As Dutt reached home, most TV channels cut live to their reporters at Dutt's residence. Several channels went with names like 'Munnabhai' or 'baba' instead of calling Dutt by his real name. Hashtags such as #Munnabhaifree did rounds. BBC had an especially charming piece on how Sanjay Dutt's cell had a garden view and how he read a lot during his prison time. At the end of his press conference, Dutt reportedly requested the media to not take his name in connection to the 1993 blast, given that he was not booked under TADA act.
In the last 25 years, through bits and pieces of media reports, we have all curated an image of Sanjay Dutt in our heads. There have been speculations about the extent to which he was actually involved in 1993 blast, which killed 257 people and injured over 700. For the longest time, Dutt's supporters had claimed that he may have been stupid and naïve buying arms from the masterminds of Mumbai blasts, but he did not mean harm. However, that conviction has been questioned time and again, especially with Tehelka once quoting Dutt saying, "because I have Muslim blood in my veins. I could not bear what was happening in my city." However, in the last two decades, we were free to draw our own conclusions about Dutt and his doings. Rajkumar Hirani's Sanju changes that. Hirani not only oversimplifies Dutt's life and actions but gives a very lopsided view of the events.
Strangely, public has very short memory when it comes to history, facts or news. But, good films we tend to remember. I personally cannot recall anything that I had studied about the Mauryan king, Ashoka, the great. But, I remember he had a girlfriend who was princess Kaurwaki, and a horse named Pawan. Now, historians may like to dispute this knowledge (say that Kaurwaki wasn't a princess and Pawan may not have existed), but I still remember these facts because I always remember king Ashoka as Shah Rukh Khan after watching the film, Asoka in 2001. Such is the power of great visual storytelling. If done correctly, it creates a permanent perception which stays in our memory (irrespective of whether it is true or not). Rajkumar Hirani, who is a brilliant filmmaker, perhaps understands this fact better than any one of us. Therefore, he has immortalized Sanjay Dutt's version of the events leading up to, and post the 1993 blast in a movie, with song-dance and exceptionally good performances. Now, whenever you think of Sanjay Dutt, chances are your memory of the actual case against him will be vague, but your memory of Ranbir Kapoor and Vicky Kaushal talking about 'ghapa ghap' will be very strong indeed.
Read full article