GET Stock

Quotes



Babu Bangaram Review: Venkatesh Is Gold, but the Film Is Not
While Maruthi gets a stiff thumb, Venkatesh gets a thumbs-up for Babu Bangaram.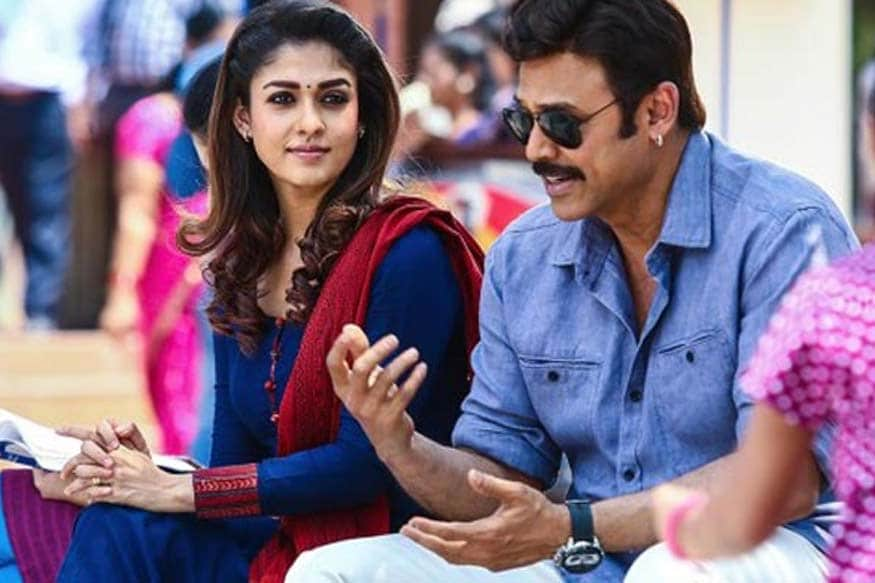 While Maruthi gets a stiff thumb, Venkatesh gets a thumbs-up for Babu Bangaram.
Cast: Venkatesh, Nayanthara, Vennela Kishore, Prudhviraj, Posani Krishna Murali, Sampath Raj, Brahmanandam.
Director: Maruthi
Many a time, we feel that an actor has done a great job, but we point our fingers toward the script saying that's the culprit. Babu Bangaram suffers from the action-comedy syndrome. It means that the director has failed to balance both of them. Prudhviraj, Vennela Kishore, Brahmanandam, and Posani Krishna Murali join the list of comedians for BB. They are, of course, sidelined by Venkatesh as his comic timing is perfect. What's the use of breaking into skits when there's no coherence?
Maruthi runs after entertainment in his films. He did it pretty well in his previous outing, Bhale Bhale Magadivoy, with Nani and Lavanya. This time, he's handling bigger stars, Venky and Nayan. Was that the reason for the fall? Did the actors' image come into his mind and spoil things for him? I remembered the 2004 film Malliswari. Venky made us all laugh till our bellies ached. He did that with Katrina Kaif by his side. It would have been one hell of a ride for him. Katrina is still criticized for her performance and Malliswari is a decade-old film. Imagine how it must have been back then. Venkatesh and gang pulled it off amiably. BB has Nayanthara in the lead. Yet, she isn't given the necessary scope. She's seen throughout the film, though. She's either seen weeping or smiling. They don't add much weight to her character.
Venky's cop avatar is a definite nod to Gautham Menon's Gharshana. BB is neither a photocopy nor an original. It lacks the flavor of a cop drama. This is because we don't take his character seriously at any point. Venky is mostly chasing Nayan with the help of Prudhvi (who plays Nayan's fiancé). He's also solving a criminal case on the flipside. The initial portions where Prudhvi brings the roof down are neat. The strength of such scenes is not carried to the later portions and that's where the problems begin.
By the time, Venky puts his nose in the criminal case, we give up our hopes. We just want to see if there's anything interesting coming our way. That's when Posani Krishna Murali and Brahmanandam appear to dig a well for their hilarious acts.
Nayan and Venky love to help the poor. They sympathize with the hearts of the needy. This is what you are going to see in the first half hour. As you sit down for the rest of the film, you realize that there's no trace of it left in the latter half. Maruthi perhaps didn't think this through. When a film is divided into two halves, and when the suspense pops out at the interval, what's going to keep us glued to our seats till the end? We know Venky's going to beat up Sampath Raj (the foolish villain) in the climax. It's the "how he's going to do it" that's disappointing in BB.
Ghibran's music is nowhere near his best. It's just about okay. And somebody, please, give Brahmanandam something heavy to make a comeback. All his jokes are falling flat. Are the writers not giving him the right stuff? Or, are the filmmakers not giving him the right space to create brilliance?
While Maruthi gets a stiff thumb, Venkatesh gets a thumbs-up for Babu Bangaram.
Rating: 2.5/ 5
Also Watch
Read full article