Baywatch Movie Review: Nothing Spectacularly Good About It
Tough to recommend, easy to skip!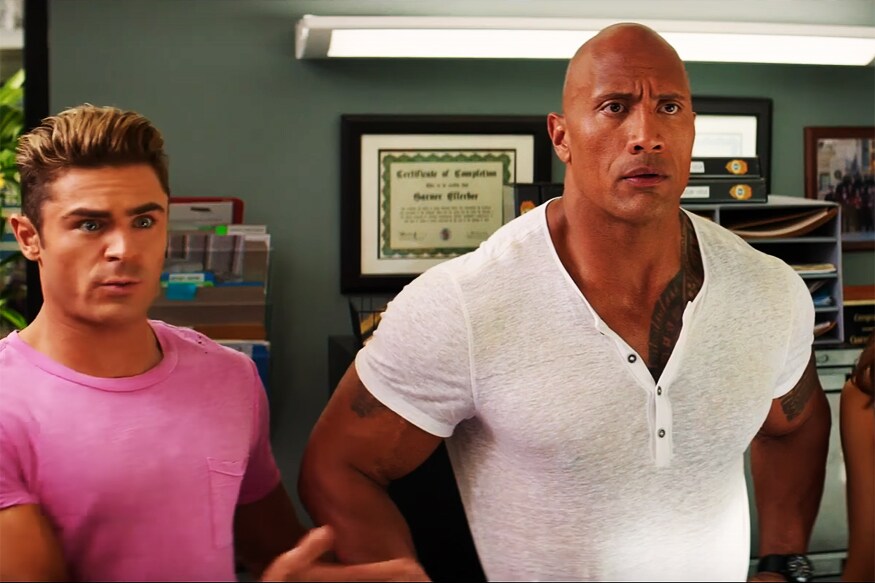 Image: A YouTube grab
Cast: Dwayne Johnson, Priyanka Chopra, Zac Efron, Alexandra Daddario, Kelly Rohrbach
Director: Seth Gordon
About an hour into the film you are convinced that Baywatch - the movie adaptation of the '90s TV action-drama has dreadfully failed at sustaining viewers' interest. Honestly speaking, Baywatch goes beyond just disappointing. It comes across as a film that truly wastes not just ideas, but also talent.
Going by the manner in which Channing Tatum and Jonah Hill-run 21 Jump Street franchise was liked by both fans and critics alike, it was expected that the studios wanted to evoke the magic and consider big-screen adaptation of other popular series. But Baywatch unfortunately offers nothing much to laud, but a lot to loathe.
Baywatch tries its best to retain the TV series' spirit by focusing on its original characters - Mitch (Dwayne 'The Rock' Johnson), CJ (Kelly Rohrbach), Summer (Alexandra Daddario), Matt Brody (Zac Efron) and Stephanie (Ilfenesh Hadera), but doesn't succeed in delivering on the promise of creating an experience for the viewers.
Set in Florida's Emerald Bay, Lieutenant Mitch Buchannon and his squad of lifeguards, try just about everything to ensure it is a safe haven for swimmers.
The film begins just when lifeguard tryouts kick off with only three open spots. While Olympic gold medal swimmer, Matt believes he will definitely succeed, Mitch, an iconic figure who has saved several lives, doesn't feel so. The two find it difficult to get along well right from the beginning, and that's what makes their interaction a bit funny.
Once the guards have been assembled, they get on an undercover operation to stop Victoria Leeds (Priyanka Chopra) from selling drugs and murdering those who come in her way, and not let her seize control of the bay. The plot clearly focuses on the Baywatch team taking action to make sure drugs are kept off their beaches. But it is sad that the talented assembled cast ends up being underused. Zac, who is still remembered for his comedies, especially the Neighbours movies, tries to be comical, but ends up being annoying. Dwayne intends to be funny by taking digs at Zac, but they aren't as funny as they should have been. But what's even strange is that he takes his role of a lifeguard so seriously that he remains unaware of jurisdictional restrictions.
Frankly, had the screenwriters Damian Shannon and Mark Swift focused a bit on the actors' physical comedy, it could have elicited a few chuckles. What's the point of having charismatic actors like Zac and Dwayne when the screenplay bombs at highlighting their comic chemistry? What's even more confusing is whether Seth Gordon is interested in mocking the television series, or remaking it for the audience in 2017.
Actors Kelly Rohrbach, Dwayne Johnson, Alexandra Daddario, Zac Efron and Ilfenesh Hadera don't fail because of their acting potential, but find it tough to deliver because of the flawed script and direction.
It is interesting to see how Priyanka as a despicable entrepreneur Victoria Leeds stands out in the film. We love to hate her because of multiple reasons – impressive character development, her ability to make the writing look better and just by creating a personality one wouldn't be able to forget that easily.
Going by the attractive cast that the director got, Baywatch could have been promising. But there is nothing spectacularly good about it. Tough to recommend, easy to skip!
Rating: 1/5
Get the best of News18 delivered to your inbox - subscribe to News18 Daybreak. Follow News18.com on Twitter, Instagram, Facebook, Telegram, TikTok and on YouTube, and stay in the know with what's happening in the world around you – in real time.
| Edited by: Divya Pal
Read full article