Begum Jaan Cannot Be Slut Shamed, She Is Unflinchingly Powerful: Vidya Balan
Vidya admits she loved the original film a lot but was hesitant about working in a remake.
Image: Official poster of Begum Jaan
She never sticks to the norms and always experiments with the characters she plays on screen and yet Vidya Balan emerges as a winner with each of her roles. From a sexy southern siren in The Dirty Picture to a pregnant woman in search of her husband in Kahaani to a sleuth in Bobby Jasoos, Vidya has played myriad characters- making each of them memorable in their own way.
In her latest, Begum Jaan, she plays a madam of a brothel set during the partition era. The trailer has already garnered a lot of curiosity around the film- primarily for its powerful story line and of course Vidya herself. Terming it as one of the toughest roles of her career, Vidya states that Begum Jaan's powerful personality drew her to the role.
"Begum Jaan is very different person from anyone I've known or played in my life. What really drew me to Begum Jaan is that women often take time to come to terms with the kind of power they have, no matter how successful they are but Begum Jaan knows her strengths well. Begum Jaan is unapologetically and unabashedly powerful. I found that fascinating about her. Even when you see a powerful women, you will still see a softer side to her, but not her. She is unflinchingly powerful. That's what drew me to her."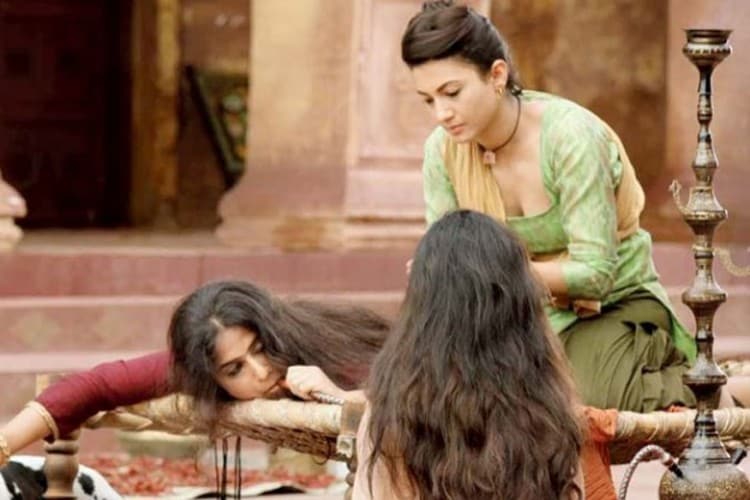 A still of Vidya Balan from Begum Jaan.
A remake of Bengali film Rajkahini, Begum Jaan is set during the partition and narrates the story of a brothel through which line demarcating India and Pakistan is to be drawn. The occupants get a month's time to vacate the house and the women, all prostitutes, refuse to leave Begum Jaan and her house.
The film speaks from the perspective of a bunch of prostitutes, who are not anyone's priority. They form the marginalised section of the society, admonished by most yet used for pleasure. But they aren't apologetic about their choices, Vidya points out. "All of them are there due to certain circumstances, but they are unapologetic. Begum Jaan cannot be slut shamed. She lives by her own rules and has no qualms of being a whore. Which is why the film's tag line 'My body. My House. My Country. My Rules' is absolutely apt."
Vidya admits she loved the original film a lot but was hesitant about working in a remake. "I am personally not very excited about the thought of remakes especially if its classic but then sometimes your greed as an actor overpowers every rule you make for yourself. Actually Srijit had come to me with the original film which I couldn't do at that time. I am glad he came to me later and when I saw the film I knew how great it was. I was sure that Srijit had a different version in mind when he started making Begum Jaan and that he would not completely copy the original film."
The two films have the same premise, that of partition but while Rajkahini was set in Bengal, Begum Jaan is based in Gurdaspur, Punjab. Did the original film and the performances in it, affect Vidya while enacting the scenes in Begum Jaan? "I consciously blocked it out. Don't know if subconsciously it came up. I watched it as an audience and I absolutely loved it. I wanted to do it. I think therefore I blocked it out consciously. Besides I am a terrible mimic, didn't want Ritiparna's (Sengupta) performance to impact my performance. It also helps that I have very bad memory- moments stay, feelings stay but don't remember how the actor used his body and face in a particular role," quipped Vidya.
Vidya admits that while prepping for the role she completely relied on Srjit Mukherji's brief. "He was my history and geography," Vidya laughed and added "We all gave so much of ourselves to the film. Once we were on the sets, we would completely cut-off from the rest of the world."
The film also features Ashish Vidyarthi, Rajit Kapur, Gauahar Khan, Pallavi Sharda, Vivek Mushran and Chunky Panday. Produced by Mahesh Bhatt, Begum Jaan will be releasing in theaters on 14th April.
Get the best of News18 delivered to your inbox - subscribe to News18 Daybreak. Follow News18.com on Twitter, Instagram, Facebook, Telegram, TikTok and on YouTube, and stay in the know with what's happening in the world around you – in real time.
| Edited by: Shomini Sen
Read full article