Being Imtiaz Ali's Brother is Both a Gift and a Liability: Laila Majnu Director Sajid Ali
Having Imtiaz Ali as a brother can be tough for someone starting out and Sajid is aware of the baggage as well as its benefits.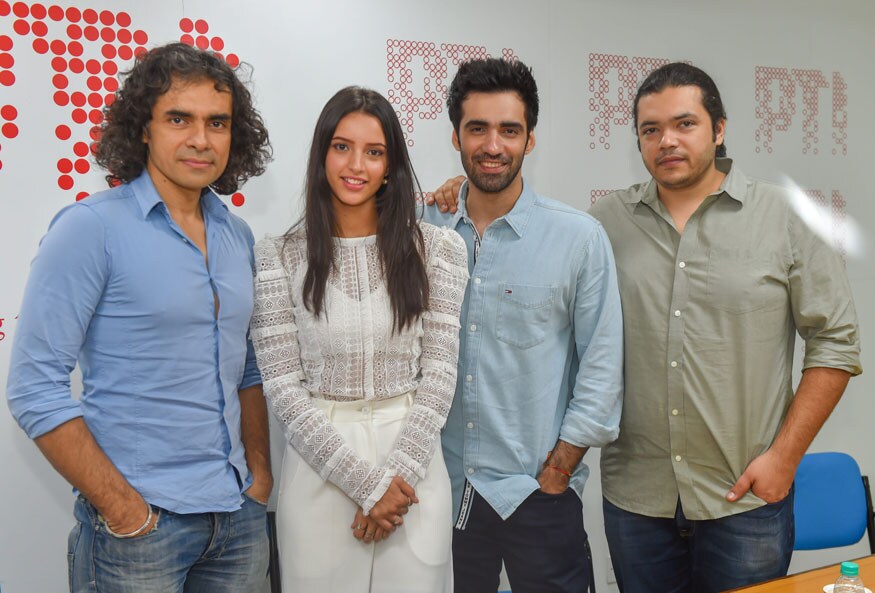 New Delhi: Film-maker Imtiaz Ali, his brother and director of the film "Laila Majnu" Sajid Ali, actress Tripti Dimri and actor Avinash Tiwari promote their film, in New Delhi, Tuesday, Sep 4, 2018. (Image: PIB/PTI)
If there is one character from Imtiaz Ali's films his brother Sajid Ali identifies with it would be Abhay Deol's role in Socha Na Tha.
Viren in Imtiaz's debut film was confused about love, and Sajid about his career choices.
Sajid, who has followed elder brother Imtiaz into the movies and makes his directorial debut with Laila Majnu, said filmmaking was something he literally fell into.
"Filmmaking was never a plan. I was confused just like Abhay's character in 'Socha Naa Tha'. I thought I should do an MBA but I was bad in math. Then I thought I'll do journalism. There was a lot of confusion. I decided to take up English literature in my college. Then, Imtiaz guided me to this one year course in filmmaking," Sajid told PTI in an interview.
"While studying, I started liking the process of screen writing and while doing that I found my voice. I realised this is what I enjoyed doing," he said.
Having a famous director as a brother can be tough for someone starting out and Sajid is aware of the baggage as well as its benefits.
"I knew the world I was entering. It is a gift and also a liability. The liability - I would be judged and compared. He (Imtiaz) is legendary in a few things like relationships etc whereas I lack the depth. But I also knew I will have his support. "I never thought I'll be a doing a love story. The only reason I agreed was because I knew I had the support and I could bounce things off him and learn from him in the process and become more qualified," he said.
Taking a familiar, oft-told tale such as Laila Majnu and placing it in a modern context on the big screen has its own challenges, including facing criticism from people who want these stories to be left alone.
Sajid understands the argument as he considers himself one of those who don't like someone messing with something that is grand. This, he said, put a lot of pressure on him because he was judging himself every step of the way.
"I'm very judgemental and believe you should not touch something that does not belong to you. I have tried with full 'shiddat' (intensity) not to touch it in the wrong way. I have tried to be faithful to the original story."
Sajid said he has given three years of his life to Laila Majnu, which releases this Friday and stars newcomers Avinash Tiwary and Tripti Dimri. Imtiaz has co-written and co-produced the film with Balaji Motion Pictures.
As the film inches closer to release, a certain emptiness has set in, he said. There is also the thought that he has to do something again.
But before that, he wants to catch up on lost sleep.
Get the best of News18 delivered to your inbox - subscribe to News18 Daybreak. Follow News18.com on Twitter, Instagram, Facebook, Telegram, TikTok and on YouTube, and stay in the know with what's happening in the world around you – in real time.
Read full article