0/288 Seats ((145 Seats to Win)
Alliance
BJP+
YSRCP+
TDP+
INC+
OTH
Wins + Leads
0
0
0
0
0
+/- 2014
+0
-0
-0
+0
0/90 Seats ((145 Seats to Win)
| Alliance | BJP+ | INC+ | BJD+ | OTH |
| --- | --- | --- | --- | --- |
| Wins + Leads | 0 | 0 | 0 | 0 |
| +/- 2014 | +0 | -0 | -0 | +0 |
Bigg Boss 11: Hina Khan And Luv Tyagi Are Friends Again; Twitter Is Happy With Luvina's Patch-up
Twitter got excited to see Hina Khan and Luv Tyagi's patch-up on Tuesday's episode of Bigg Boss season 11.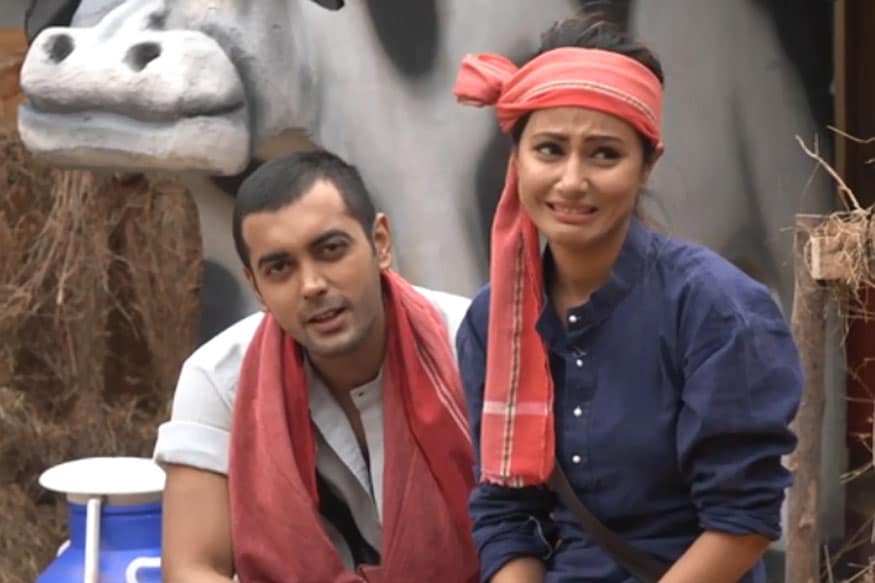 Image Courtesy: Colors
This week's nominations has taken all the 'gharwalas' by surprise. With just eight of them in the house, they will think twice before discussing nominations or any sort of planning and plotting. After coming this far in the game, captaincy has become an integral part of every contestant's game plan. The contestants are going to fight harder than ever before to obtain the power of captaincy. Adding a touch of drama, Bigg Boss reveals that four contestants will have to sacrifice their chance to complete the luxury budget task.
Everyone is familiar with the fable of the chicken who lays golden eggs. The gharwale have to battle it out and save their eggs in order to remain in the race for Captaincy. The chicken will keep hatching golden eggs at regular intervals with a picture of a contestant inscribed on it. The contestant whose picture is inscribed on the golden egg has to protect that egg from other contestants and convince them not to plunge their egg in the swimming pool. The contestant whose golden egg ends up in the swimming pool is out of the race for captaincy.
Puneesh is taken aback as Akash Dadlani shows great agility and destroys Puneesh's hopes of becoming a captain. On the other hand, Vikas Gupta very smartly gets hold of Hina's golden egg and refuses to return it to her. Meanwhile Hina's two pillars of strength on the show Luv and Priyank come to her rescue and help her retain her golden egg. The episode also sees Luv and Hina's patch-up. Luv tells Hina that he didn't like what she said to Priyank. In her reply, Hina says that she felt Luv was making a mountain out of a molehill. The two then decide to mend their differences. And looks like their fans are super happy.
Check out the tweets here:
People,Today's episode best moment - LuVina patch upThe way they fight first & the later Hina breaks down Both apologize each other N then Next day LUV convinces Hina The way Hina explains himEverything was so god damn perfect❤️Hit like n RT🔃 if you felt the same#BB11

— Hina Luv (LuVina) Fanclub💕👑 (@LuVinaFC) December 19, 2017
#Update : Luv's patch up again with Hina & Priyank! RT 🔁 if you are happy Yay! Waiting to see the patch up scene❤️ How you feeling guys? Let us know through comments..🗨️@eyehinakhan@iamluvtyagi@ipriyanksharmaaLuVina is back! Now stop fighting LuVina fans!#BB11

— Hina Luv (LuVina) Fanclub💕👑 (@LuVinaFC) December 18, 2017
Love to see luv & Hina together... Best friend forever... Luvina 😘😘😘😘

— Neha Amit Goyal (@nehagoyal_87) December 20, 2017
All #LuvTyagi & #luvina fans please #VoteForLuvTyagi pic.twitter.com/QnsHeL0nef

— Luv Tyagi Universe (@luv_universe) December 19, 2017
All's well that ends well! #luv finally humbles himself & apologises. #luvtyagiwinninghearts again! #Sherrkhan rocks! #Luvina #LuvTyagi #BB11 #BiggBoss11 @BiggBoss @ColorsTV #ColorsTV @justvoot @EndemolShineIND @BeingSalmanKhan pic.twitter.com/SvmVG4iWj1

— tvcritic (@tvbbeleven) December 19, 2017
Get the best of News18 delivered to your inbox - subscribe to News18 Daybreak. Follow News18.com on Twitter, Instagram, Facebook, Telegram, TikTok and on YouTube, and stay in the know with what's happening in the world around you – in real time.
Read full article