GET Stock

Quotes


Billboard Music Awards 2017: Rapper Drake, The Chainsmokers Win Big
The night belonged to Drake as he took home maximum number of awards.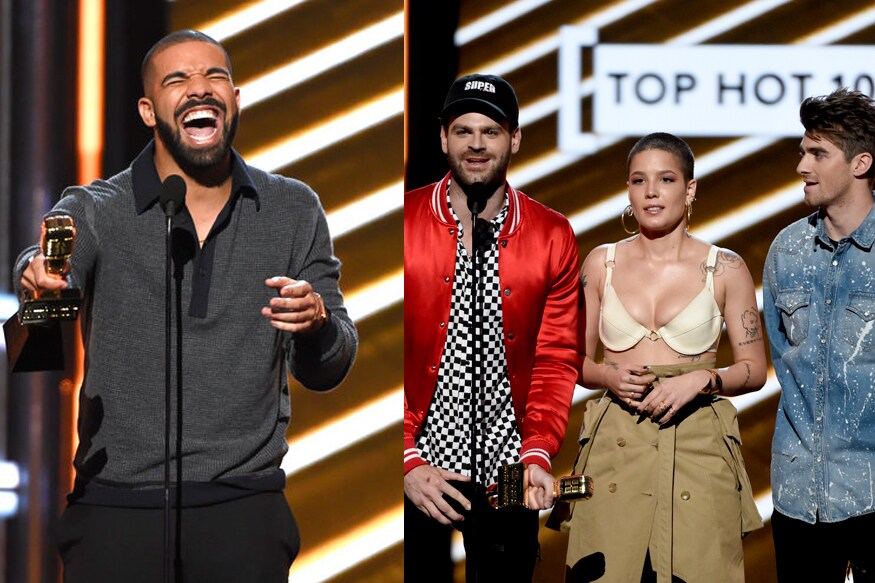 (AP Images)
It was the night for globally popular rapper Drake. The artist walked home with 13 awards at Billboard Music Awards 2017. After earning 10 early awards the rapper was awarded Best Artist, Best Male Artist, and Best Billboard Album for Views. The Chainsmokers took home awards for their extremely popular number Closer ft. Halsey.
Beyonce won Best female Artist, Best R&B artist and Best R&B album for her album Lemonade. Another duo that came into a lot of limelight was Rock group Twenty-One Pilots.
The rapper and the electronic dance duo the Chainsmokers were top contenders with 22 nominations each. The award night was hosted by Ludacris and Vanessa Hudgens.
The early winners announced Sunday morning by dick clark productions included Beyonce, who won five and twenty-one pilots, who won four. The Chainsmokers picked up three honors in the early announcement.
The Billboard Awards were held at T-Mobile Arena in Las Vegas.
Cher, Miley Cyrus, Bruno Mars, Ed Sheeran, Drake and the Chainsmokers performed at the show airing live on ABC networks.
Nicki Minaj opened the Billboard Music Awards with an explosive nine-minute set of her top songs — including No Frauds, a response to a diss track from Remy Ma.
At various points, she was joined by Lil Wayne, DJ David Guetta and Jason Derulo.
Vanessa Hudgens, hosting the show on ABC with Ludacris, imitated Minaj's rap onstage and also sang some of Celine Dion's I'm Your Lady
Miley Cyrus introduced a new version of her persona, the low-key, in love Miley, when she performed her new song Malibu, at the Awards.
The new Miley is a far cry from the previous Disney child star who consistently shocked audiences for years with her twerking and bold singing style.
Her sister Noah Cyrus noted in the intro that her sister, who is engaged to Liam Hemsworth, was "the happiest she had ever been." The singer didn't dance, but performed the acoustic driven slow-burning song in front of giant images of the beach and ocean and ended the song with teary eyes.
Also Read: The Complete List of BBMA 2017 Winners
Celine Dion performed her classic My Heart Will Go On, at the Billboard Music Awards 20 years after the song was a chart topper. The song became iconic as the theme song for the blockbuster film, Titanic, and won an Academy Award for best original song.
Singing under a giant sparkling chandelier, Dion was resplendent in white with giant puffy sleeves and her voice was as strong as ever on Sunday in Las Vegas.
A moment of silence was observed during the 2017 Billboard Music Awards on Sunday for Soundgarden frontman Chris Cornell who was found dead Thursday in his hotel room in Detroit.
Dan Reynolds of Imagine Dragons said in the tribute that Cornell, who also sang lead in the band Audioslave, was a singer who had "a voice for the ages."
A leader of the grunge movement spreading out of Seattle, the 52-year-old will be buried Friday in Los Angeles.
(With Inputs from AP)
Also Watch
Read full article