GET Stock

Quotes



Billy Lynn's Long Halftime Walk Review: Ang Lee's Imperfectly Perfect Watch For Your Conscience
The film is not a cinematic genius but definitely makes you think about the people in uniform fighting our wars.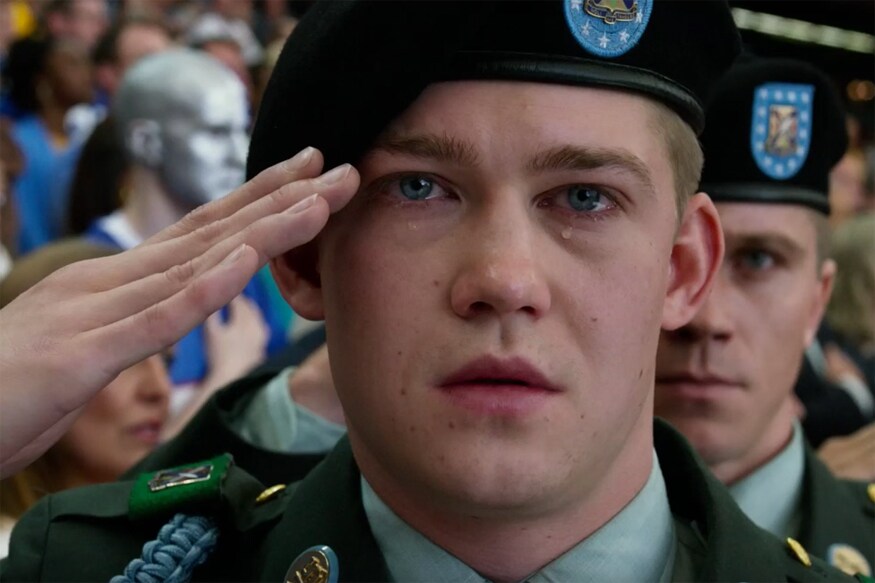 Image: A still from Billy Lynn's Long Halftime Walk.
Director:
Ang Lee
Cast:
Joe Alwyn, Kristen Stewart, Vin Diesel, Garett Hedlund, Steve Martin
Hollywood is pretty great at making American Army look great on screen. They are the heroes, the entire nation respect them unanimously and they make for a perfect moving story filled with patriotism, hope and girth. However, Ang Lee's
Billy Lynn's Long Halftime Walk
is very different from the painted picture of the armed forces patriotism and struggles.
The film is a gentle tale of what soldiers go through and how actually the war heroes are seen and treated in their 'glorifying' country. The story revolves around Billy Lynn's and his fellow troupe friends who become war heroes after conducting a successful strike in Iraq. Called Bravos, the troupe lost their sergeant on the field and it was Billy who rushes to his aid and shoots the militant. He gets captured on camera while doing so and thus becomes the 'star' back home. The entire troupe is invited for an Army PR gimmick in-between soccer halftime where they are to be presented as the 'heroes'. Internally, Billy is going through suppressed PTSD (post-traumatic stress disorder) and his sister keeps pestering him to not go back to Iraq and stay at home.
The film has nothing new to offer on the surface level neither do any of the actors stand out. Debutant Joe Alwyn is good as a lost young war-hero but doesn't give any new dimension to his character. Kristen Stewart is fine, and Vin Diesel also brings sincerity to his 10 minutes cameo. The Bravos are presented as the brash, young group of officers serving on the war field. They are home for a week as part of a starry gimmick and are enjoying every part of it. Unlike previous films, the Army personals are presented as real humans with flaws and insecurities. The film does not paint them as heroes and that is commendable. What Ang Lee actually tries to do is bring attention to how the 'respect' for the 'heroes' varies to everyone's personal interest.
Everybody is ready with a salute for these young men but no one actually tries to know their story. They want to know what kind of gun do they carry on the ground but not how they feel while carrying those guns. Press asks them insensitive questions about how they feel while killing their enemy up close but not about the guilt that follows.
Basically, the entire film is about how the entire nation tries to glorify the worst day of these men's lives. There are instances that get to your emotional nerves. The way stage director 'commands' the war-ridden MIUs to change into their combat dress and be 'battle ready' before the performance begins is heart breakingly real. The boom, claps, shots in the air, fire- works everything on stage reminds Billy of the battle ground where he had his first kill and ironically, he is asked to stand still and relive the moment again and again.
Ang Lee is known for his story-telling and he lives up to the tag in
Billy Lynn's Long Halftime Walk
. The film is not a cinematic genius unlike his previous venture but this one definitely makes you think about the people in uniform fighting our wars.
Apart from the story, Lee has experimented with camera work. The entire film has been shot in 3D and treated to give an immersive experience to the audience in 2D. There are scenes where you actually feel every emotion through the camera and thus you know a new technique has been used by the director.
The film does not play on emotions overtly, neither does it show the real brutalities or blood -shed done on war. It simply plays on the feel of a young soldier and how and despite everything he is ready to go for combat rather than staying in a world where he knows nothing. Once out of the war zone, the heroic story of a soldier does not remain theirs and become a nation's story to be hopeful but for the man personally, it's a part of his life lived on the field which the civilians don't and shouldn't understand.
Overall, the film is long and lusterless in parts with average acting by the actors, but the soul of the film and the theme makes you think and feel the pain about real heroes who refuse to be named for their valor. Who are there fighting wars not for themselves but for a family that needs support back home. The dialogue, "Take us someplace safe, take us to the war" perfectly sums up the emotions of few men who are hailed as heroes for half an hour and then get beat up by few rookies in the garage.
This real telling of young Army officers will connect with your consciousness and not the perfect film critic inside you.
Ratings: 3/5
Also Watch

News18 Reel Movie Awards: Ratna Pathak Shah Bags Best Actor (Female) Award
| Edited by: Sameeksha
Read full article