'Birdman': Michael Keaton's deluded superstar persona addresses the debate between the mind and the heart
'Birdman' features Keaton, Emma Stone, Zach Galifianakis, Edward Norton and Naomi Watts in key roles.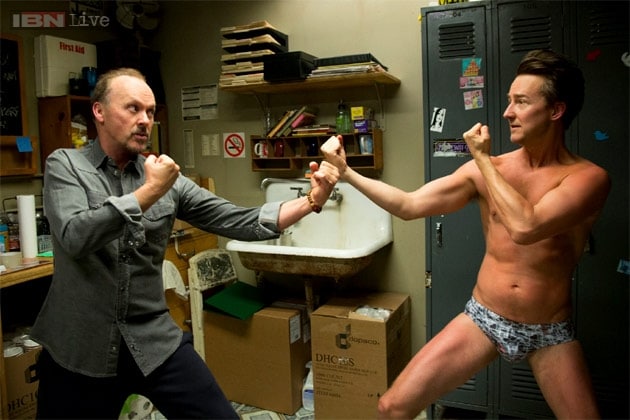 'Birdman' features Keaton, Emma Stone, Zach Galifianakis, Edward Norton and Naomi Watts in key roles.
Bangalore: Who are you? Yes, YOU?
It'll easily take a lifetime and eat up your afterlife to answer that. That's the point Alejandro González Iñárritu makes with his gregariously customized 'Birdman'.
The "me" within is the offshoot of what "I am". It's never what another person thinks of "me". Yet between the two, we live. Michael Keaton, once a superstar, now almost considered a dunce by many, is adamant on routing back his career to stardom. That's not the hitch. That doesn't include the slightest ounce of it. He has to deal with a bunch of megalomaniacs like himself starting with his daughter Emma Stone, the latest sensation who he believes will add considerable weight to the success of his Broadway adaptation Edward Norton, hypersensitive Naomi Watts, a friend and advisor Zach Galifianakis, a namesake girlfriend Andrea Riseborough, and the natural cause of tension, the ex-wife, here Amy Ryan.
Keaton is followed, guided likewise misguided, by a voice. The voice is of the character he played years ago. But the movie ultimately is about the layers of superego present in every one of us.
Can you ride a bike with your hands tied at the back? Can you walk on your hands? Can you hold your breath for a minute and a half? Admit it. You can't! You just cannot. That's the catch. Yet they are all absolutely doable. How? They require patience and perseverance. Nevertheless the dude in us ticks off the list without giving it a thought, without raising a toast to patience and perseverance, without the real go-ahead belief.
Keaton in the movie is an actor. His status has come down the ladder. It's hanging somewhere in the middle. His ego wants to take it back up, to the top where he ruled the sky and the box office, sadly he's wallowing in mediocrity. Though he has the gumption to write, direct and star in a Broadway, his voice feels that Broadway is below his dignity. He wants to prove himself on stage that he still has the talent, all the same, his voice ridicules him for going to the stage, because he's a movie star. A movie star's job is to entertain the masses. On the stage, he's merely playing a role, a good for nothing role.
Borrow that idea for real life. There's a Birdman in all of us. We, on many occasions, have given up one thing or the other for something that holds more value materialistically or adopted the short cut in pursuit of happiness. Who's going to win if there's a debate between the mind and the heart? That's your Birdman. That's your conscience.
####
Get the best of News18 delivered to your inbox - subscribe to News18 Daybreak. Follow News18.com on Twitter, Instagram, Facebook, Telegram, TikTok and on YouTube, and stay in the know with what's happening in the world around you – in real time.
Read full article