Controversy's Favourite Child: Salman Khan's Brushes With the Law
Ahead of the crucial verdict, we bring you some of the instances when the "Tiger Zinda Hai" star got into some serious troubles.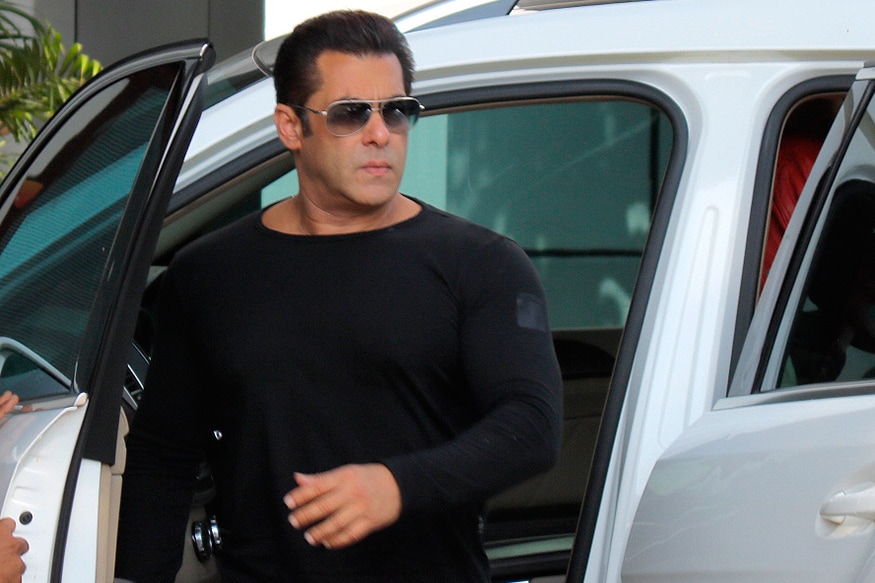 Image: Salman Khan/ File photo/ Yogen Shah
Controversies and Salman Khan go hand in hand. From his affairs with B-town's A-list actresses, controversial remarks, to his court cases, the Bollywood superstar has always managed to hit headlines. Over the years he has developed a status of being controversy's favourite child in the industry. Once again, the actor is at the the center of all talking points as a Jodhpur court is set to deliver its verdict shortly in the sensational 1998 blackbuck poaching case, in which he was accused.
Ahead of the crucial verdict, we bring you some of the instances when the Tiger Zinda Hai star got into some serious trouble.
Blackbuck poaching case
Salman Khan, along with Saif Ali Khan, Sonali Bendre, Tabu and Neelam, was accused of poaching blackbucks on the midnight of October 1-2, 1998 during the filming of the popular Hindi film Hum Saath Saath Hain. Two blackbucks, protected under the Wildlife Protection Act, were killed on the outskirts of Kankani village near Jodhpur. While Salman is facing charges under Section 51 of the Wildlife (Protection) Act, other actors have been charged under Section 51 of the Wildlife (Protection) Act read with Section 149 (unlawful assembly) of the Indian Penal Code. A Jodhpur court will pronounce its verdict in the case today.
Salman Khan hit-and-run case
Allegedly, a drunk Salman Khan rammed his car into a pavement at suburban Bandra leaving one pavement dweller dead and four others injured. While dictating the order for this incident that took place on September 28, 2002, Bombay HC affirmed that the prosecution failed to establish its case on all charges. Who was driving the car in reality is yet to be figured out.
26/11 attacks comments
The actor had come under fire for claiming to a Pakistani channel that the 26/11 attacks were hyped because "elite people" were targeted. He, however, later apologised for his "insensitive" remark.
Threatening fisherman's family
A fisherman's family had accused Salman Khan and his bodyguards of threatening them to shift their boats and fishing nets which were blocking sea view from the star's cottages. Three complaints were made at the Bandra police station on September 2011 and on May and December 2012, but instead of registering FIRs against the bodyguards and actor, police registered only non-cognisable offences, the victim Lawrence Falcon (65) had said.
Rape Remark
In June 2016, Salman Khan had stirred up a storm as during an interview he compared his rigorous Sultan training session to the pain felt by a raped woman. The actor was quoted as saying, "When I used to walk out of the ring, after the shoot, I used to feel like a raped woman. I couldn't walk straight. I would eat and then, head right back to training. That couldn't stop." He was criticised by the media and several Bollywood celebrities alike.
Anti-war remark
During a Tubelight press conference, Salman Khan had spoken in favour of talks with Pakistan at a time of tension in ties over increased militancy in Kashmir, saying "those who order wars should be sent to the forefront and be told that you fight first." His remarks had created an uproar and the Shiv Sena hit out against him saying he had "crossed his boundaries."
Castiest remark
An official of the Republican Party of India-A had filed an FIR against the superstar for allegedly hurting the sentiments of the Scheduled Caste community by using the word "bhangi" on a public platform. Salman had allegedly used 'bhangi' referring to his style of dancing in films during one of his appearances on a reality show.
Get the best of News18 delivered to your inbox - subscribe to News18 Daybreak. Follow News18.com on Twitter, Instagram, Facebook, Telegram, TikTok and on YouTube, and stay in the know with what's happening in the world around you – in real time.
| Edited by: Shrishti Negi
Read full article