GET Stock

Quotes


Eminem's Not Afraid; Rips into Donald Trump in Rap Gone Viral
Eminem tears into POTUS Trump in epic rap video which has since gone viral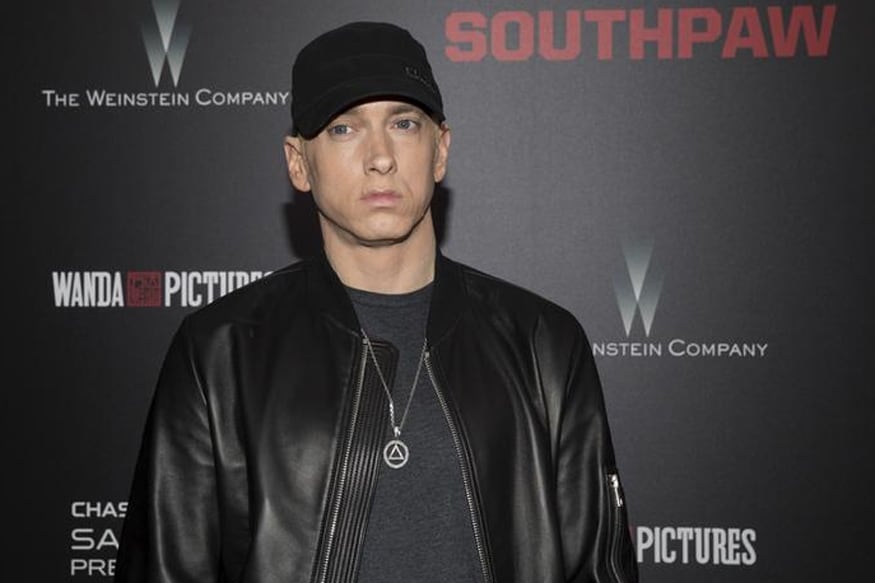 Image courtesy: REUTERS/Andrew Kelly
I'm not afraid (I'm not afraid)
To take a stand (to take a stand)
Everybody (everybody)
Come take my hand (come take my hand)
We'll walk this road together, through the storm
Whatever weather, cold or warm
When Eminem rapped the above in his smash hit
Not Afraid
in 2010, he probably did not know how prophetic his lyrics would prove to be.
The current climate, political as well as popular, in the United States is pretty stormy; the latest tempest began with POTUS Donald Trump's ominous, if obtuse, warning at a photo-op last week, which he told reporters was the "calm before the storm." Even as news organizations tried to decipher Trump's rumblings, fresh controversy broke out after reports surfaced of Secretary of State Rex Tillerson having referred to the Commander-in-Chief as "a moron" at a high-level meeting in the Pentagon. Trump spent the weekend angrily rebutting this report and its subsequent coverage by Late Night hosts via his favorite medium of Twitter, before completely changing tack yesterday and throwing more fuel in to the fire by indicating in an interview that he would "beat" Tillerson in an IQ test. So yes, stormy would in fact be an understatement in describing the current mood on The Hill.
Enter Marshall Mathers, aka Eminem, whose uncensored lyrics have assassinated many a public image, and is the latest celebrity to criticize the country's chief executive. And the thing is, Eminem usually spits out his vitriol at a shattering 4 words a second. The BET Hip Hop Awards just dropped a video of Eminem, shot at the rapper's home in Detroit, where he freestyles an almost four-minute rap criticizing, in no uncertain (and extremely explicit) terms, Trump, his personal and public life and his actions both in and out of office. To add insult to, um, insult. Eminem begins the video by telling the camera that, "This is the calm before the storm" before proceeding to tear in to the US President. In the unscripted, expletive-riddled tirade, Eminem mentions incidents both old as well as ongoing, from racism to gun violence in Las Vegas to Trump's handling of the Puerto Rico disaster to the President's ceaseless attack on NFL players.
At the time of this writing the video has racked up more than a million views since its release a few hours ago and both Eminem and Donald Trump are trending on social media sides, with overwhelming support for Eminem. Rapper and basically the very personification of marijuana, Snoop Dogg has already posted a video, commending Eminem, the first of a stream of celebrity endorsements. While there's no word from the White House or its orange occupant yet, the internet is waiting with bated breath for the expected tweetstorm. Keep yourself updated here.
Watch the full video below:
And check out Twitter reactions of celebs and other tweeps below:
Waiting to see what Orange Twitter fingers is going to do after that Eminem freestyle. #Eminem #HipHopAwards pic.twitter.com/pqgsP6IFmp

— TheQuadrupleMinority (@QuadMinority) October 11, 2017
I appreciate you @Eminem ✊🏾 pic.twitter.com/nwavBwsOkQ

— Colin Kaepernick (@Kaepernick7) October 11, 2017
Protect Eminem at all cost

— T-Pain (@TPAIN) October 11, 2017
Racism is the only thing he's Fantastic 4(fantastic for), cause that's how he gets his rock off, he's orange. Sheesh @Eminem!! 🔥🔥✊🏾🔥🔥#United pic.twitter.com/wcL28BCWpy

— LeBron James (@KingJames) October 11, 2017
Eminem ✊🏾I'm speechless, you said it all #HipHopAwards pic.twitter.com/kRmVm3TzqI

— Dion Williams (@JuJuBreauxD) October 11, 2017
Also Watch
Read full article