British Photographer Recreates Iconic 'Jaws' Poster with Real Great White Shark, See Here
British photographer captured a great white shark near the Guadalupe Island off the west coast of Mexico, as it raced towards the surface, recreating perfectly the motion pictures poster of Steven Spielberg's 1975 horror film 'Jaws.'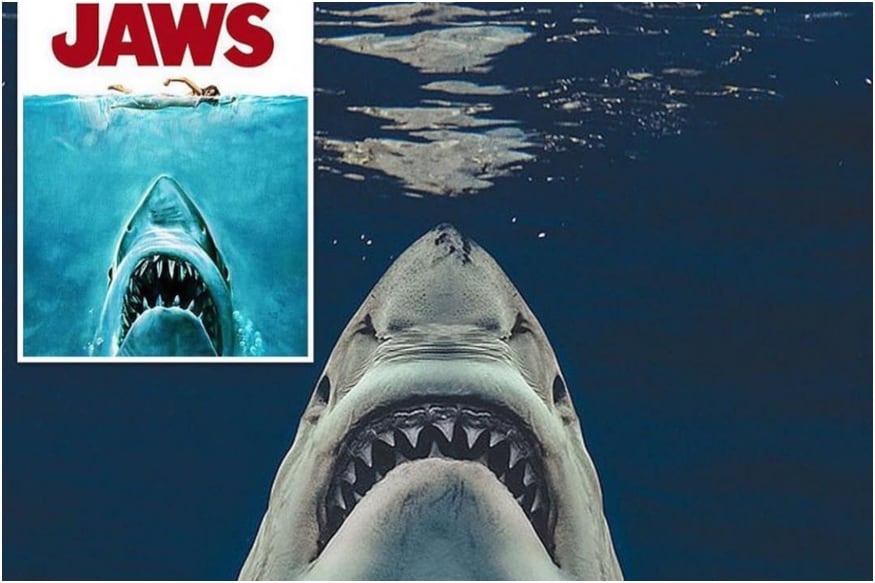 Image: euan rannachan/Instagram
In a glorious homage to Steven Spielberg, British photographer Euan Rannachan recreated the Jaws film poster, while being submerged in water, 35 feet away from a real great white shark. For his picture, which was clicked near the Guadalupe Island off the west coast of Mexico, shark photographer and filmmaker Rannachan, 32, sat inside a cage, as the shark headed for the surface.
The 1975 movie poster was created by Roger Kastel and featured a great white racing up from the depths of water towards a female swimmer. In the real- life pic, there is no unsuspecting water enthusiast, while the shark races upwards, but the still is a perfect recreation of the particular instance rendered by Kastel. See here:
Dailymail.co.uk quoted Rannachan saying, "The shark in my image is a female and her name is Squirrel. We'd been with her for a while. We have these people on the boat called shark wranglers and they throw these two-foot chunks of tuna to get the shark close to the surface."
He added, "The shark wrangles played an important and dangerous part on the acquisition of this amazing picture. A guy named Crazy Luis stood up on the boat to bring the shark to us when we sit on the surface in the shark cage."
Follow @News18Movies for more
Get the best of News18 delivered to your inbox - subscribe to News18 Daybreak. Follow News18.com on Twitter, Instagram, Facebook, Telegram, TikTok and on YouTube, and stay in the know with what's happening in the world around you – in real time.
Read full article