News18
»
News
»
Movies
»
Cannes 2017: Apart from Aishwarya Rai Bachchan, Deepika Padukone and Sonam Kapoor's Appearance, Indians Have More to Look Forward to
2-MIN READ
Cannes 2017: Apart from Aishwarya Rai Bachchan, Deepika Padukone and Sonam Kapoor's Appearance, Indians Have More to Look Forward to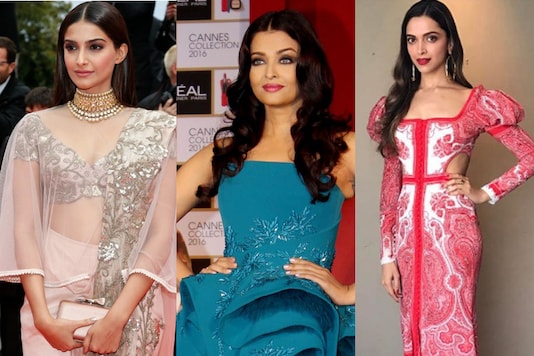 File photos of Sonam, Aishwarya and Deepika.
Not just the divas and their looks but some fine Indian cinema craft will also be displayed at Cannes 2017.
Last Updated: May 17, 2017, 11:54 IST
Edited by: Sameeksha
FOLLOW US ON:
70th Cannes Festival is all set to start from Wednesday, May 17 and while Indians are awaiting to witness the red carpet looks of their favourite celebrities, there's more to look forward to. In the cinema space, although no particular 'Bollywood' film will be screened, there are few trailer launches and indie cinema that has found space in the lineup.
Trailer of Priyanka Chopra's Sikkimese production Pahuna will be screened at the festival. Directed by Pakhi A. Tyrewala, the film deals with gender bias, currency divide, and the fear of the unknown, all at once. The connection with a global star like Chopra, have benefitted the film, as not just Indians but even Western media is keen to know what the film looks like.
Another trailer of a global Indian icon is going to be screened at Cannes'17. Popular Chef Vikas Khanna's docu-drama Buried Seed is set to show its glimpse to the world at the festival. Directed by award-winning Russian filmmaker Andrei Severny, the film is being promoted as a celebration of a journey of an ordinary man. Last year, Khanna's another film Kitchen of Gratitude was premiered at the festival.
Assamese filmmaker Rima Das, who won two prestigious awards at the Hong Kong Asian Film Forum, is all set to showcase her under-process feature film Village Rockstar at Cannes'17. Shot in real settings with village children the film revolves around a kid's aspiration of owning and playing guitar. Last year, Rima's first feature film, Antardrishti (Man With Binoculars) was screened at the festival.
Another noteworthy Indian short film that has been invited for Cannes'17 screening is Payal Kapadia's Afternoon Clouds. Kapadia is a third-year student of FTII, and had made the film as a final project for her direction course. This is the first time that an FTII film has been selected for participation in the Cinefondation where it will be competing with other international short films.
South Indian film Sangamitra, will also be launched at the festival. the film is a period-drama Sundar, Jayam Ravi, Arya and Shruti Haasan. All the cast members of the film including art director Sabu Cyril and music composer AR Rahman will walk the red carpet before unveiling the film.
The official trailer of The Black Prince starring Punjabi singer and actor Satinder Sartaj will be screened at the festival. The film is a period drama that captures the tragic true story of Maharajah Duleep Singh, and his fragile relationship with Queen Victoria, who was Godmother to his children. The film stars many international artists including Jason Flemyng and has been produced by Academy Award Winning Production house, Brillstein Entertainment Partners.
Apart from the films, Indian presence will be felt strongly at the red-carpet throughout the festival as Deepika Padukone, Aishwarya Rai and Sonam Kapoor plan to turn heads with their looks. While Deepika will be walking the carpet on May 17 and 18, Sonam will be pleasing the shutterbugs on May 21 and 22. Veteran Cannes attendee, Aishwarya Rai will be attending Cannes'17 on May 20 and present Sanjay Leela Bhansali's Devdas as part of the L'Oréal Paris Open Air Cinema. The Outdoor Cinema will showcase films selected and introduced by six L'Oréal Paris actress ambassadors. The actress will walk the red carpet on May 19 and 20.
Next Story