Cargo Review: Martin Freeman Breathes New Life Into Netflix's Aussie Zombie Flick
Planning to watch Cargo on Netflix? Read our review first.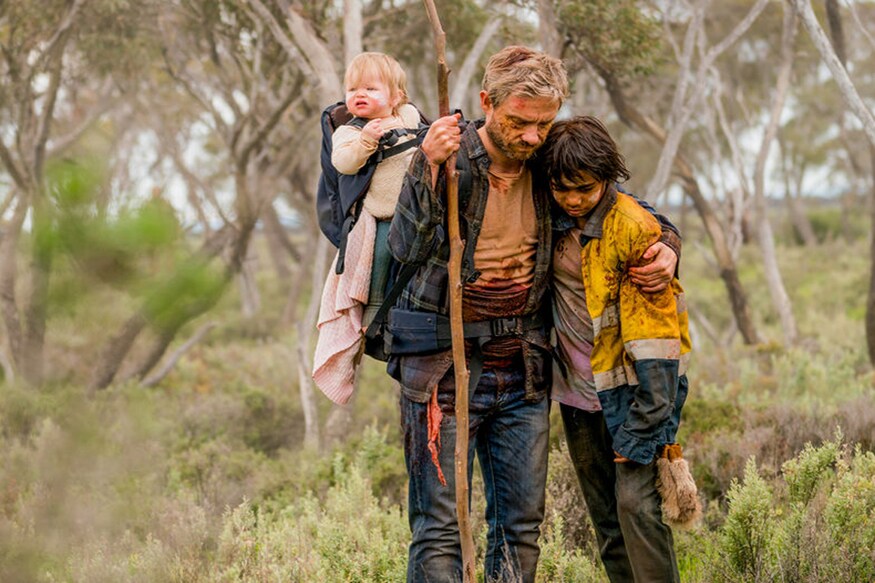 A still from Cargo (Image: Netflix)
Cast: Martin Freeman, Anthony Hayes, Susie Porter
Directors: Yolanda Ramke and Ben Howling
If, as many contemporary leading scientists and philosophers believe, humanity is really living in a sort of computer simulation, a hyper-realistic video game of sorts, then Australia is undoubtedly the boss level of countries/continents.
The southern landmass is teaming with all manner of deadly reptiles, arachnids, and other predators on land and in sea. In Cargo, a post-apocalyptic film directed by Yolanda Ramke and Ben Howling and starring Martin Freeman, the land down under falls further prey to a brand new (yet hoary old) killer: zombies. A highly infectious virus has swept through Australia, causing those infected to devolve into mindless automatons, incapable of thought and emotion, with an insatiable hunger for human flesh.
The story is more inferred than explicit, details emerging as the story unfolds. Essentially, Andy (Freeman), his wife Kay (Susie Porter) and their infant daughter Rosie are among the few survivors of this deadly plague, with their small family unit taking refuge in a somewhat functional boat, floating down a nameless river in the great outback, operating on the sound principle that zombies don't really swim.
However, a foraging expedition to a marooned sailboat goes wrong, and Kay ends up being bitten by a zombie. It is then we learn the mechanics of the virus, which has become so ubiquitous that survivors carry an emergency pack around with them comprising a timer set to 48 hours, a stimulant to help maintain cognition and body function within that period (presumably to help resolve your final affairs) and a hydraulic pressure needle to finally end your suffering.
After Kay passes, and Andy realizes he too is stricken with the virus, his and Rosie's journey becomes a time-bound search for a safe place with caring people who will raise the one-year-old baby. During their exploration they come across Vic (Anthony Hayes) who resides in a fenced-off enclave with his "wife" (read sex slave), and traps uninfected individuals (mostly aboriginals) in cages as zombie bait so that he can shoot down zombies and steal their valuables. A clear believer in the maxim of "make hay while the sun shines", Vic believes that one day order will be restored and whoever still controls resources like fuel and gems and money will emerge on top of the new world order. He also meets Thoomi, a young aboriginal girl, who has run away from her family and tribe to tend to her zombified father, whom she believes will somehow return to normal.
Given that the zombie genre has been done to death to the point that that's not even a remotely funny observation any more, Cargo, somehow, manages to breathe fresh life (humour us) in to this musty old corpse.
Largely bereft of the usual gore and guts that most exemplify the genre, the zombie flick is more character-driven, relying on a terrific Martin Freeman, who delivers a quietly intense performance as a father desperate to ensure the safety and future of his daughter in a literal race against the clock. Indeed, the zombies are more MacGuffin than essential to the plot, with the film instead examining human nature and behavior during a crisis.
The dramatic natural landscape of Australia also has a large role, providing a stunning visual backdrop to an otherwise jaded tale. Andy and Rosie, along with the few other survivors, navigate past endless scrublands, rocky monoliths jutting randomly out of the ground, and turgid brown rivulets as well as swiftly-flowing silvery streams, all punctuated by stretches of sandy desert that sullenly glow red under a harsh and unforgiving sun.
Early on in the film, it's indicated that the virus was caused by man's (specifically, white man's) predilection for exploiting the environment and incessant tinkering with nature. As the aboriginal Cleverman notes, man "can't stop poisoning the earth." As Andy makes his way through the bush, he sees plenty of instances of man's toxicity, from fathers forcing their families into grotesque suicide pacts to the aforementioned hoarder of women and resources.
Also notable is the inclusion of aboriginal characters, who are usually marginalized from mainstream Australian cinema but make up an important part of this narrative. It's interesting to see how these two very different people groups (the urbanized, typically white Australians and the native Aboriginals) deal with the crisis in their own, very different, ways. While the "civilized" folk either isolate themselves for security or try and set up tiny autocracies from whence they go out to scavenge resources to hoard, their native "uncultured" compatriots form hunting parties to go out and wipe out the zombies and cleanse their land of the infection. Essentially, the Western-educated, advanced people wait for someone else to solve their problems and exploit the situation in the meantime, while the backward, illiterate rural folk try and solve it without the explicit motive of self-preservation.
There's a beautiful sequence near the end, which sees Andy, a privileged white male obsessed with finding sanctuary for his equally Caucasian daughter, leaning heavily on a clearly concussed Thoomi, a young aboriginal girl, for support and exhorting her to hobble on through the desert in order to find succor from the indigenous people of Australia. That two-minute scene says more about more than six centuries of race and colonization than entire libraries devoted to the subject.
Rating: 3.5/5
Get the best of News18 delivered to your inbox - subscribe to News18 Daybreak. Follow News18.com on Twitter, Instagram, Facebook, TikTok and on YouTube, and stay in the know with what's happening in the world around you – in real time.
Read full article