Sunil Grover's Insanely Hilarious Delhi Gig Leaves Audience In Splits, Watch Videos
Actor-comedian Sunil Grover's live performance in Delhi with co-actor Kiku Sharda was all about entertainment.
While most of Sunil Grover's fans continue to pray for his to return to The Kapil Sharma Show, or at least be back on the small screen with his own comedy show, the comedian made sure he made his Delhi gig turned into a memorable experience. Staged in Delhi's Talkatora Stadium on the Fool's Day, Grover's gig with Kiku Sharda following his fall out with Kapil Sharma was hilarious, engaging and a session that the viewers didn't want to get over ever.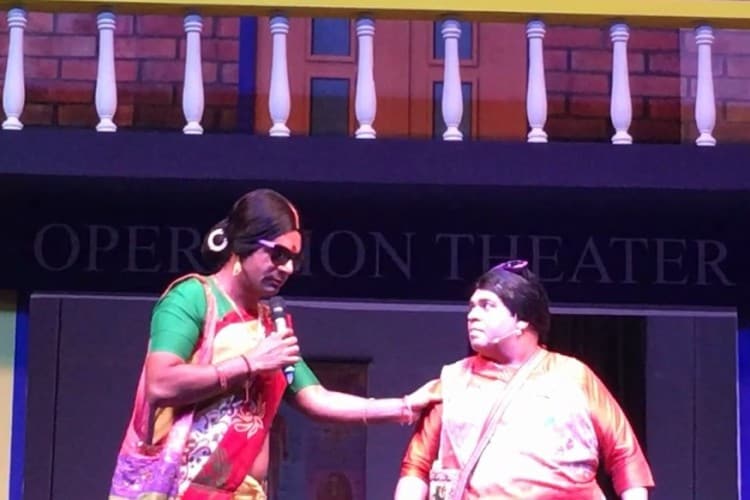 Image: News18.com
What started as a task to stand in long queues in Delhi's severe heat to get entry to Grover's live show turned into an event that fans would discuss, cherish and share with family and friends for months.
Hilarious Start
Sans any delay, the act started with our favourite Rinku Bhabhi (Sunil Grover) jinke husband unhe piyaar nahi karte and Santosh Nanad (Kiku Sharda) staging a small performance on popular track Tu Lagawe Jab Lipstick. After Grover flashed his belly tattoo to fans, he said, Kiska biyaah mei aya hai tum dono? Chalo udhar baetho, agar wahan jagah nahi hai toh uski god mei baetho, while pointing out a couple of men who were trying hard to find space for themselves.
Dig at Kapil Sharma controversy?
By now most of his fans are aware of what happened between Sharma and Grover. For the uninitiated, here's a quick flashback - Sharma made headlines recently for his mid-air scuffle with Grover. Even though he made a public apology for his uncouth behaviour, it has obviously not been accepted by Grover. While we all support Grover for taking a stand, we also want him to be back to entertain us with his funny antics. Since Grover knew most of his fans were interested in knowing what will happen next, he began the act by making an indirect comment on the recent controversy. "Kitna log dekh rahein hain yahan par warna chae saat din se toh sirf media waley hi dekh rahey they," Grover said to hint at the ongoing tiff between him and Sharma. Towards the end of the show, while taking a selfie with the audience, he ensured he would share the photo, and said, Kabhi Kabhi achi cheezein bhi daalni chaiye Twitter pe."
Of well-timed jokes, acts
The Saturday night promised to be a big one for comedy geeks. Grover and Sharda played their popular characters – Bumper, Dr Mashoor Gulati, Rinku Bhabhi, Santosh Nanad, and Gutthi with perfection, and forged a bond with the audience that was more honest and direct. Their smart and funny live performance which covered topics from weddings to Arvind Kejriwal and a lot more was exactly what viewers wanted.
Audience laud Grover
Image: News18.com
Audience came to Talkatora Stadium in huge numbers to see Grover. And because he was so "real", they could connect with him, and respond to his jokes. Visitor Rajan Mehta was totally impressed. "I consider myself lucky to watch Grover perform live. His content is never lifeless and humorless. It is completely engaging," he said.
For Bhavya, Grover is huge because he doesn't adhere to particular comedy techniques or formulas. "He knows how to focus on principles of comedy. He is the best comedian because he is authentic. Didn't we all see how much each of the participants enjoy? Now, that's how real standup comedians are. And Grover will continue to be everyone's favourite. I wish him success and happiness," she said.
Read full article
Countdown To
Elections Results
To Assembly Elections 2018 Results