GET Stock

Quotes


'Dishoom' Movie Review: Watch Only If You Are a Fan of '90's Masala Entertainers
Will 'Dishoom' be able to make the cut? Will it be a blockbuster film?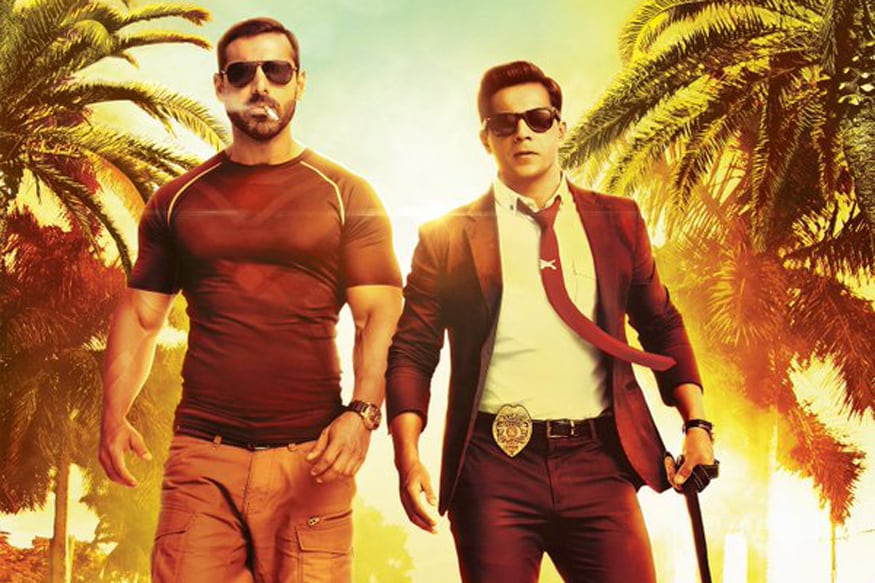 Will 'Dishoom' be able to make the cut? Will it be a blockbuster film?
Rohit Dhawan's second directorial film Dishoom is being touted as an action-adventure film. Featuring John Abraham, Varun Dhawan and Jacqueline Fernandez in the lead, the film narrates the story of two cops who are on a mission to rescue Indian cricket team's star player who has been kidnapped.
Rohit Dhawan's debut film Desi Boyz received mix response at the box office. Dhawan collaborates second time round with John Abraham in Dishoom. The film also marks the comeback of Akshaye Khanna who has been on a sabbatical for some time. Khanna reportedly plays an antagonist in the film.
Dishoom also boasts of interesting cameos. From Akshay Kumar to Nargis Fakhri to Saqib Saleem, Dhawan manages to rope in some well known faces in the film. Will Dishoom be able to make the cut? Will it be a blockbuster film? Shomini Sen of News18.com is inside the theatre to find out.
9:58 AM: Tweet review of #Dishoom coming up in a bit. Stay tuned
10:15 AM: Rohit Dhawan directs younger brother @Varun_dvn for the first time in #Dishoom
10:29 AM: .@Saqibsaleem is Viraaj Sharma the best cricketer of the country. Can fix a broken shoulder on his own and win a sinking match. #Dishoom
10:38 AM: The cops in the middle East drive sports cars. Okay then. #Dishoom
10:47 AM: There is @akshaykumar sporting a man bun and military print skirt(?). Err. Okay. #Dishoom
11:16 AM: First half of #Dishoom ends at a crucial stage leaving much room to suspense in the second half.
11:18 AM: .@Varun_dvn's buffoonery is entertaining even though it's a bit unnecessary #Dishoom
11:40 AM: In the middle of looking for the missing cricketers our cops also get time to go and dance in a villain's den. Realistic, much? #Dishoom
12:00 PM: The narrative deviates quite often. It's hilarious how the plot is going haywire in the garb of entertainment. #Dishoom
12:02 PM: Big budget has ensured #Dishoom has an interesting set of celebrities doing cameo roles. Cricketers and film stars alike.
12:08 PM: Of course there has to be a monologue of not doing desh se gaddari right before the climax. Token Patriotism. Check. #Dishoom
12:16 PM: #Dishoom could have been an interesting story had they just stuck to the basic plot
12:17 PM: The makers have stuffed in too many elements to make the film a masala entertainment thereby losing the essence of the story #Dishoom
12:19 PM: Stylishly shot #Dishoom has so any scenes which are there so that the makers can show off the budget of the film. But totally pointless
12:22 PM: Varun Dhawan has by now aced his comic timing. He gets the funny lines and scenes and delivers #Dishoom
12:23 PM: John Abraham flexes his muscles and nostrils alternately and Jacqueline Fernandez adds glamour. That's about it. #Dishoom
12:24 PM: Songs seem unnecessary even though they are hummable. #Dishoom
12:24 PM: We have seen Akshaye Khanna playing a baddie before. #Dishoom doesn't offer anything new
12:27 PM: You watch #Dishoom only if you are a fan of 90s masala action films which had a bit of everything.
Also Watch
Read full article