Disney Producer Kristina Reed: You Can Make an Animation Film without Spending Big Money
Academy Award winning producer Kristina Reed talks about women in animation, the scope of short animation films and the future of this burgeoning multi-billion industry.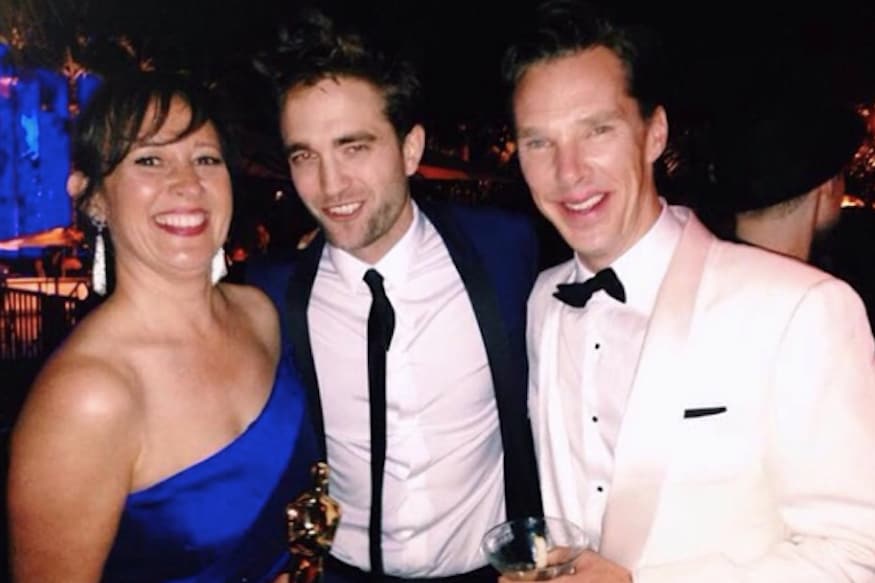 Kristina Reed with Robert Pattinson and Benedict Cumberbatch post the Academy Award ceremony in 2015. (Image: Instagram)
The producer of two Academy Award winning short films —
Feast
(2014) and
Paperman
(2012), Kristina Reed says travelling across India had been the first wish on her bucket list for most of her life.
Now finally here on a tri-city tour, the Disney producer, whose leadership was also instrumental in the making of the studio's several recent blockbusters, including
Zootopia, Frozen
and
Tangled
, talks about women in animation, the scope of short animation films and the future of this burgeoning multi-billion industry.  
You have been in the animation space for two decades now. A lot has changed in all this time. How has your journey been?
I have had an extremely rewarding career and I have got to work with phenomenal filmmakers. With online streaming and people watching on mobile phones, the game is definitely changing.
Animation is a labour-intensive process. We put so much work into every frame that we want more people to see it in any way they can. I am thrilled that there is more distribution happening. So that's probably the biggest change. There is more access now. 
Don't you think the exorbitant cost involved in creating animation films acts as a deterrent for filmmakers?
Yes, it is hard to make big money if you don't start with big money. But I still think you can make a film in animation without having to spend big money. It all comes down to the story.
I look at The Breadwinner, a modestly-budgeted film, which told a fantastic story and got a lot of attention. That tells me that there is market for films that are not coming from giant studios.
How do you decide which stories would work better in animation?
The first question you ask when you are thinking about making an animated film is why this has to be an animation. What mood are we trying to create, what story are we telling, what is the character feeling and what will animation add to it? It has to be something about the film that needs to be told that way.
We could have told
Frozen
live-action. But there is something wonderful about the way it worked out.
What makes short animation films important at a time when features are the norm?
A short film is an excellent proving ground. Filmmakers who want to learn about animation and make films but don't have the resources for something big, if they can prove themselves in the short animation space, they will get tapped to direct feature-length films. Feature animation directors are essentially people who started with good short films.
The director of a short film called
Head Over Heels
, which went on to win an Oscar nomination, was tapped by Sony to direct their feature
The Star
that released last year. This is happening more and more. So if you want to direct animation films, practicing in the short film space is fantastic. I can't recommend it enough.  
Do you see more women in animation today than when you started out?
Animation has always been very friendly to women on the production and management side. So you meet a lot of women producers, heads of studios. However, where you'd not see a lot of women yet—and we are very actively working on it—is on the creative side. There aren't a lot of female directors and writers in the animation space. That is something all of us women producers are working hard towards so that more women's voices and stories are heard.
Read|Bollywood Desperately Needs Revival. Experimental, Offbeat Films Are the Only Way Out
Read|Vikrant Massey: I Am Not Chasing Stardom, I Am Chasing Good Content and Relatability
What would you say to women who want to foray into animation in creative capacity?
If you want to direct, work on your storytelling however you can. Even if you have no resources and are writing just on a piece of paper, think about how you'd tell a story visually.
If you want to design films, work on your art, have a look, develop a style, have images that support the idea that something is happening so that when we look at your portfolio, we know that you can support a story.
Where do you see animation in the next 15 years?
Animation is exploding more than ever. The market all around the globe is incredibly friendly to animation, particularly if it doesn't rely much on dialogue or wordplay or things that are rooted in a language. It travels really well. It makes me encourage women more—come in, join us, tell stories with us. There will be space for great storytellers. I see only good things for animation.
Follow @News18Movies for more.
Read full article
Countdown To
Elections Results
To Assembly Elections 2018 Results