Double Feluda Review: Satyajit Ray's Son Gives a Fitting Tribute to Bengal's Favourite Detective
The film may be simple and tad bland for a whodunit, but it's the montage during the end credits that makes up for all the flaws.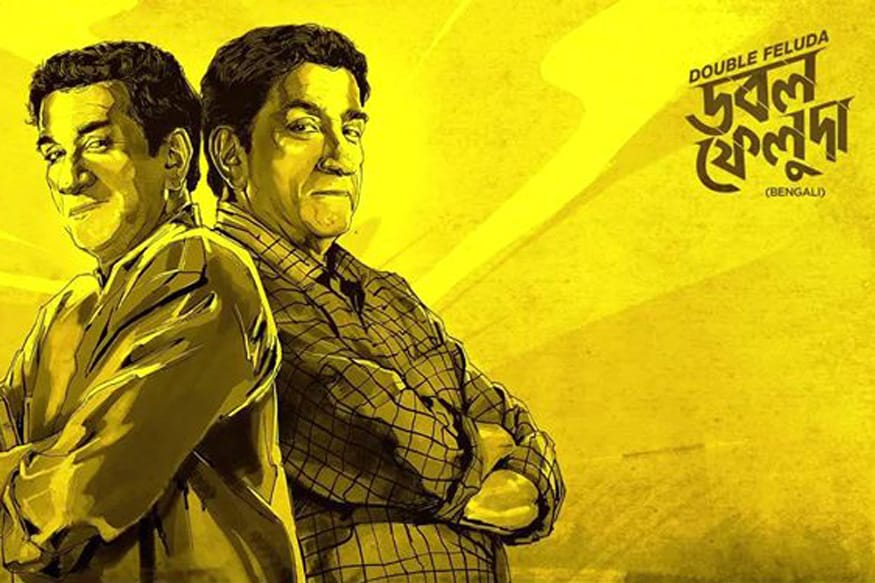 A poster of Double Feluda.
Cast: Sabyasachi Chakraborty, Shaheb Bhattacharjee, Dhritiman Chatterjee, Paran Bandhopadhyay, Saswata Chatterjee
Director: Sandeep Ray
Bengalis, for generations, have loved Satyajit Ray's popular detective series Feluda. What began as a book, eventually turned into a full-fledged series and even made it to the big screen. Love for Feluda stories, where detective Pradosh Chandra Mitra aka Feluda travels to different parts of the country to solve mysteries with his trusted assistant, cousin Topshe, has been passed from one generation to the other in almost every Bengali household. The books had illustrations by Ray himself, which made his stories come alive on paper vividly.
While Ray made two films out of the Feluda series- Shonar Kella and Joi Baba Felunath- his son, filmmaker Sandeep Ray took the mantle of bringing more stories of the popular sleuth to the big screen. Ray took his father's stories and first made telefilms and then eventually has directed five feature films.
Senior Ray cast Soumitra Chatterjee in both his films as Feluda. While Sandeep Ray made Sabyasachi Chakraborty, his Feluda in the early 1990s till 2011, Abir Chatterjee was cast as Feluda in the 2014 film Baadshahi Angti. But Chatterjee also plays Byomkesh and the same actor playing two popular sleuth of Bengal on the big screen would be confusing - the makers thought. As the popular Feluda series turned 50 in 2016, it was but natural to give a tribute to the sleuth and his creator with a film. But who would play the title role? Sandeep Ray decided to bring back Sabyasachi Chakraborty - who by far has been part of maximum Feluda films till date.
'Double Feluda' narrates two stories- Samaddarer Chabi and Golokdham Rahasya. While the first story is in pursuit of hidden wealth or a missing will, the second is a case of theft and murder. When his uncle, a music instruments collector- dies uttering the word 'chabi', Manimohan Samaddar seeks Feluda's help to understand what keys his uncle had mentioned and where had he left all his money and to whom.
In the second story, Feluda and Topshe(Shaheb Bhattacharjee) find themselves at Golokdham, an old bungalow at the banks of Ganga, just outside Kolkata, where scientist Nihar Ranjan Dutta lives with his younger brothers, a vagabond nephew, a secretary, two tenants and a few servants. Dutta, whose was researching for an antidote of cancer in the US had to return home after an explosion in his lab left him blind. When his research paper goes missing and a day later his tenant, the recluse Mr Dastur is found murdered, Feluda and Topshe find themselves looking for clues in the old, palatial house.
The two stories have been neatly divided into first and the second half with no connection in the two stories except that Feluda is the sleuth solving both the mysteries. With a no-frill narrative, the director keeps both the stories very linear and simple. There are no experiments with camera that are done, neither are any shots taken to give an impression that mystery is lurking at the deepest corners of the house. Such shots are usually used in thrillers to keep the viewer at the edge of their seats. But Ray chooses to keep it simple, keeping Feluda and the story as the focal point. While the ardent fans of the series may know end, Ray still manages to engage the viewer with his narrative. It's clean and clear- bordering towards being termed as bland. But Sabyasachi's smart acting and the inherent love for Feluda makes you love the film.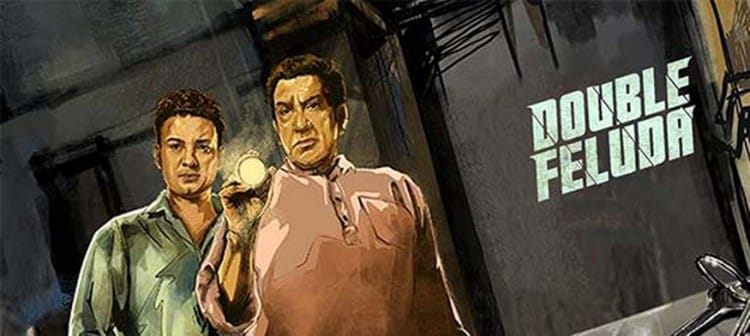 Is Chakraborty, who is 60, a right choice for Feluda? Perhaps not and age does show in certain scenes. But his name has been associated with the hit franchise for many years now and it is but natural that a tribute film on the 50th anniversary of the franchise would have Chakraborty playing the titular character. Since its Sandeep Ray's film and it's on Feluda, the film boasts of some big names of Bengali cinema playing small roles. Among them, actor Dhritiman Chatterjee, as the blind, vengeful scientist stands out.
The film may be simple and tad bland for a whodunit, but it's the montage during the end credits that makes up for all the flaws. Sandeep Ray manages to bring a lot of actors who have worked in previous Feluda films - both his and his father's films- to speak on Satyajit Ray and Feluda and the significance the character has in their lives. Its a bitter-sweet montage- full of anecdotes on Manik da or Manik Jethu as several of the actors refer him as- on how the master filmmaker worked with child actors, on his obsession with detail. All the interviews are strewn with Ray's illustrations of various Feluda stories, photos from the sets -which takes the viewers down the memory lane.
Double Feluda works primarily because of its simplicity. A film with absolutely no-frills, no songs, no exotic locales still manages to woo the audience because of one Ray's story and another Ray's effective execution.
Don't miss the end credits.
Ratings: 3/5
Get the best of News18 delivered to your inbox - subscribe to News18 Daybreak. Follow News18.com on Twitter, Instagram, Facebook, Telegram, TikTok and on YouTube, and stay in the know with what's happening in the world around you – in real time.
| Edited by: Sameeksha
Read full article