Film vs Digital: Christopher Nolan is Telling Indian Filmmakers That It Isn't A War
Nolan himself may favor film over digital, but he knows that just as a film like Dunkirk can be a visually immersive experience if shot on 70 mm film, there are films which cannot work without a digital format.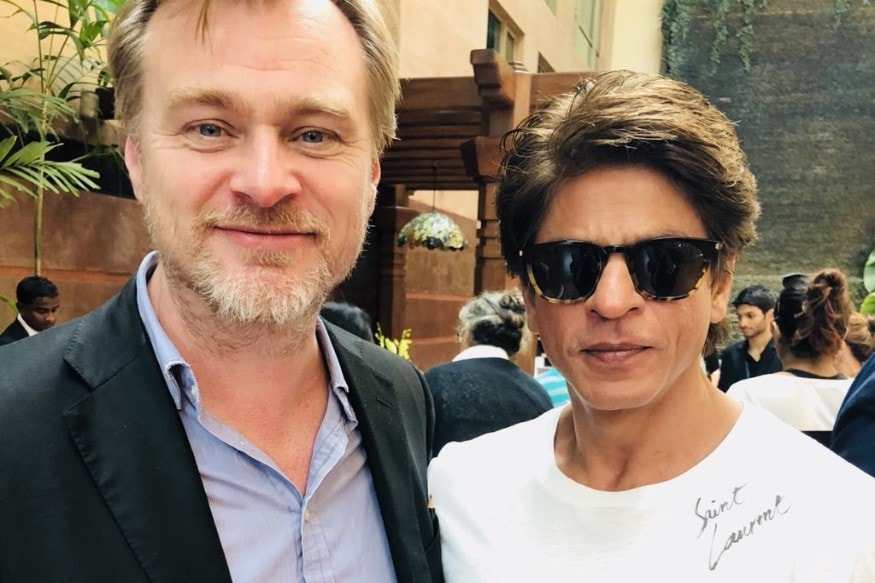 Photo credits: Shah Rukh Khan / @iamsrk
Specks of dust fluttering like butterflies in the sepia glow of a projector's beam, a reel of celluloid rolling, a screen where images move, talk, dance, laugh and cry-- that is how we have always thought of movies.
Cinema on celluloid not only has the magical transportive powers that we associate with the escapism that movies bring to our lives but also has a strong sense of nostalgia attached to it. However, just because something reminds us of the past, doesn't mean that is where it should belong.
Filmmaker Christopher Nolan, who has been one of the most prominent advocates of shooting movies on celluloid, has dedicated his latest India visit trying to explain exactly that to Indian filmmakers and moviegoers.
During a recent media meet, the Dunkirk director spoke about celluloid, the medium of his choice. Nolan said, "... the film is here to stay and it is a wonderful medium that we can all enjoy... It really isn't about film vs digital; it is about preserving this medium for future generation for filming. They should be able to use it."
Nolan's India visit has sparked several discussions and debates about the preservation of celluloid a medium of filmmaking. Recently, the director along with visual artist Tacita Dean met several members of the Indian film industry and discussed why we should keep making movies on film.
"We had a very productive meeting with a lot of different members of the Indian filmmaking community," said Nolan.
"What Tacita and I have been trying to do with these meetings is to bring together all the different facets of film production. It is to really make the case for the place that celluloid film will have in the future, in the post-digital world. "
Nolan isn't the only one making a case for celluloid. From Paul Thomas Anderson to Quentin Tarantino—many have waxed eloquent phrases in praise of this medium and rightfully so; the quality of the final product on film is often far superior to digital. However, what is worrisome is the trend toward glorifying celluloid for its high-quality products and undercutting digital.
Film vs Digital
With the advent of digital technology, filmmaking isn't an exclusive profession anymore. Anyone anywhere can make a film and no one has to wait for big studios to back their projects.
After a ban on making films was imposed on renowned filmmaker Jafar Panahi by Iran's government, the filmmaker shot a film called This Is Not a Film with the help of a camcorder and an iPhone. The film went on to become a surprise entry at Cannes Film Festival in 2011.
Not just that, closer home, eight years ago, before we ventured into the debate of digital vs film, Dibakar Banerjee shot Love Sex Aur Dhokha entirely on a digicam and the narrative of the film was such that had it been shot differently, the story would not have been as engaging or interesting as it was.
Digital is also physically easier to use and has lesser constraints in terms of shooting. With much less effort, a more polished film can be made on digital.
Another boon that digital has is that there are no compulsory cuts after 11 minutes making it a more continuous medium. While Alfred Hitchcock died before the advent of digital filmmaking, he may have really enjoyed not having to find innovative ways to hide cuts, as he did, during the making of his film Rope.
James Cameron filmed Avatar digitally, Alfonso Cuaron's Gravity was also an amalgamation of live action, CGI, and animation, where sets, costumes etc. were made digitally. There are several filmmakers who have adopted digital.
However, Nolan has his reasons for batting for celluloid. Giving the example of his film Interstellar, the filmmaker said, "I wanted to immerse the audience in both the inconceivable vastness and inescapable intimacy of space travel, which I believe can only be delivered in a palpable, visceral way through the medium of film."
Nolan himself may favor film over digital, but he knows that just as a film like Dunkirk can be a visually immersive experience if shot on 70 mm film, there are films which cannot work without a digital format. Quentin Tarantino though is a celluloid purist. He has declared that he would retire if he cannot make films on celluloid anymore.
The argument over which is a better medium -- film or digital-- is at best redundant. For starters, both have some unique qualities that make them more suited for different kind of films. It isn't as binary as the survival of the fittest or moving forward from an old technology to a new one, as big studios have been trying to make it. Paramount was the first studio to distribute movies digitally, eliminating 35 mm altogether. Nolan wants to warn filmmakers of exactly these kind of move that endangers celluloid and pushes it towards extinction.
The Dunkirk director said that powerful electronic and technology companies are trying to undermine the celluloid as a medium of filmmaking by making false claims about it. "Accusations such as it (film) is more expensive or prohibitively more expensive (has been made by electronic companies). It (film on celluloid) is too difficult to make, there aren't any projectionist left and these kinds of things. We have spent the last few years just patiently explaining that film is here to stay," said Nolan.
Nolan is not necessarily championing celluloid because it is a better medium (although he personally believes that), but because it is being pushed out unfairly. His struggle is to keep the choice alive between digital and analog so that the future generation has the option of the film if they ever want to use it.
Tacita Dean, who has been accompanying Nolan on his mission to save celluloid said, "We (Nolan and I) want it to be normal to use film. We both don't want to be doing it (promoting celluloid) in fifteen years' time. Artists and filmmakers shouldn't face the restraint anymore, it is just there and it is fine, let it just be normal."
What does the audience like?
While India filmmakers are often in the habit of undermining the audience's sensibilities, Nolan isn't following their lead. If his filmography could testify it would say that the filmmaker has never mistrusted the intelligence of his audience.
"There is often a feeling that nobody cares, nobody knows the difference (between film and digital). It is not true," said the filmmaker. Talking about myths concerning the filmmaking process Nolan said that people speak of filmmaking as a logical, pragmatic thing, which it is not. "No film is logical and pragmatic, films are about dreams, about magic, about escapism and experience. You will have to embrace your emotional side, your feelings about the medium."
While Nolan's main plea is towards filmmakers to have a say in the choice of their medium, the filmmaker also puts immense trust on the audience's capacity to appreciate the differences between the two formats and know when celluloid adds value to a film, that digital cannot give.
While a tad bit optimistic perhaps, Nolan's belief in the audience's sense of aesthetics is not entirely misplaced. Over the past few years, several people have shown enthusiasm to watch movies on film. The audience came out in droves to watch Nolan's Interstellar at the pre-release shows that were organized to encourage the medium.
Where is India heading?
It is a little strange to be talking about reviving a medium that India was using till 2014. However, with India being the largest film industry in the world, it is not surprising that it has quickly moved on to a cheaper alternative of making films for its mass production. What does seem unsettling is that not a single filmmaker resisted or questioned the transformation from celluloid to digital.
As if on an auto-pilot, they all just went on with whatever is the latest technology in the market. That is perhaps one of the reasons why Nolan's visit has been so crucial for Indian filmmakers. Nolan has compelled Indian film fraternity to reconsider their decision of switching from film to digital. Reports are that Santosh Sivan has promised to make his next movie on film. Hopefully, that's a start.
Let's not relegate the projectors in dusty corners already, not because we should keep nostalgia alive, but also because celluloid isn't only about nostalgia. It is a way of filmmaking and film viewing and if we give that up already, it will be our loss because, as Ingmar Bergman puts it, no art passes our conscience in the way film does. It goes directly into our feelings, deep down into the dark room of our souls.
Read full article
Countdown To
Elections Results
To Assembly Elections 2018 Results