From Jijamata Park to Jurassic World: Indians loved the Dinosaur franchise for the fictitious new species IndominusRex and Irrfan Khan
It was Steven Spielberg who had introduced us to the world of Dinos with his 'Jurassic Park' (1993), a science horror thriller.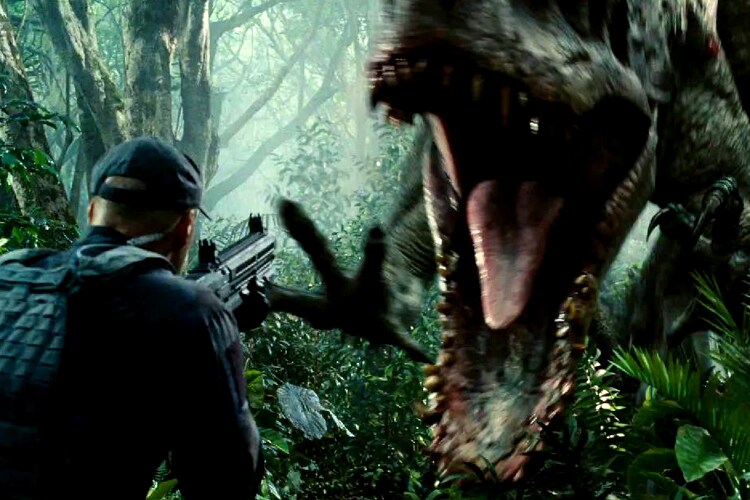 It was Steven Spielberg who had introduced us to the world of Dinos with his 'Jurassic Park' (1993), a science horror thriller.
London: Exactly 22 years back, we Indians just like the rest of the world cast our eyes at CGI created Dinosaurs which made our jaws almost touching the ground. It was Steven Spielberg who had introduced us to the world of Dinos with his 'Jurassic Park' (1993), a science horror thriller. Spielberg had given a new creature to the world to marvel at, which was larger than life in every sense. There were many scenes in the film which were frightening and it got the Indian audience hooked to creature based films. Films like 'Godzilla' (1998), 'The Lost World: Jurassic Park' (1997), 'Jurassic Park 3' (2001) were a runaway success at the Indian theatres.
Years later, Ram Gopal Varma had incorporated a funny line in his grim underworld thriller 'Satya' (1998), when Manoj Bajpai as Bhiku Mhatre referred to Jurassic Park as Jijamata Park. "Isko Le Gaya Tha Main wo film. Kaun Se Thi wo? Chipkali ke bare main? Haan...wo Jijamata Park (I had taken her to that film. Which one? Something on the lizards? Yes...that Jijamata Park," Mahtre in the film explained the perception of an average audience who were way too astonished about the giant lizard like animal terrorising the audience.
Filmmaker Steven Spielberg had not just digitally developed a gigantic animal but had also convinced everyone with an absurd idea germinating from bioengineering cloning of extracting DNA of dinosaurs from mosquitoes combining it with DNA from frog. The Tyrannosaurus Rex had gripped the minds of movie goers, just as the blood dripping fangs did back in 1958 when Christopher Lee flashed it on the screen in first of its kind, spine chilling 'Dracula' (1958).
Colin Trevorrow in the fourth instalment Jurassic World offered the audience a 'paper dino' called Indominus Rex- a genetically modified top predator in the food chain which has the lethal genetic makeup acquired from T Rex, Tree Frog, Cattle Fish and Velociraptor which lives upto its enormity on screen but fails to scare the shit out of us. Blame it to lack of novelty that Speilberg's T Rex had created or simply an overdose of many dinos straying in the theme park, but the new-generation audience were unmoved with Indominus Rex. Not to forget Indominus Rex never ever existed, going by the theories of palaeontologists, thus, the audience refused to take it seriously.
After the stupendous success of Piku, Irrfan Khan is the top flavour of the season and his international outing has always made the Indian audience curious. Irrfan as Simon Masrani, CEO of the Masrani Global Corporation makes an impactful presence in Jurassic World. "Dinosaurs do not spell magic anymore," he made everyone realise. After playing Piscine Patel in Ang Lee's Life of Pi and the villainous Dr Ratha in The Amazing Spider Man, Irrfan's outing in the Dinosaur film was watchable. Audience were not as excited to watch the dinosaurs as much they were to watch Irrfan alongwith the Hollywood stars Chris Patt, Bryce Dallas Howard and Vincent D' Onofrio.
Alas, the visually dazzling presentation was a magnanimous presentation for the new generation viewers who would look at Dinosaur as just another celluloid monster.
Get the best of News18 delivered to your inbox - subscribe to News18 Daybreak. Follow News18.com on Twitter, Instagram, Facebook, Telegram, TikTok and on YouTube, and stay in the know with what's happening in the world around you – in real time.
Read full article