Ganesh Chaturthi: From Madhuri to Anushka, Celebs Welcome Ganpati Bappa in Style
Take a sneak peek into how stars are celebrating Ganesh Chaturthi this year.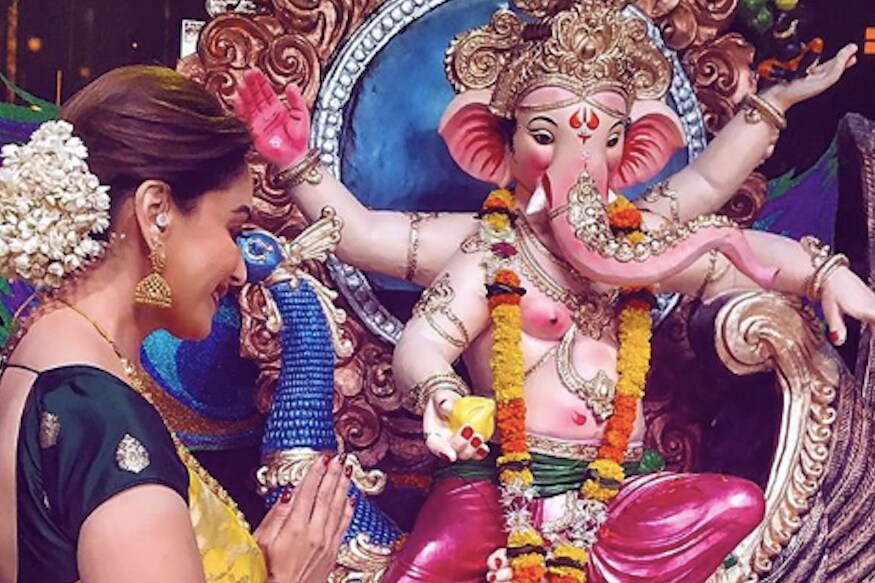 Madhuri Dixit celebrating Ganesh Chaturthi. (Image: Instagram/Madhuri Dixit)
It's that time of the year again when the Bollywood brigade comes out in full force to welcome lord Ganesha into their homes and hearts, wishing for health, happiness and prosperity.
This Ganesh Chaturthi, several stars — from Madhuri Dixit Nene, Amitabh Bachchan, Anushka Sharma to Shilpa Shetty Kundra, Aditi Rao Hydari, Manisha Koirala and Tusshhar Kapoor — took to social media to share how they are celebrating the joyous occasion.
Madhuri Instagrammed an image of her standing in front of a Ganpati idol with folded hands. In the photo, she looks beautiful in a yellow saree, green blouse and gajra bun. "Modaks, family gatherings, dance, music... Everything about #GaneshChaturthi makes me happy. I wish this festive season brings you all countless blessings! #GanpatiBappaMorya," she captioned it.
Shilpa was seen carrying a Ganpati statue into her home with husband Raj Kundra. The 43-year-old actor kept it simple in pink kurta, palazzo pants and a floral dupatta.
Rang De Basanti actor Siddharth, known for his tongue-in-cheek wit, tweeted a photo of the pooja and wrote alongside, "We need to address the elephant in the room."
We need to address the elephant in the room. #GaneshChathurthi #GanpatiBappaMorya #FestyMood pic.twitter.com/IUW5kcFueg

— Siddharth (@Actor_Siddharth) September 13, 2018
Anushka Sharma shared a video of the Sui Dhaaga team making an eco-friendly Ganesha with threads. "Celebrating this auspicious occasion with a beautiful eco-friendly Bappa made with Dhaaga," she captioned it.
Meanwhile, music composer Vishal Dadlani urged all to not pollute the environment in the name of celebrations. He posted several post-Ganpati visarjan pictures on Twitter along with an appeal: "India, don't immerse Ganpati in the ocean or natural water-bodies. Can't bear to see half-dissolved idols all over again. Treat Ganesha & Nature with the respect they deserve. Use natural, soluble idols & immerse at home/in tanks built for this. Pl. don't let this happen again."
India, don't immerse Ganpati in the ocean or natural water-bodies. Can't bear to see half-dissolved idols all over again. Treat Ganesha & Nature with the respect they deserve. Use natural, soluble idols & immerse at home/in tanks built for this. Pl. don't let this happen again. pic.twitter.com/42IaT9bZEe

— VISHAL DADLANI (@VishalDadlani) September 12, 2018
Here's how other stars are celebrating:
We are forever blessed... see it and feel it ❤️May your #GaneshChaturthi be filled with blessings, sweets, happiness and sooooo much love ❤️ #countyourblessings pic.twitter.com/naXeCW4VFz

— Aditi Rao Hydari (@aditiraohydari) September 13, 2018
Warm wishes on the auspicious occasion of #GaneshChaturthi!May Lord Ganesha bless you with happiness and all the good things in life :) #GanpatiBappaMorya#goecofriendly pic.twitter.com/leia39G5il

— Kajal Aggarwal (@MsKajalAggarwal) September 13, 2018
Happy Ganesh Chaturthi 🙏🏻🙏🏻🙏🏻 may lord Ganesha bless us all 🙏🏻🙏🏻🙏🏻🌸🌸🌸 pic.twitter.com/p4fpVbeLmx

— Manisha Koirala (@mkoirala) September 13, 2018
T 2929 - Ganapati Bappa Moreya .. !!🙏🙏🙏🙏 pic.twitter.com/881dWVtYWN

— Amitabh Bachchan (@SrBachchan) September 11, 2018
Read full article