Seth Meyers Rips Into Hollywood's Sexual Misconduct Scandal at 'Black' Golden Globes
Referring to the male nominees gathered for the top television and movie awards, Meyers said, "This is the first time in 3 months it won't be terrifying to hear your name read out loud."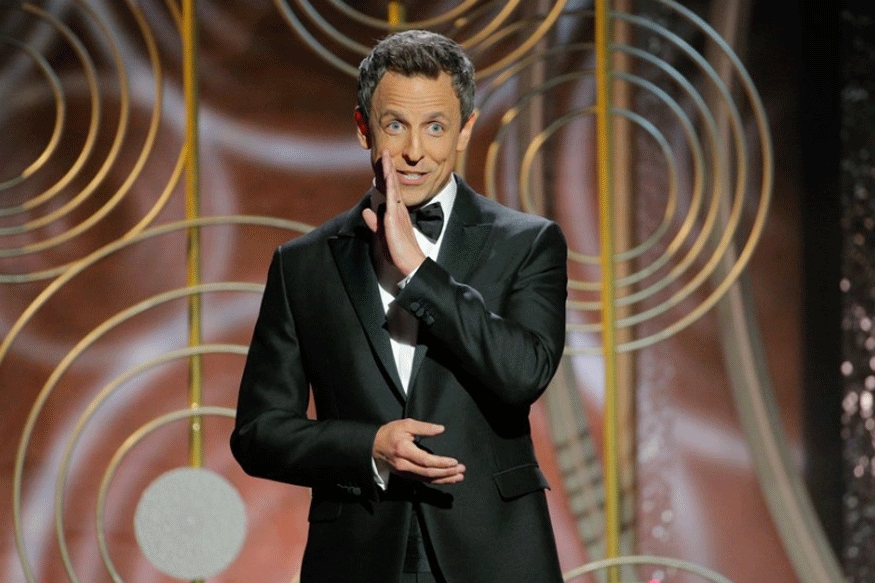 Image Courtesy: Twitter/GoldenGlobes
LOS ANGELES: Golden Globe host Seth Meyers kicked off Hollywood's first major awards show of 2018 with a series of barbed jokes about the sexual misconduct scandal that has roiled the entertainment industry, and the emergence of women as a powerful force in show business.
"Happy New Year Hollywood! It's 2018. Marijuana is finally allowed and sexual harassment finally isn't," quipped host Meyers to wild applause from the A-list audience in Beverly Hills.
"There is a new era underway," he went on. "It's been years since a white man was this nervous in Hollywood."
Multiple allegations against actors, filmmakers and Hollywood agents since October 2017 have led to many of the accused being fired, forced to step down, or dropped from creative projects. Some of the A-list stars attending the Globes ceremony have given their own harrowing accounts.
Referring to the male nominees gathered for the top television and movie awards, Meyers said, "This is the first time in 3 months it won't be terrifying to hear your name read out loud."
The evening began with the normally colorful red carpet transformed into a sea of black gowns worn by celebrities to show solidarity with victims of sexual harassment inside and outside the entertainment industry.
Angelina Jolie, Emma Stone, Amy Poehler, Gal Gadot, Jessica Biel, Kerry Washington, Octavia Spencer, Jessica Chastain, Laura Dern and Claire Foy were among the majority who wore black in support of the Time's Up Campaign, launched earlier this week, to fight sexual harassment in the workplace.
Men also joined in, with the likes of Justin Timberlake and Ricky Martin wearing black shirts to match their tuxedos.
Sunday's early winners included Nicole Kidman as best actress in a television limited series for her performance as a battered wife in HBO's Big Little Lies, and Elisabeth Moss for her lead role in Hulu's dystopian drama The Handmaid's Tale.
Get the best of News18 delivered to your inbox - subscribe to News18 Daybreak. Follow News18.com on Twitter, Instagram, Facebook, Telegram, TikTok and on YouTube, and stay in the know with what's happening in the world around you – in real time.
| Edited by: Kriti Tulsiani
Read full article