0/288 Seats ((145 Seats to Win)
Alliance
BJP+
YSRCP+
TDP+
INC+
OTH
Wins + Leads
0
0
0
0
0
+/- 2014
+0
-0
-0
+0
0/90 Seats ((145 Seats to Win)
| Alliance | BJP+ | INC+ | BJD+ | OTH |
| --- | --- | --- | --- | --- |
| Wins + Leads | 0 | 0 | 0 | 0 |
| +/- 2014 | +0 | -0 | -0 | +0 |
Gulzar on Relationship with Rakhee 44 Yrs Post Their Separation: I Still Gift Her Best Sarees
Despite living separately since 1974, Gulzar says he and estranged wife Rakhee have spent a lifetime together.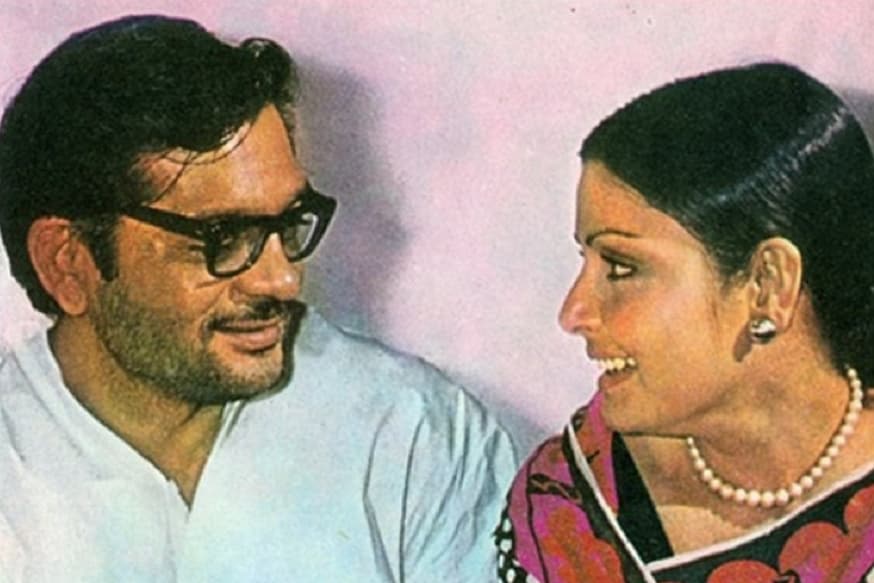 Gulzar and Rakhee got married in 1973. (Image: Instagram)
It is not everyday that Gulzar — arguably Hindi cinema's most prolific and celebrated man of letters — gets candid about how his relationship with his estranged wife, veteran actor Rakhee, has evolved since their separation in 1974.
The poet-filmmaker's whirlwind romance with Rakhee was one of the most high-profile alliances of the 70s. However, their association was tragically shot-lived. They got married in 1973 and separated a year later after their daughter Meghna Gulzar was born.
Despite rife speculations of acrimony between the two over Rakhee's film career, they never got divorced. Instead, they chose to jointly raise Meghna.
At the launch of 'Because He Is' — Gulzar's biography by Meghna — at Mumbai's Royal Opera House earlier this month, the 84-year-old lyricist said despite living separately for about 44 years now, he and Rakhee could never separate. "Even today, whenever I want to eat fish cooked by her, I first gift her a saree as a bribe like I used to do when we were courting. I gifted her so many sarees during our courtship days that I learnt to identify beautiful Dhakai and Tant sarees. I used to gift her the best ones. I still do," he said.
From following little birthday rituals to raising together their only daughter — who is now an acclaimed filmmaker — Gulzar and Rakhee have been deeply involved in each other's life. "From when Meghna was a child till the time she grew up, there hasn't been a single occasion, moment, incident or celebration that we haven't shared with each other," Gulzar said, adding, "We have been together through it all — disagreements, fights and happy times. If this is not being together, then I don't know what is."
However, Gulzar soon clears that being involved doesn't mean they agree on everything. They sure have their differences but also a strong respect for each other's personal space. "We still have a little argument in every two-three hours. And that I think it is only fair. What kind of love is it, in which people don't differ, don't fight every now and then?" he asked.
"But to say that we are not two different identities would be wrong. She does what she likes. I do what I like. All good friends live like this," he added.
He went on, "You're not close enough if you don't brush against each other. We are still just like we were all these years ago. I have always been honest about it. I didn't preach. I didn't give any lessons or explanations. And she understood. This is how it is."
Gulzar has directed over 20 films, including Parichay, Aandhi, Ijaazat and Maachis. He has also written several books, film screenplays, dialogues and song lyrics.
Meanwhile, Rakhee, in an acting career spanning over 35 years, was one of the top heroines in the 70s featuring alongside superstars such as Rajesh Khanna, Dharmendra and Amitabh Bachchan in blockbusters like Daag, Blackmail, Kabhi Kabhie and Muqaddar Ka Sikandar.
In the latter part of her career, she essayed character roles in several popular films including Ram Lakhan, Karan Arjun, Baazigar and Border.
Gulzar and Rakhee still have a lot to offer. Maybe not films any more, but life lessons, most definitely.
Get the best of News18 delivered to your inbox - subscribe to News18 Daybreak. Follow News18.com on Twitter, Instagram, Facebook, Telegram, TikTok and on YouTube, and stay in the know with what's happening in the world around you – in real time.
Read full article