January 20, 2021 marks the 355th birth anniversary of Sikh Guru Gobind Singh. Known for his valour and leadership, the tenth Sikh guru was born in Patna in Bihar in the seventeenth century India. The date of Guru Gobind Singh's birth anniversary is decided according to the Nanakshahi calendar and it is usually celebrated around December or January. Last year, the occasion was celebrated on January 2. Guru Gobind Singh became the leader of the Sikh community at the age of nine, after the death of his father, Guru Tegh Bahadur.
The tenth guru grew up to become a fierce warrior and a philosopher. He also introduced some significant contributions to the religion. Guru Gobind founded the Khalsa Panth in 1699 which is the highest order of Sikhs. He introduced the five Ks that would bind the Sikh community together. The five Ks were: Kesh (uncut hair), Kara (a steel bracelet), Kanga (a wooden comb), Kaccha (cotton underwear), and Kirpan (steel sword).
Guru Gobind Singh passed away in 1708 and passed the leadership to the holy Guru Granth Sahib. As members of the Sikh community celebrate the birth anniversary of their tenth guru, let us take a look at celebrities who have shared their wishes on social media:
The 37-year-old singer, and actor, Diljit Dosanjh took to Instagram to pay his tribute and respect to the Sikh Guru. Diljit wished everyone a happy Gurupurab on his Instagram account where he has over 11 million followers.
Singer and actor from Punjab, Ammy Virk also posted a picture of Guru Gobind Singh and expressed his reverence for the leader. The picture posted by Ammy also had a present-day context of the ongoing farmer's protest in it.
Legendary Punjabi folk artist, Gurdas Maan sought blessings and happiness from Guru Gobind Singh on his 355th birth anniversary.
Bollywood actor and producer Ajay Devgn took to Twitter to pay his tribute. Ajay sought eradication of selfishness just like Guru Gobind Singh had said. He further wrote that he remembers him and the many important life lessons the selfless and brave Saint gave to humanity.
Eradicate selfishness said Guru Gobind Singhji🙏 On his anniversary today, I remember him & the many important life lessons this selfless & brave Saint gave to humanity. Respects🙏#gurugobindsinghjayanti

— Ajay Devgn (@ajaydevgn) January 20, 2021
Punjabi singer and artist Guru Randhawa posted Guru Gobind Singh's picture on his Instagram Story as he wished a happy Gurpurab to his followers.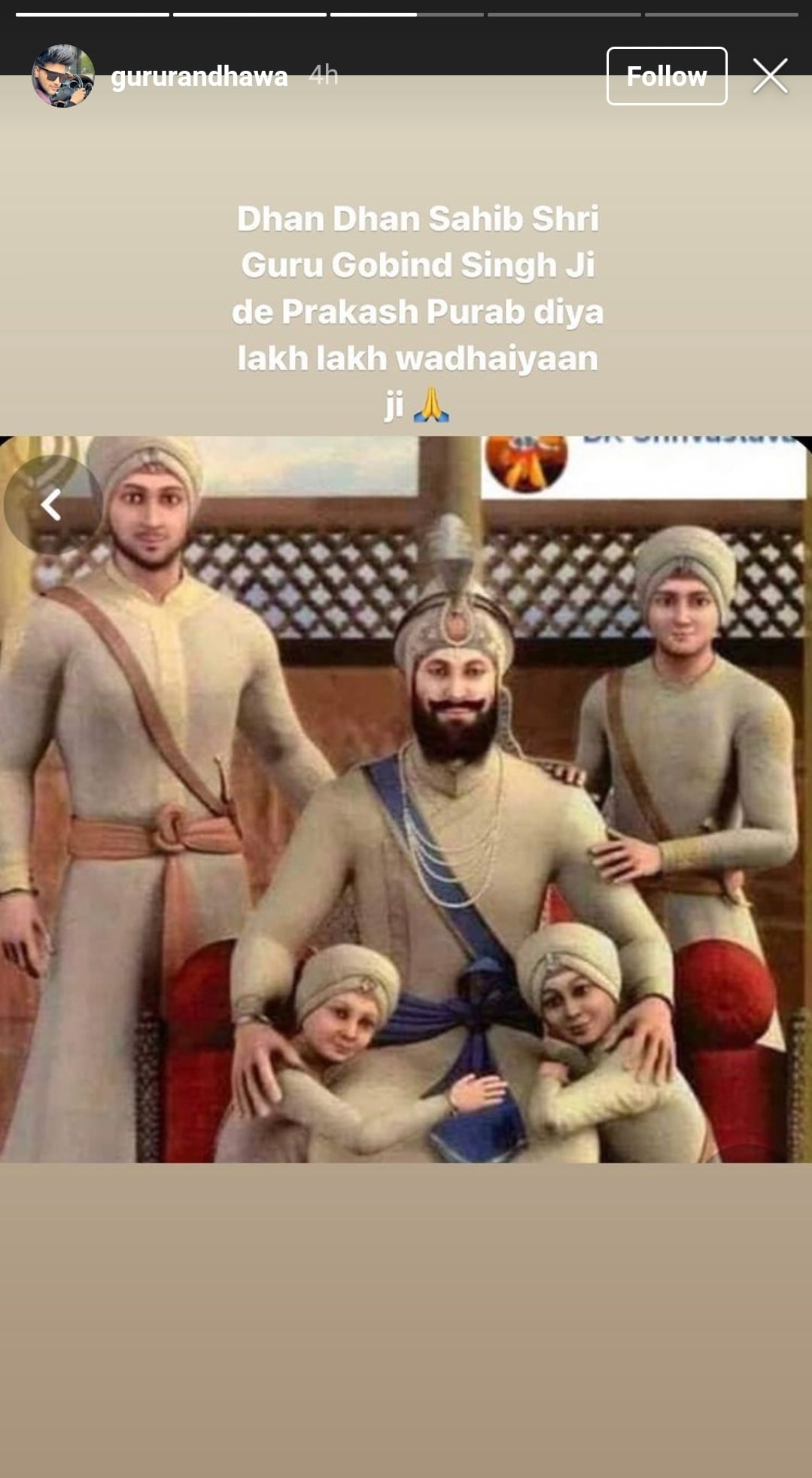 Another singer from Punjab Kaur B had a special post paying her respects to Guru Gobind Singh on his birth anniversary.
Prime Minister of India, Narendra Modi also paid homage to Guru Gobind Singh on his birth anniversary and said the 10th Sikh Guru's life was devoted to create a just and inclusive society. "I bow to Sri Guru Gobind Singh Ji on the pious occasion of his Parkash Purab. His was a life devoted to creating a just and inclusive society," he said in a tweet on the occasion of the 354th birth anniversary of the Sikh Guru.
Read all the Latest News, Breaking News and Coronavirus News here