Director: Sidharth P Malhotra
Cast: Rani Mukerji, Sachin Pilgaonkar, Supriya Pilgaonkar
Sidharth P Malhotra's Hichki is a film wherein the emotional quotient overrides the inspirational one. Rani makes a "comeback" after a mothering hiatus of four years with a tale that's heart-warming and dramatic. She plays, Naina Mathur who suffers from Tourette's Syndrome, a neuropsychiatric condition, characterized by motor tics and at least one verbal tic. That's not to say
she's hampered or stifled but is instead as bold, brave and buoyant as anyone could be.
Hichki recounts the tale of Naina, an aspiring teacher who had faced rejections both in her childhood and in her young professional days because of her Tourette'ss. Early on in the film, an interviewer even suggests her to think of another professional calling as they "had never seen a teacher with a speech defect." But unfazed by it all, she continues to strive for a teaching job and soon enough, lands one at the same school in which she had studied as a student.
The principal hands her section 9F, a class only created to meet the conditions of the compulsory Right To Education, comprising a total of 14 underprovided children. Naina now has to deliver her best and prove the trustees and teachers doubting her that TS doesn't reduce her potential nor it subtract from
her intellect. Among the ones doubting her is Mr Wadia, a snooty arrogant teacher, ably played by Neeraj Kabi. His only idea, or aim perhaps, is to never let the 14 of 9F class students mix-up with the other sections and serve constant reminders of them being "municipality garbage."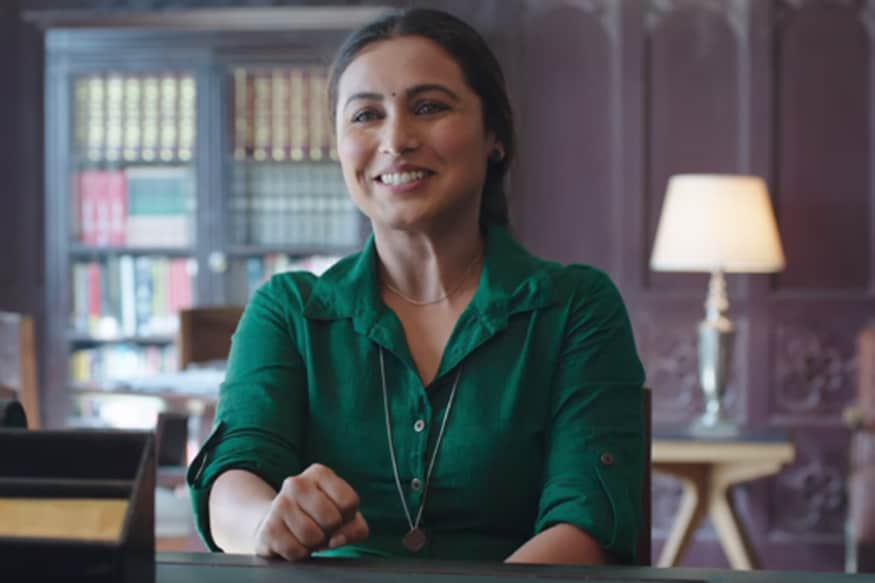 The students rap, smoke and dance during classes and are well enough to have 7 teachers thrown out of the school. Initially, they are upright bullies who have no regards for their teachers come what may. They plan pranks and do everything in their power to make her leave. Naina's problems lie not only in proving her worth to the authorities but in also being accepted by these students, who have so far been kept at bay from the other upscale students of the school.
She instantly connects to the students as she herself has faced a host of prejudices all her life but while her syndrome is psychiatric, her students' Tourette is socio-economical and more so, psychological. She now bears the responsibility to carve an accountable group of students from the notoriety she's been handed over and to channelize their energies in the right direction. Naina steers clear implying her unconventional teaching methods and a positive approach as life keeps on throwing one hurdle after another.
Rani Mukerji as Naina is a ray of hope in a world that is often too dim. She plays her differently-abled character sensitively and makes it clear in the beginning that she isn't looking for sympathy but only seeking equal opportunities. That Rani is a fine actor we know, and while the film rests heavily on her shoulders and she delivers her best, Hichki somehow fails to weave magic to its full potential. If the first few minutes of the film deals with setting the light-hearted subject of TS, the next few slip away as the narrative becomes overtly dramatic in the face of Naina standing up for her students and taking on the school's ideology.
The student-teacher bonding instances, however, make for some of the most heart-warming moments in the film. Notably, the transformation of Naina's rebel student Aatish, played skillfully by Harsh Mayar, just by her kindness and actions. Other student characters too appear to be full of meat but bear the brunt of not enough characterization in the film just like Naina's family moments - which too demand attention, but don't get enough screen time.
Apart from Rani's soul-lifting performance, the film is impressive on two accounts- one that it urges viewers to look past Naina's defects and turns to portray her as a normal woman who has other school-related issues to get through, and second, it deals with the subjects in its hands sensitively.
Despite the above mentioned noteworthy things, Hichki remains an incomplete attempt at narrating a tale. The film has been adapted from the Hollywood classic Front Of The Class, which itself was based on the book Front Of The Class: How Tourette Made Me The Teacher I Never Had by Brad Cohen. But like the Bollywood's regular dramatic genre, this one too loses out to being overtly emotional towards the end. And more so, it continues to feel less detailed and unimportant questions like why are there only two teachers, why do we only see 9th standard throughout- begin to pop up.
So while Rani strikes the right chord and gets the intricacies of her hiccups right, the film doesn't elevate much from its hiccups and remains only partly engaging.