GET Stock

Quotes

Rajasthan
Poll in 1 seat deferred
Hold the Dark Review: Netflix's Wolf Thriller Ends Up a Howling Disappointment
Planning to watch Hold the Dark? Read our review first.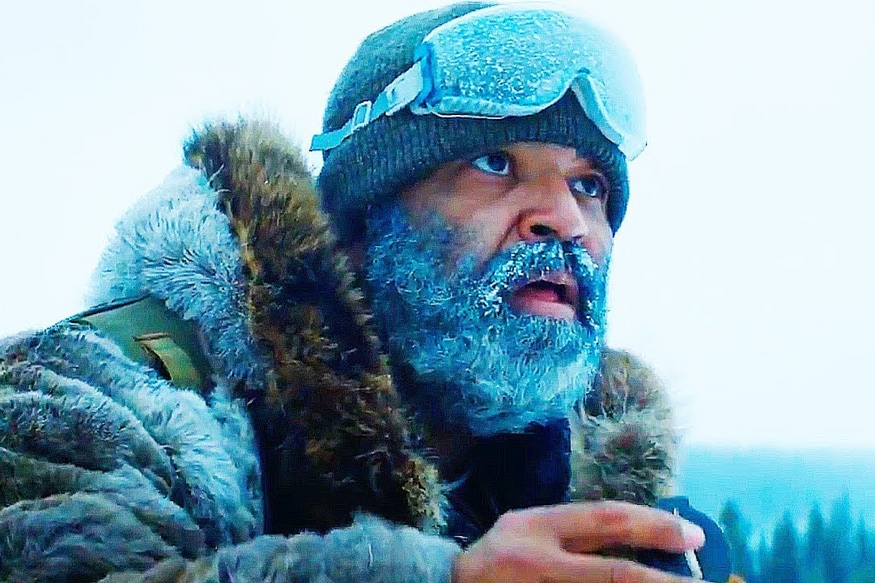 A still from the film (Image: YouTube)
Cast:
 Jeffrey Wright, Alexander Skarsgård, James Badge Dale
Director:
Jeremy Saulnier
As the more-than-strange events of
Hold the Dark
unfold during the course of the film, its lead actor Jeffrey Wright looks increasingly perplexed, with the occasional addition of exasperation. hile doing so, Wright mirrors the reaction of anyone watching this cinematic oddity, or at least this reviewer.
After having pleased audiences and critics alike with previous films
Blue Ruin
and
Green Room
, director Jeremy Saulnier turns to the white snows of Alaska for his next film,
Hold the Dark
. Apart from his obvious affinity for colours, Saulnier has previously shown particular prowess in crafting a great revenge tale, so it's a pity he decides to try and turn this one into an arthouse project.
The cinematography is excellent, thanks in no small part to the breath-taking Alaskan landscape, with plenty of panoramic shots of flora and fauna, sunrise and sunsets. Too bad then that the characters who inhabit this particular setting are part of a poorly constructed revenge flick.
For make no mistake, at its core, 
Hold the Dark
is nothing if not a revenge flick. Medora Sloane (a criminally wasted Riley Keough) writes to writer and animal behaviourist Russell Core (Wright, him of the bemused expressions) from her small Alaskan village, from whence her young son has been taken by wolves, and clearly not to raise as one of their own. Medora understands that her little boy is gone but asks Core to come to her village and hunt down the wolves (who've snatched other children as well), a feat he had previously written about and of which she had read. Medora's husband, Vernon (Alexander "just doing this for the kicks" Skarsgård) is a soldier, away franchising, er, fighting for democracy in the Middle-East and Medora wants the wolves' corpses, as something to show him. Maybe? The film's not very clear on this point.
It only grows darker (some would say dimmer) from here.
Core, a middle-aged author who's been asked to come to Alaska to hunt wolves in December (and more inexplicably, agreed to), spends a day trudging over snow banks and finally comes across a pack of wolves who are in the middle of collectively murdering one of their own wolf pups, and on seeing such graphic violence, Core feels a kinship with the beasts, and can't bring himself to shoot them down. So much for animal empathy.
That Core has a dysfunctional relationship with his own daughter (a vignette forced down our throats earlier) may or may not be germane to the issue here.
In any case, Core stumbles back to the Sloane home to find, or rather not, Medora to be MIA and a door he hadn't noticed the night before (a night, incidentally, wherein Core discovers the lady who's tasked him with taking bloody revenge on wolves is emotionally and mentally disturbed; go figure). On opening it, and descending the stairs it leads to, Core finds a dusty cellar with a fresh corner and a small huddled object wrapped in plastic tarp. Three guesses for what's under there.
In a way, the film truly begins here. Upon the subsequent return of Vernon to his Alaskan tragedy and his sub-subsequent murder rampage wherein and he and his old friend and neighbour Cheeon (Julian Black Antelope) kill seemingly almost everyone unfortunate enough to be living in their district, the film stops making sense. And that's with 45 minutes to go.
The rest of
Hold the Dark
is a convoluted, not to say pretentious, examination of the relationship between man and beast, natural law versus human law and other vainglorious subjects as well as a fleeting allusion to Native American culture. By this point wolves are howling, Vernon and Medora are prancing around (among other things) in wooden animal masks and Core is looking increasingly pained. We feel you, Jeffrey.
Rating:
2/5
(Get detailed and live results of each and every seat of the state Assemblies in Madhya Pradesh, Rajasthan, Telangana, Chhattisgarh and Mizoram to know which candidate/party is leading or trailing and to know who has won and who has lost and by what margin. Our one-of-its-kind Election Analytics Centre lets you put on the psephologist's hat. Know interesting facts and trivia about the elections. Elections = News18)
Read full article
Countdown To
Elections Results
To Assembly Elections 2018 Results