How Geeta Tandon Survived Gender Discrimination to Become Bollywood's Popular Stuntwoman
In an interaction with News18.com, Tandon talks about her experience in working in a male-dominated industry and the barriers women face in realising their dreams.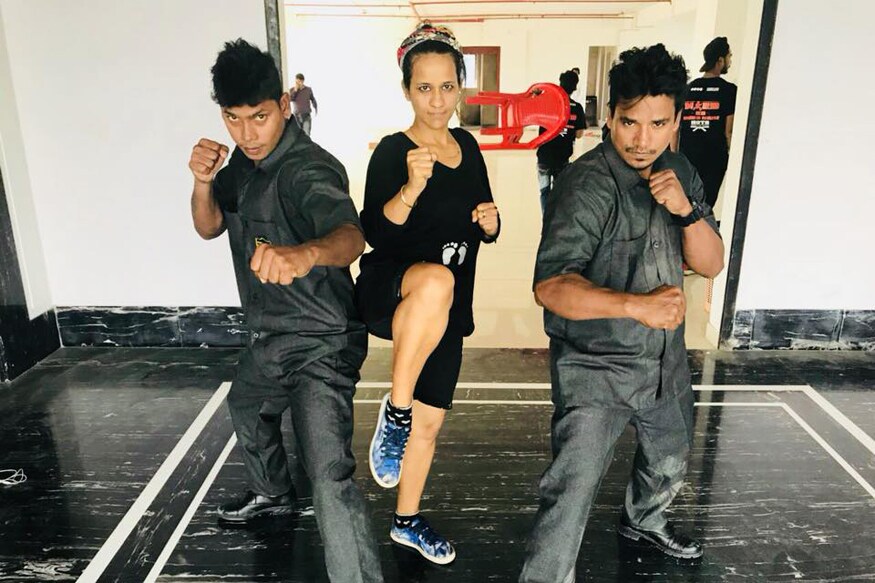 Image: Geeta Tandon/Facebook
Climbing the side of a building, performing a street fight and pulling off a daredevil stunt with perfection might look cool and exciting on the big screen, but do you have the courage to take this up as career? The 33-year-old Geeta Tandon, who claims to be the only stuntwoman with considerable success in car chase sequences, says surviving in the showbiz industry isn't just about managing risks and staying fit, but is also about surviving the gender disparity. Tandon, who has been subjected to vicious domestic violence, got married at the age of 16 and decided to leave her in-laws along with her two children in early 20s. Despite facing abuse for years, Tandon's positive attitude and firm faith in God helped her carve a niche for herself in a field that required specific skills.
In an exclusive interaction with News18.com, Tandon talks about her experience in working in a male-dominated industry and the barriers women face in realising their dreams.
The field of film stunts is mostly male-centric. Did the challenges - lack of respect, man-terruptions - magnify in your case?
Unfortunately, yes. It is still our reality as women to go to work that is already saddled with the formidable task of proving our abilities. This is the weight that our male counterparts don't have to bear. Irrespective of the efforts we have to make, opinions like 'Arrey yeh ladki hai, kitna hi kar legi?', 'Inke bas ka thodi na hota hai' continue to exist. Since I have worked laboriously, taken on more than what's required of me and gone out of my way to do justice to my role as a stuntwoman, I don't believe in passing on my opportunities to others. Despite being the one who has provided value beyond what's asked of me, I've had to battle comments such as 'Abhi aayi hai, jaldi chali jaegi' and 'Yeh toh baal bachchey waley log hain'. Thankfully, I never paid heed to such negative feedback and stayed firm in realising my dream.
Since gender bias can influence decision making and further lead to problems at a workplace where both men and women can thrive, how easy or difficult is it to survive such discriminations?
It's all in the mind. One needs to be strong enough to think in a manner that can not only weaken their foes, but also control the detrimental impact of such biases. If a man can shoulder all responsibilities (taking care of his family while working laboriously), I fail to under why a woman can't. Woh bhagwan ka robot toh nahi hai na? The profession that I'm in calls for the determination to stay fit. Women can raise kids, take care of their needs. Saath mei bachchon ke liye paise bhi kama sakti hai. There was a phase when people would blatantly refuse to keep me as a tenant just because I was staying with my children, and not with my husband. I had the option to say that he worked abroad, but I chose to stick to the truth.
Do you think your success as a stuntwoman in the Indian showbiz industry has drilled a feeling of insecurity amongst your male counterparts?
There is a huge possibility. In my field, it has a lot to do with the money involved. Men are more concerned about the money that would go to women if they are successful in pulling off a stunt. Unko bas yeh hota hai ki jo mujhe Rs 10,00 mil jatey woh kisi aurat ko na chale jaein. So if a woman makes even the slightest mistake, men are quick to seize the opportunity. And if she pulls it off with perfection, nobody appreciates her hard work.
Is gender pay gap another bigger issue to deal with in your field?
Chaahe aadmi ho ya aurat meri field mei ek hi payment hai. But it is the extra pressure that women face in proving themselves that makes everything tough for them. It's the stigma that women in the male-dominated field are not as capable as men that makes their lives so harsh. If girls are successful, then the next generation will be able to envision themselves as stuntwomen and more girls would be willing to go into more male-dominated fields. Let's not make women work twice as hard as men just to prove themselves. That's wrong.
Get the best of News18 delivered to your inbox - subscribe to News18 Daybreak. Follow News18.com on Twitter, Instagram, Facebook, TikTok and on YouTube, and stay in the know with what's happening in the world around you – in real time.
Subscribe to Moneycontrol Pro and gain access to curated markets data, trading recommendations, equity analysis, investment ideas, insights from market gurus and much more. Get Moneycontrol PRO for 1 year at price of 3 months. Use code FREEDOM.
Read full article