How Ranveer Singh's Filmfare Cover Changed the Life of this Lahore Designer
A Lahore-based designer did his best to make Ranveer Singh's Filmfare cover vibrant and got amazed by the result.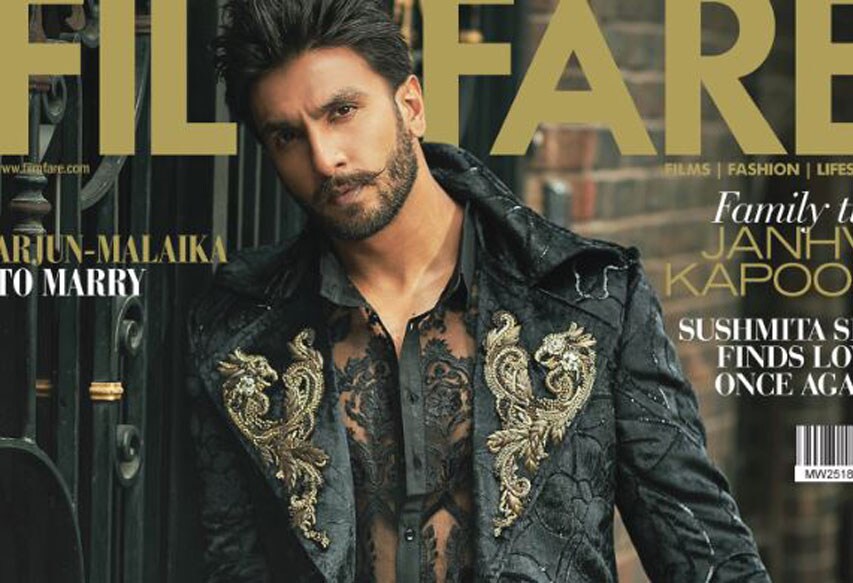 Filmfare Magazine Cover. (Image: Instagram/Ranveer Singh)
It was a defining moment for Lahore-based designer Mohsin Naveed Ranjha when he got to dress Bollywood star Ranveer Singh for the cover of Filmfare. No wonder his phone hasn't stopped ringing since then.
A lot was on stake for Ranjha when he was called to London for the shoot with Singh. He wanted to buy a new car, but had to sacrifice the desire. Shoots with big Bollywood stars could get really expensive sometimes.
In a conversation with Dawn, Ranjha said, "…I realised that Ranveer had posted a picture of the cover and tagged me on it. My brand's Instagram followers were multiplying by the minute!"
The season anyway belonged to Singh, after all he was getting married, that too to one of the biggest India movie stars, Deepika Padukone. How could you not check out the clothes he is promoting?
However, this was just one part of it as Ranjha still had to wait for Singh's approval at every step. He said, "I sent across the mood board, the colour scheme, the sketches, everything for his approval. Even though he had signed a contract with me and this was a paid shoot, it still didn't mean that he would wear just about anything I created. After all the nitty-gritties were sorted and I was leaving for London, I was still worried. What if he didn't like the clothes? What if something went amiss at the last minute?"
Ranjha found Singh 'professional' but 'not obsessed' with the shoot. Probably that's why Ranjha said, "The high point for me was when Ranveer posted the Filmfare cover and Deepika Padukone liked the image."
Ranjha is hopeful about opening a studio in the US. He said, "He's an international star and I think this shoot will help me build my business internationally."
Follow @News18Movies for more
Get the best of News18 delivered to your inbox - subscribe to News18 Daybreak. Follow News18.com on Twitter, Instagram, Facebook, TikTok and on YouTube, and stay in the know with what's happening in the world around you – in real time.
Read full article