IFFI 2017: Iranian Director Majid Majidi Seems to Have Found a New Home in India for His Creativity
Some like Majidi – whose film, Beyond the Clouds, shot in and around Mumbai and with Indian actors, opened IFFI on Monday – have found some kind of home outside their own country.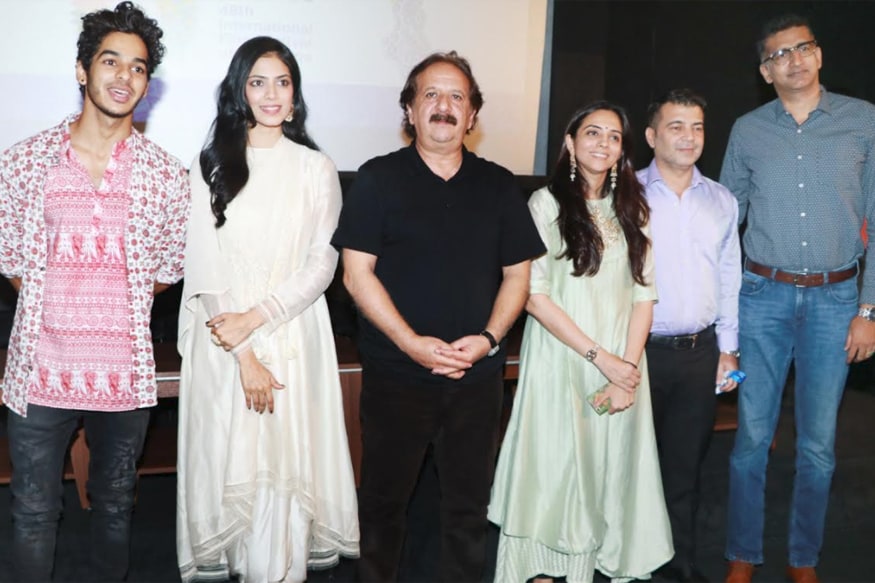 Majid Majidi with the cast of Beyond The Clouds (Image: Yogen Shah)
The other day, when celebrated Iranian director Majid Majidi told a media conference at the ongoing International Film Festival of India (IFFI) in Goa's Panaji that, "India has brilliant talent, but it has no chance to express itself because of the shadow of the industry", it seemed so apt in the current scenario in India, though it may not be the industry alone which is responsible for placing obstacles on the path of the young and the talented. We have seen this in recent weeks in the cases of S Durga and Padmavati.
But I must hasten to add here that the young and talented in India have windows of redressal. Sanal Sasidharan's S Durga has emerged from a storm with the help of the judiciary, and in all probability the movie will be screened at IFFI. And Sasidharan will get his well-deserved chance to exhibit his creativity – something which is still out of reach in Majidi's land, where extraordinarily brilliant artists have languished because of a totalitarian regime.
But some like Majidi – whose film, Beyond the Clouds, shot in and around Mumbai and with Indian actors, opened IFFI on Monday – have found some kind of home outside their own country. Admired in India for his work and encouraged, Majidi (known for some exceptional works like Children of Heaven, The Colour of Paradise, The Song of Sparrows and Baran) plans to make more films here.
Iranian actress Golshifteh Farahani is another who found freedom in a far away land. She was just brilliant in an early movie, The Patience Stone – where she keeps talking to her comatose husband in war-ravaged Afghanistan. Over the course of several days, her conversations – rather her monologues – begin to get saucier, and a point is reached when the husband wakes up in shock due to hearing his wife's sexual escapades.
One would now see Farahani in her latest work, Song of Scorpions, along with Irrfan Khan at the upcoming Dubai International Film Festival in December. As a Rajasthani woman, who knows the rare art of healing a person after he or she is bitten by a deadly scorpion that lives in the deserts, she is riveting, and looks marvelously authentic.
But Farahani had to flee Teheran many summers ago, when the government there disliked her ways, which were nothing short of rebellious. At school, she protested, because there was no heating, and acted as a courier between two lovers carrying their romantic notes. Later as a teenager, she tonsured her head, because she did not want to cover her hair, and rode a bicycle on the streets of Teheran – causing a huge uproar. Girls were not allowed to cycle or shave off their hair.
At 20, she married, but a small part in an American movie with Tom Cruise had the Iranian clergy fuming. So, she ran away from home and landed in Paris – where she posed nude for a men's magazine and continued to lead a life that she wanted to. And France offered her the freedom she craved for. But let us not forget, she is a great artiste, and has done remarkable work – which would not have been possible had she continued to live in Iran. Or, at least it would have been very, very difficult – like in the case of Iranian helmer Jafar Panahi.
In 2010, he was sentenced to a jail term of six years by the government. He was also banned from making films for 20 years – although he has made three during the ban, but on the sly. One of them, Taxi, won the coveted Golden Bear at Berlin a few years ago. Can you believe that he disguised himself as a cabbie, escaped from his house arrest in Teheran, drove a taxi around the streets of the city, took in passengers, picked up conversations with them and recorded all of this with the help of a small camera placed on the dashboard. The result was a beautiful work called Taxi.
But not everybody can do what Panahi has been doing. Some like Farahani and Majidi find homes and creative platforms elsewhere.
(Gautaman Bhaskaran is an author, commentator and movie critic)
Get the best of News18 delivered to your inbox - subscribe to News18 Daybreak. Follow News18.com on Twitter, Instagram, Facebook, Telegram, TikTok and on YouTube, and stay in the know with what's happening in the world around you – in real time.
Read full article