I'm Confident, Comfortable With What I'm Paid: Deepika Padukone
Actress Deepika Padukone on Tuesday sought to brush away the matter of her remuneration for Sanjay Leela Bhansali's Padmavati.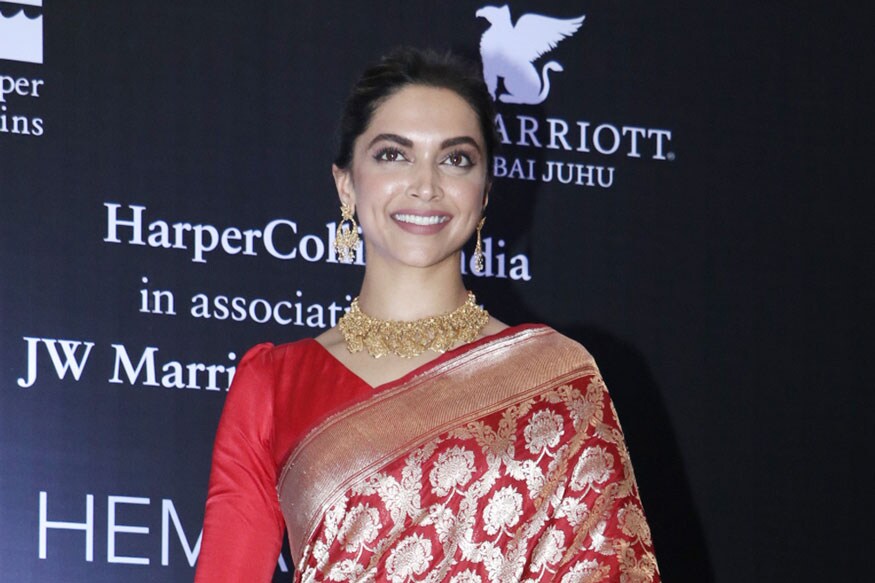 Deepika Padukone during the launch event of Hema Malini's book 'Beyond the Dream Girl' at JW Marriott hotel in Juhu, Mumbai on October 16, 2017. (Image: Yogen Shah)
Mumbai: Actress Deepika Padukone on Tuesday sought to brush away the matter of her remuneration for Sanjay Leela Bhansali's Padmavati, which is reportedly more than co-stars Ranveer Singh and Shahid Kapoor, saying she was "comfortable" with what she got.
"Talking about my remuneration is not exciting for me. I am confident and comfortable with what I am paid," she said at the 3D version trailer launch of the upcoming film.
"But let me tell you something and this is something I am really proud of is the fact that people like them (co-producer Viacom and director Bhansali) have invested this kind of money on a film like this and poster like this...that for me is hugely encouraging... this is the biggest film that Indian cinema has seen not in just terms of scale but in terms of budget and resources, and what is the poster behind it? For me that is the turning point for Indian cinema," she added.
About the uni-brow looks her character Rani Padmini sports in the film, Deepika said she feels women are conditioned to think of beauty in certain way.
"Women have been conditioned to think of beauty in a certain way and I am glad with what we did with 'Padmavati' and my look. It takes immense amount of belief, not just for me but for my director as well, to take that risk.
"Padmini's beauty is beyond physical beauty. It is her soul, spirit and what she meant to her people. She is worshipped."
Deepika also said that the role was extremely challenging and different than Mastani in Bajirao Mastani.
"Her (Rani Padmini's) battles were very different. Her power and energy is very different. She doesn't go out to battle field. She doesn't have a sword or armour, here the spirit is similar.
"Her purity, intensity and values, are very relatable and identifiable, yet not in a literal sense. And for an actor, I found that even more difficult," she said.
"With Mastani, if I have to show a warrior princess, it is easier for me to have a sword, get a battle field, do horse-riding, and show exactly going to war is actually like.
"But how do you fight so much more than just a war? You're standing up for your tradition, culture, heritage, passion and love, there is so much that is going on, how do you stand up for all that, just by emoting without any tools. That is what I found extremely challenging for me, with Padmavati," she added.
On the tussle with Karni Sena and the recent Rangoli incident, Deepika said: "Whatever I had to say, I said it. Whatever was supposed to happen has happened! Like I always say, now nothing and no one can stop this film."
Get the best of News18 delivered to your inbox - subscribe to News18 Daybreak. Follow News18.com on Twitter, Instagram, Facebook, TikTok and on YouTube, and stay in the know with what's happening in the world around you – in real time.
| Edited by: Divya Pal
Read full article