I'm Trying To Cover The Western Belt, Quips Anushka Sharma on Her Choice Of Roles
'I have played Haryanvi girl, Punjab is already done and now in Imtiaz's film, I am playing a Gujarati girl'.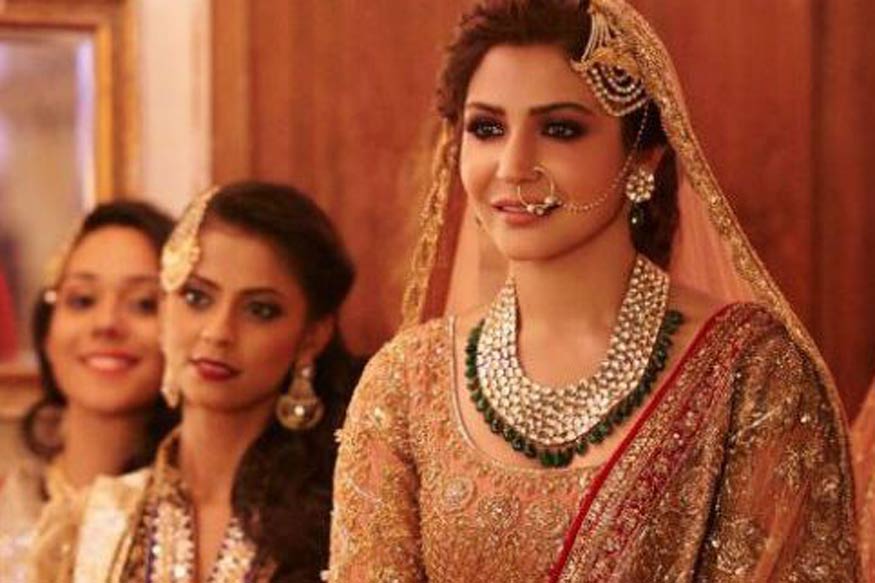 Image: A still from the song 'Channa Mereya'.
New Delhi: Anushka Sharma knows the power of a story well told and the actress says her love for cinema is
what keeps her motivated and not fears that are part and parcel of every performer's life.
It has been a good year for Anushka as both her characters, 'Aarfa' and 'Alizeh,' from Sultan and Ae Dil Hai Mushkil brought her critical praise as well as commercial success.
Anushka, 28, is now looking forward to the release of her upcoming home production Phillauri besides Imtiaz Ali's tentatively titled The Ring, where she is teaming up with Shah Rukh Khan for the third time.
The actress says she does not like to limit herself to a territory as she is always looking for what she can do next, be it acting or producing films.
"Insecurities have a way to come in because there are a lot of people who tell you things like 'do more films', 'out of sight out of mind' in the industry. So, you have to back yourself and not let what others are doing affect you and let your decisions come from that because that will make you unhappy.
"I try to work without fear... A lot of times we let our fears decide our course of action. I have never let that happen with me. So, while I am a very happy person and doing well in life, I feel I am also growing as a person because it is equally important for me," Anushka said in an interview.
Despite being an outsider, she says, she understood right at the beginning of her career that she can move forward only by choosing good roles over big projects.
"I have always believed in the power of good stories and roles. I have made my entire career out of such roles. I was like that right from the beginning of my career.
"'Rab Ne...' was a big film and people knew my name because of it but I don't think it turned me into that actor, 'Band Baaja Baarat' did that for me, which had a first time actor and director. I understood early on that this is the way I have to go."
The actress, who has worked with some of the biggest directors of Bollywood be it Yash Chopra, Aditya Chopra, Anurag Kashyap, Karan Johar or now Imtiaz, is excited about Phillauri, the second film from her home production, Clean Slate Films.
The movie, being directed by Anshai Lal, stars Anushka, Punjabi star Diljit Dosanjh, Suraj Sharma of "Life of Pi" fame and Mehreen Pirzada. Anushka says it is hard to talk about "Phillauri" without any imagery. The actress, however, says she will be "seen" in a "different" way.
"I can't divulge much about the film as it hard to talk about it without any kind of imagery but it is a fun film, romantic and with great music. I will be seen in a different way in the film. It is a Punjabi girl but it is a completely different from my earlier films.
"I am trying to pick diverse roles and I was recently joking to my friend that I am trying to cover the western belt. I have played Haryanvi girl, Punjab is already done and now in Imtiaz's film, I am playing a Gujarati girl. I am happy that the directors are offering me such roles which help me show my diversity as a performer."
The actress says turning producer made her realise how much of a collaborative effort movie-making is.
"A lot goes into movie-making and it has been a lot of hard work, especially for my brother (Karnesh) but creating something from scratch gives you such a high. I love films so, I get very excited about them... In three years, we have already done two films and now working on another film called 'Caneda'. I can't talk about it much at this point but I am very happy," she says.
Anushka calls her production house a "start up" but hopes they will have an impact on Hindi cinema content in the coming years.
She says there were many who advised her against doing NH10 but she not only decided to star in it but also produce
it and there has been no looking back for her.
"What happens in the industry is that people, obviously, look for a previous reference. 'NH10' had zero reference. No mainstream actor had done a film so gritty and gory, especially a female actor. It had a novelty. Today if someone wants to make a film like that, they will have a reference."
Get the best of News18 delivered to your inbox - subscribe to News18 Daybreak. Follow News18.com on Twitter, Instagram, Facebook, Telegram, TikTok and on YouTube, and stay in the know with what's happening in the world around you – in real time.
| Edited by: Kriti Tulsiani
Read full article