Jab Harry Met Sejal Movie Review: Shah Rukh Khan-Anushka Sharma's Film Is Not What You've Been Seeking Perhaps
Planning to watch Jab Harry Met Sejal this weekend? Read our review first.
Director: Imtiaz Ali
Cast: Shah Rukh Khan, Anushka Sharma
Every Imtiaz Ali film has certain elements that classify it as a quintessential Imtiaz Ali work and Jab Harry Met Sejal is no different. Just that it turns out a little less satisfactory than his previous works. The film, it seems, has a lot more to offer than what meets the eye and like all Ali's previous ventures, this too isn't meant for everyone.
Sejal (Anushka Sharma), a Gujarati self-proclaimed selfish woman, is on a tour with her family and her faceless fiancée Rupen, who the viewers, only see in the second half. She, however, loses her engagement 'ring' on the course and having involved in a fight with him, she decides to stay back unless she finds the ring. Harry (Shah Rukh Khan), a Punjabi self-proclaimed 'ganda-aadmi', happens to be their tour guide and finds himself reluctantly stranded alongside Sejal on her quest to find the ring. On Sejal's demand, the two decide to trace the entire holiday and revisit multiple places in hope of finding the ring.
Sejal and Harry happen to foster different individualities and often indulge in pitter-patter over sweet nothings. While sometimes, the banters do make you smile, but most often than not they barely reach you and sound like a jugalbandi between a Punjabi and a Gujarati. Amid the constant mushy fights, one hears a constant reminder of the film's tagline 'What you seek is seeking you' and that's when Ali's basic idea of flawed-humans and a healing journey starts taking over the narrative.
Image: Facebook/ Imtiaz Ali
As they retrace their steps, the two fall in love with each other, but vivid moments of Sejal cuddling with Harry or Harry being too protective of her can get the viewers a little delusional.
The main part of the film, however, is that it feels and tastes like the same wine served in a different bottle. It doesn't feel new, but a routine of sorts. In fact, the similar frames from Ali's previous films like Jab We Met, Love Aaj Kal and Tamasha find their place in the latest offering too. Like the song, Phurr, has an uncanny resemblance to Tamasha's Matargashti.
Shah Rukh, however, holds his flag of romanticism quite high. There are certain scenes, which only light up because of his presence and his dimpled-smile. At times, even though he's smiling, his eyes narrate a rather different tale and that's probably what makes Harry Imtiaz's Harry. Anushka's Sejal as a chirpy Gujarati 'modern-woman' is effervescent when she takes over the screen. The accent, however, starts getting on to you after a certain point. Like putting a 'ne' after almost every word or sentence doesn't really make her Gujarati. The two have previously been paired together in films like Rab Ne Bana Di Jodi and Jab Tak Hain Jaan and as for them, their chemistry doesn't come as a surprise.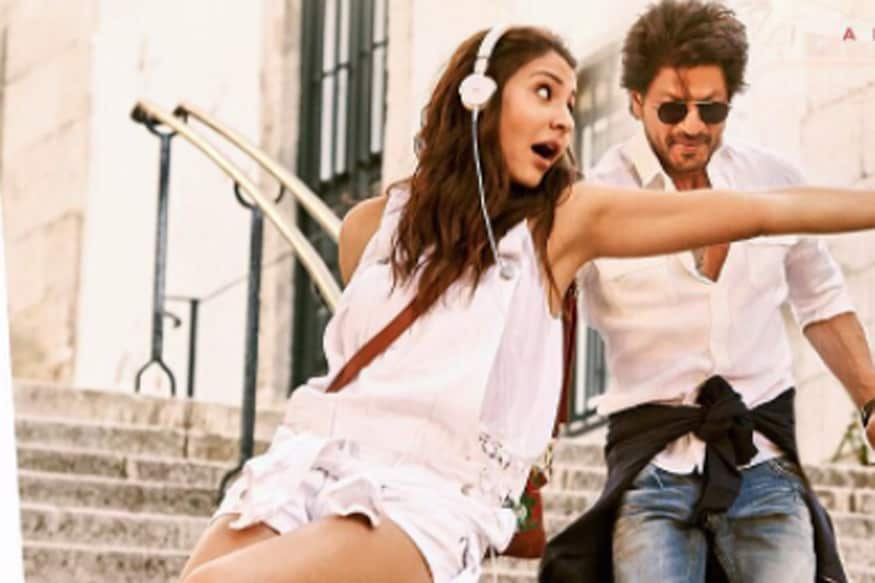 Image: Youtube/ A still from the trailer of Jab Harry Met Sejal
Ali is known for building up characters who end up having their names written all over the traits they come to screen with. While Harry and Sejal may not necessarily go down the Geet success-lane, the character's curves highlighted with their flaws have been etched, but not strongly enough. Like Harry plays a tour guide – happy on the surface, but battling the demons of past on the inside, Sejal plans on marrying a man and often insists that the two make a wonderful couple, but does she really believe in it?
There's a lot to savour in this visually aesthetic film – the by lanes of Amsterdam, Prague, Budapest, Portugal, Frankfurt and the mystique Punjabi touch. As they make their way from one state to another, the urge to travel in you will grow by leaps and bounds.
The film finds its base on a missing ring, but if one delves deeper, a ring isn't just an ornament, but a metaphor of all things missing in one's life. So while Ali's Sufi-ness is retained in the film and does connect with you at times, it doesn't really bond. Ali's message comes off right, but not with a bang as anticipated.
You may want to watch this film if you're either a fan of the protagonists or the filmmaker or if you wish to tag along for a picturesque journey, but don't expect the unexpected. As for the film, it's not really what you've been seeking perhaps.
Rating: 2/5
Get the best of News18 delivered to your inbox - subscribe to News18 Daybreak. Follow News18.com on Twitter, Instagram, Facebook, Telegram, TikTok and on YouTube, and stay in the know with what's happening in the world around you – in real time.
| Edited by: Kriti Tulsiani
Read full article