Jio MAMI Film Festival 2017: Highlights From a Star-Studded Movie Mela
Below are the key highlights from Jio MAMI Movie Mela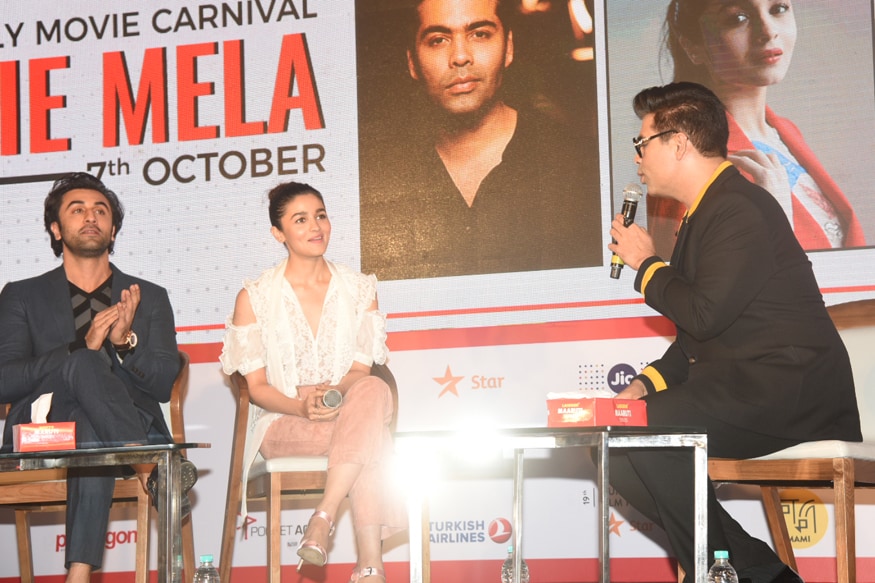 Image: News18.com
19th Jio MAMI Film festival has begun on a starry note as MAMI Movie Mela brought together some of the finest talents of the industry to talk about their craft, experience and much more. From the cast of Golmaal Again decoding the mantra of success to Alia Bhatt and Ranbir Kapoor talking about stardom and failure, a panel of leading filmmakers, to Vidya Balan talking about her favourite characters, Movie Mela turned out to be a perfect platform for young and aspiring artists who are yet to find their ground in the big bad world of Bollywood.
Below are the key highlights from Jio MAMI Movie Mela
Golmaal Again Team on What Make Franchise a Success
Rohit Shetty is back with the fourth installment of his popular comedy series Golmaal, and this time, the director is venturing into the territory of horror comedy, something not attempted by many filmmakers in the industry. Very confidently, the director says, "Ab tak humne nai banayi na". The fact that the team is so confident about the film's success shows that the crew believes in its audience and doesn't promise to offer anything more than entertainment.
Parineeti Chopra, the new addition to the gang, also opened about her initial shooting days with the team. "This team is the most fun and craziest one I've worked with, ever. Ajay Devgn and Rohit Shetty do bully the newcomer but the overall process is just like the film- mad fun." The actress says that apart from a fun experience, it's the friendship she has earned on set. "This film has given me lifelong friends, this thing I can proudly announce. "
Talking about bringing a talent like Tabu onboard, the cast feels that the film has added a flavor to Tabu's onscreen image. Tusshar says, "Tabu had wanted to do a commercial film for quite some time now. I remember when she came up to me and said that I should get her do a cameo in Golmaal franchise. And then things happened and one day I got to know that she is, in fact, a part of Golmaal Again."
Vishal Shekhar on Their Top 5 Compositions
A musical session is what was promised and a musical session is what was given. Vishal-Shekhar, who have been the industry since 1999, talked about their first big break and their equation with Jhankaar Beats director Sujoy Ghosh. "The entire album is our favorite as it is a tribute to Pancham Da," says the duo. Vishal and Shekhar also shared stories behind all their picks. Vishal also revealed that Allah Ke Bande, which was sung by Kailash Kher, was supposed to be sung by Rabbi but things didn't work out.
The duo also sang some of their compositions and explained why Vishal is an amateur lyricist. "Javed Saab says a proverb to me, 'bacche ke haath mein balla do toh kabhi kabhi chakka lag jaata hai' and I couldn't agree more."
Vidya Balan On Her Favourite Movie Characters
Vidya Balan, who is all set for her upcoming film Tumhari Sulu, discussed her favourite movie characters of all times. The actress indeed has a fine taste in cinema and it showed with her choices. While Rajesh Khanna as Anand brings out the positivity in life, according to Balan, Amitabh Bachchan as Jai made casual comedy and sarcasm mainstream. "I am in awe of Amitabh Bachchan as an actor", says Balan. Also in the list were Shabana Azmi from Arth, and Sridevi from Mr. India, both strong and emotional characters, that defined cinema at one point. Balan is all praise for SRK's convincing power in Kabhi Haan Kabhi Naa as Sunil. "He was a lying git in the film but you loved him anyhow. No wonder SRK does so many endorsements", quips the actress.
India's Finest Storytellers on Do's and Dont's On Set
One of the most enriching sessions of the day comprised of Hindi Cinema's finest storytellers, who's films created a stir at one point or another. Anurag Kashyap, Ayan Mukerji, Nitesh Tiwari, Alankrita Srivastava and Kabir Khan talked about various 'setiqquets' they follow while making a film. From sharing the stories behind their maximum retakes to the no-phone policy, Ayan was the youngest of the lot who definitely had a good learning while being on the panel. Being the only women in a male-dominated panel, Alankrita shed light upon her struggles as well. "It was difficult for me to convince the production team to see me as a director and not a female director. I suffered a lot because of being a woman. They gave me second best or third best technician but I didn't realize that because I was just grateful for being able to make my film. Things changed with Lipstick.. though." she said.
Alia Bhatt, Ranbir Kapoor and Karan Johar Bring Down The Curtain
One of the most anticipated discussion was of Alia Bhatt and Ranbir Kapoor in conversation with Karan Johar. The Gen Y superstars talked about their similarities in handling the craft, their active fathers on social media and their different takes on stardom and paparazzi. They also shed light upon each other's 'presence' on social media, while Karan Johar entertained with his witty one-liners. On the much-hyped debate of nepotism, Alia said, "Is it a good thing or a bad thing I don't know but I know that I work very hard to be where I am today and I don't need to feel apologetic about being my father's daughter."
Get the best of News18 delivered to your inbox - subscribe to News18 Daybreak. Follow News18.com on Twitter, Instagram, Facebook, Telegram, TikTok and on YouTube, and stay in the know with what's happening in the world around you – in real time.
| Edited by: Sameeksha
Read full article